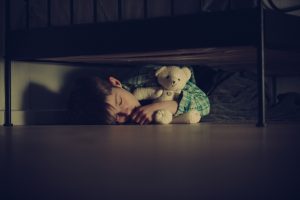 Some people live their lives in extreme fear, approaching life with a constant sense of terror. The simplest activities of living can become fraught with dangerous possibilities. Feelings of risk and leaving safe spaces can require a person to make a careful assessment of the world before venturing out. People I've worked in therapy with who have this terrorized way of relating to their environment often come into treatment expressing misery and self-hate. They blame themselves for their unhappy lives and have little understanding of how they came to feel terrified all the time. They desperately want more freedom in their lives, and just as desperately, they're afraid to be free.
The first time Joe came to into my office he looked uneasy as he sat down and stared at me vacantly. "What brings you here?" I asked.
Joe mumbled as he bent his head to the floor, "I hate my life, I hate myself. I have no life. I'm afraid of everything. If I'm alone, I can't travel, drive, or even leave my neighborhood without fearing that something terrible will happen and no one will be there to help me."
This was my introduction to 47-year-old Joe, whose story helped me understand what it means to be terrorized from early childhood experiences. I wanted to help Joe understand his terror so he could relinquish his guilt and self-hate and begin to move toward more freedom in his life.
Joe, an only child, grew up in a household with an absent father who was a workaholic and a controlling mother who was depressed and also likely experienced bipolar. His father died of a heart attack on the job when Joe was 16; his mother died by suicide from drowning herself in the bathtub when Joe was 23.
Joe described his childhood: "Before I started school, I have memories of my mother singing and dancing with me and telling funny stories. Growing up, my father was always working, so Mom would sometimes take me to the yard and play catch or goof around. As early as I remember, she would get very depressed. She'd take to bed and be irritable and mean to me. I had to be very quiet and not disturb her or she would scream that I was killing her. I would sometimes hide in the closet with a book or toy, and I wouldn't make a sound. I was very scared and I knew if I bothered her she would come at me in a rage and threaten to kill herself. I never knew which mother would be around at any time. I could leave my happy mom and go to school and come home and find her slumped on the kitchen table crying that I didn't love her, or my father was mean, or why didn't I stay home from school because I knew she needed me. It was so confusing and scary. By junior high, she usually had things she wanted me to do, like cook or help her with chores. She insisted I come straight home from school. She didn't like me to bring friends home or go to a friend's house or even participate in activities after school. It felt like she was totally in charge of me. I knew if I pushed back she would get weepy and angry and tell me she was going to kill herself and what a terrible son I was. I felt as if I'd destroy her if I wasn't careful. But I loved her and we were close. "
When Joe's mother died by suicide, he was living on his own just a few streets from his mother's house. He had been trying to reach her by phone. After several hours of not answering, he told me, "I just knew she had done it. I called a neighbor and asked her to meet me at the house. We found her in the bathtub. It's been a lifelong struggle not to blame myself for her suicide. Rationally, I know it's not my fault, but maybe I could have done something to prevent it."
Joe and I spent many months working on his feelings of responsibility for his mother's death. We considered that restricting his life and his freedom could be a way to punish himself. While this guilt likely contributes to Joe's paralysis in engaging the world, more recently our work has focused on the ways in which growing up impacted Joe's development into a terrified person.
Becoming Terrified in Early Childhood
As Joe became more able to talk about his experience of being terrified as a child and young adult, it became clear to both of us what a visceral experience it was. We understood that Joe wasn't an ordinary scared child experiencing fear. Rather, that child with his toy in the closet was scared to death; he was terrified. His mother terrorized him. The danger he feared of making a sound while his mother was in her bed felt life threatening. Joe did his best to fend off her rages, attacks, and shaming behavior.
He recalled, "She'd get so cold and absent, or shout 'You're killing me,' or 'You want me dead, you're stupid, you're weak.' She criticized everything."
The threat of death was very real in Joe's house. He explained, "She would tell me, 'You're going to find me dead one of these days if you can't help keep this house clean,' or, 'If you don't get home from school on time,' or, later when I was in college, 'If you don't call me every day.' "
Joe's father played no role in mitigating his mother's destructive behavior. Joe coped alone with the possibility of his mother's death. Her destructive communication and unpredictable emotional presence left him feeling unsafe, unprotected, and fearful for his own survival. If Joe didn't consciously feel that his life was threatened, unconsciously he was terrified of his own annihilation.
In treatment, Joe began to develop a more compassionate attitude toward himself as he learned to appreciate how, as a terrorized child, it was necessary to find ways to protect himself and survive the threat of losing both his mother and himself. He simply could not allow himself to visualize engaging in any activity on his own. His was a dangerous world where no one could save him in an emergency. He hadn't been able to keep his mother safe, and now surely he was not safe.
As we explored Joe's terror of venturing into the external world, it became clear that he hadn't developed the ability to enter his internal world. He wasn't free to play with ideas about his life or to wonder about new and exciting possibilities. He had to be prepared to respond to his mother's demands. Unconsciously, he had to dissociate his own needs and desires. Clearly, he had not been able to separate and individuate from his mother.
Developing Freedom to Individuate
Joe had learned to rely on his mother to define his identity and for his positive feelings. She needed him to be dependent and used the threat of her death or his annihilation to keep him controlled and connected. He had internalized his mother's voice, which, in his adult years, continued to govern him. Even when a parent is deceased, terror can live on in their child's psyche. Could Joe lessen the influence of this voice that kept him in a constant state of vigilance?
I believed Joe needed to emotionally recognize that he had kept himself imprisoned in the service of keeping his essential self alive in protective custody. If he could allow himself to enter his internal world, he would be able to discover his own wishes, desires, and needs and develop an identity separate from how his mother defined him. We had to consider his unconscious resistances to growing his self and leaving his mother's voice behind. We explored the downside of "leaving" his mother. Joe realized that he still wanted to protect his memory of her.
"She was so fragile and depressed. I still can't hurt her or blame her. It wasn't her fault; she did the best she could, given the deficits of her life," Joe said.
"I know it's time to stop protecting her. Even though I don't believe it's safe yet, I tell myself the risk is not so great—the pleasures and satisfactions in the world are worth the try. I've got to try."Joe has struggled to overcome his resistance to separating from his mother. He is more able to acknowledge her destructive behavior and experience some anger and disappointment. This could empower him, make him less terrified, and help resolve his conflict so he could choose his self-growth rather than continue to protect his mother.
"It's hard. I spent my life protecting my mother and myself from death. I'm still protecting my image of her as a good mother who will take care of me. Maybe I believe that if I have my mother with me—even my dead mother—it will protect both of us. I know it's time to stop protecting her. Even though I don't believe it's safe yet, I tell myself the risk is not so great—the pleasures and satisfactions in the world are worth the try. I've got to try."
One doesn't have to have a parent experiencing suicidal ideation to feel terror about their own survival (consciously or unconsciously). Parents terrify their children in many ways. For example, children can feel terror about their parent's ability to survive and keep their child alive. Terror can also occur when a child is physically or emotionally abused or result behavior that is shaming, controlling, and/or emotionally withdrawn. Anxious or unpredictable attachment can leave a child in a terrified state.
Joe has a come a long way in working on his terror and his ability to feel safer in the world. I tell his story with the hope that others who have lived their lives in terror as the result of their early family experiences don't have to be doomed to self-blame, hopelessness, and forever be imprisoned and terrorized. When those who work on themselves in therapy understand how they became terrorized people and emotionally comprehend the visceral feelings of terror that have been endured since early childhood, they can be helped to give up the need to protect significant others who terrorized them. Often, this is the start of a transition from self-blame to freedom of self-development.
Note: To protect privacy, names in the preceding article have been changed and the dialogues described are a composite.
© Copyright 2016 GoodTherapy.org. All rights reserved. Permission to publish granted by Beverly Amsel, PhD, Individuation Topic Expert Contributor
The preceding article was solely written by the author named above. Any views and opinions expressed are not necessarily shared by GoodTherapy.org. Questions or concerns about the preceding article can be directed to the author or posted as a comment below.