Advertise Your Practice with GoodTherapy
GoodTherapy is one of the top therapist directories on the internet. Thousands of mental health professionals list their services with us to connect with new clients, and we are growing all the time.
GoodTherapy regularly receives over 1.5 million visits a month from people wanting to learn more about mental health and seeking professional help. List with GoodTherapy to connect with people seeking the services you provide.
GoodTherapy's directory offers an intuitive user experience that allows potential clients to easily find your practice. Your profile allows you to specify:
Professional licenses
Treatment specialties
Types of therapy you offer
Insurance companies you panel with
And more!
These filters help ensure your profile attracts the most optimal clients for your practice.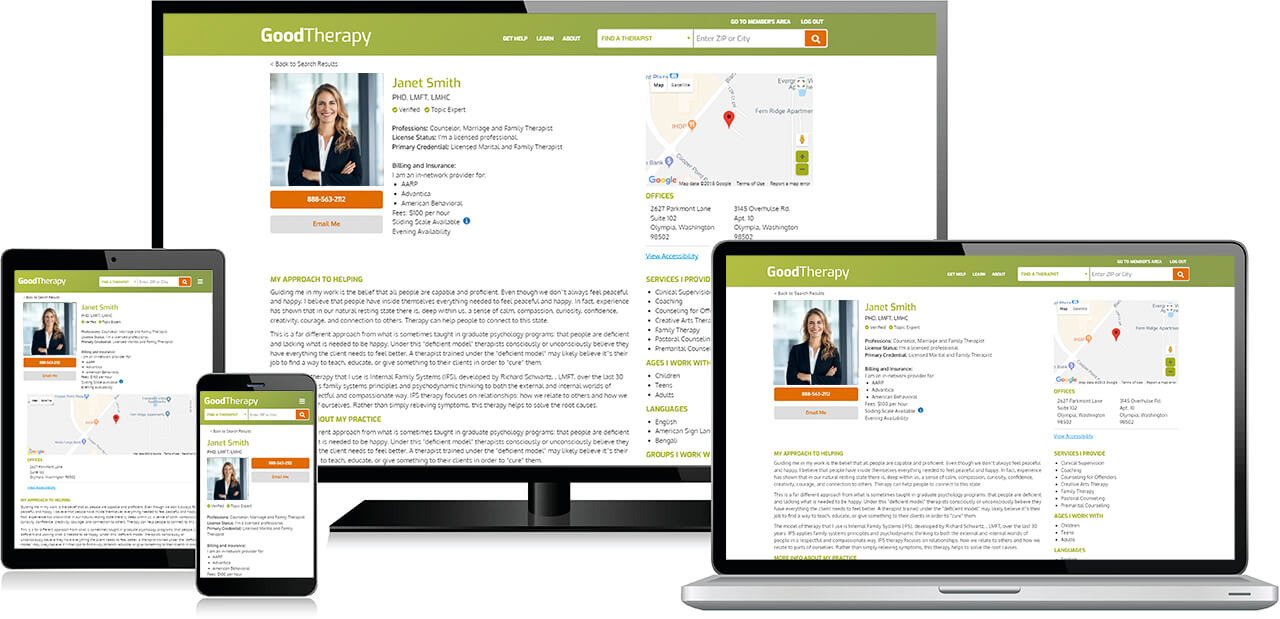 Creating a profile only takes a few quick and easy steps. You can customize your profile as much or as little as you like. Our experienced team can also provide a free profile review to help optimize your results.
To speak with someone who can help you sign up, give us a call at 888-563-2112 ext. 1. You can reach us Monday through Friday from 8 a.m. to 4 p.m. Mountain Time.
GoodTherapy Is More Than Just a Directory
In addition to new client referrals, your GoodTherapy Membership can provide other benefits such as:
Live and homestudy online continuing education courses available with CE credit hours and
Online appointment scheduling that integrates with your profile and practice website
Publication opportunities and workshop listings for members to increase visibility online
Member-only discounts for resources designed to support your private practice