List Your Facility
Let GoodTherapy do the marketing for you!
Creating a profile in our Rehab and Treatment Center Directory is a simple, cost-effective way to advertise your facility online, receive referrals, and improve your SEO.
Join Now
$49.95

/month
Our affordable monthly fee gets your facility:
A custom profile listing with advanced profile features
Referrals with real-time metrics tracking
Publication and advertising opportunities
Prompt, personalized customer support
$539

/year
Or sign up for an entire year and save!
$45/monthly billed annually
---
Create a Profile
If your facility meets our membership requirements, you can create a custom profile listing and begin reaching new clients!
Custom profile with real-time referral metrics.
With your optimized profile listing, you can tap into GoodTherapy's millions of monthly views and increase the number of clients in your facility. Real-time data reporting helps you track your profile's performance with a complete history of outclicks to your website and calls and emails potential new clients have made to your facility.
Boost your SEO and get found online.
GoodTherapy utilizes search engine optimization (SEO) best practices to ensure every page on our site ranks highly as possible in search engines. This allows people searching online to easily find your facility.
Photo gallery for your profile.
Showcase your facility's amenities and atmosphere with more than just words. Let a photo gallery of as many as 10 photos do the talking for you.
Enhanced call tracking.
Following up on missed calls is simple with GoodTherapy's call tracking. Receive email notifications of calls from potential clients, including any available caller ID information.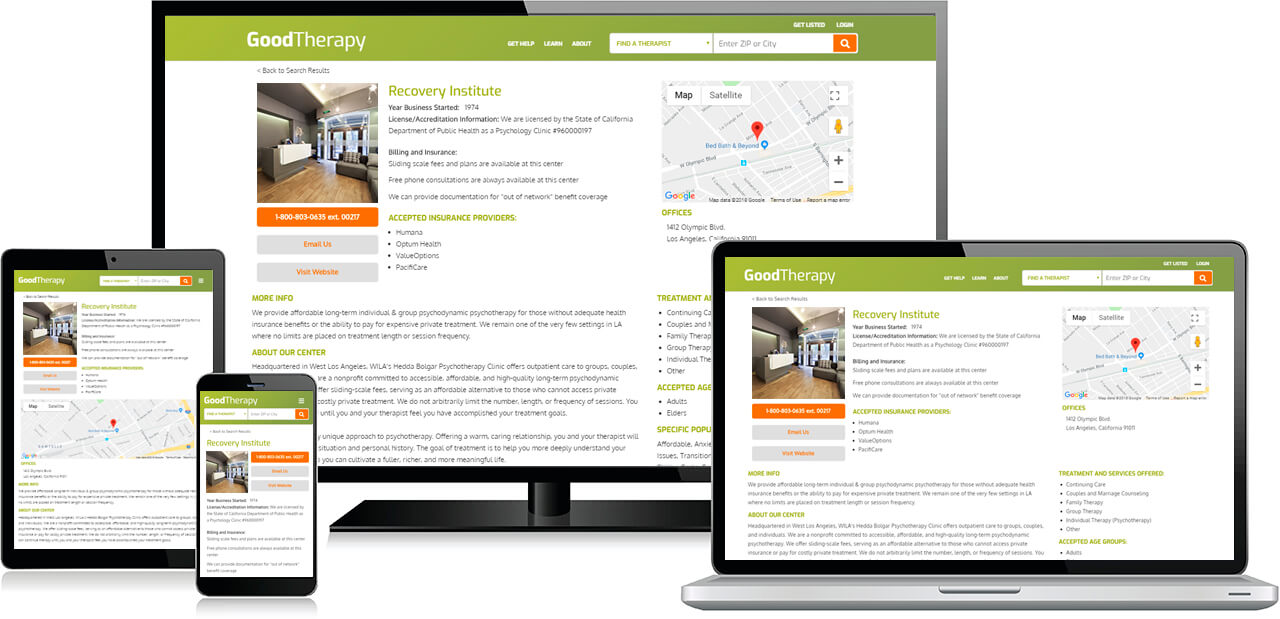 More Than Just a Listing
GoodTherapy is a diverse marketing platform for treatment facilities of all kinds. We encourage you to take advantage of our other valuable membership benefits, including:
Publication opportunities.
Submit articles for publication consideration to reach a larger audience. Every published article links back to your GoodTherapy profile.
Advertisement opportunities.
Enjoy unlimited access to our new Workshop Directory, where you can promote your facility's therapeutic groups and educational events and reach more people.
Directory Requirements
The GoodTherapy Rehab and Treatment Center Directory is for inpatient/residential programs, rehabs, and treatment facilities that offer intensive outpatient programs in the U.S. or Canada. Facilities wishing to list multiple, distinct locations must create a unique profile and account for each location. Find more information about our individual and group practice membership options here.
GoodTherapy has helped millions of people find services, and our established brand is trusted because we uphold membership qualifications. To qualify for a profile listing, your organization must certify the services you provide accord to our Elements of Good Therapy. GoodTherapy must also be able to verify the current license information of an individual provider who works at your facility and is licensed in one of the following professions:
Mental health counseling
Psychotherapy
Social work
Marriage and family therapy
Psychology
Psychoanalysis
Psychiatry
Medicine
Advanced nursing
Drug and alcohol counseling
For organizations offering inpatient services, we need to verify at least one of the following:
Accreditation through Commission on Accreditation of Rehabilitation Facilities (CARF), The Joint Commission, The Council on Accreditation, or another recognized accreditation body for inpatient treatment facilities.
Licensure, registration, or accreditation through the state in which the facility is located as a residential treatment facility, rehabilitation and therapy center, retreat-based therapy center, mental health treatment clinic, or an equivalent.
Aligning your facility with GoodTherapy represents your support of our mission and vision to reduce harm in therapy and provide people with access to collaborative, ethical mental health treatment.