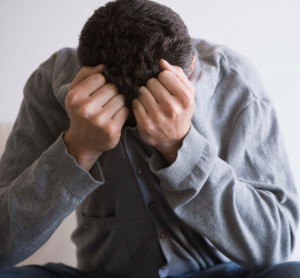 While most Americans will experience some level of depression in their lives, some will experience an intense and serious depression that requires the help of friends, family, and often a mental health professional.
The severity of a depressive state will fluctuate based on a variety of factors, including the availability of a support system, treatment options such as a therapist or psychiatrist, emotional coping skills, and a history of successfully navigating previous mental health episodes. However, when depression worsens, suicidal ideations (or thoughts) may develop, and are therefore often seen together. The focus of this article is to help identify common signs and symptoms of suicidal thoughts related to severe depression and how to recognize when to seek help.
Common depressive symptoms include a loss of interest in previously enjoyed activities, low energy, changes in sleep and appetite, concentration and focus problems, and changes in libido. When depression worsens, often people will experience hopelessness, a desire to isolate and withdraw, and may begin to have thoughts about how to make the pain (depression) stop. These are symptoms most commonly associated with the onset of suicidal ideations. This is where outside help is needed. The vulnerability experienced with hopelessness and a desire to make the pain stop sometimes leads to irrational actions and decisions. Once this hopelessness manifests as a desire to "go to sleep," "make the pain go away," or identifying ways to die and how to obtain the means (guns, pills, etc.), the suicide risk is dramatically heightened.
Other factors must be considered when determining how soon help should be acquired during a worsening depression. First, if a firearm is in a person's possession or at least accessible to the person, help should be sought as soon as the depression is apparent. The firearm should be secured by a third party or by law enforcement. Next, any use of recreational drugs or alcohol limits a person's insight and judgment, making them more impulsive and less likely to consider available resources. If a person is likely to use drugs, help needs to be called before a person becomes intoxicated and possibly makes a dangerous mistake. A previous history of suicide attempts increases a person's suicide risk; thus, help should be attained immediately if a suicide survivor begins to experience suicidal thoughts.
Risk Factors
Numerous risk factors need to be evaluated to determine suicide risk level. Below is a listing of the more serious factors warranting immediate intervention. If any of the following become present in a person's thoughts or behavior, help should be sought immediately (note this is not a comprehensive list but rather an overview of the more common risk factors):
Decreased or no sleep. Without adequate restorative sleep, a person's insight and judgment become significantly affected.
Developing a suicide plan. A person moves thoughts into an action plan.
Identifying ways to access suicide means or storing means (pills, guns, etc.).
Giving away personal items of value and/or getting one's affairs in order with the anticipation of dying.
Any psychotic symptom such as auditory or visual hallucinations.
Hopelessness, seeing no hope for the future.
Intent to die.
History of mental health treatment in the past, especially a history of suicide attempts.
Family history of a completed suicide.
Limited or absent support system (few or no friends or family to call for help)
Serious/chronic medical condition(s).
Withdrawing from sources of support, such as family, work, or friends.
Happiness immediately after feeling severely depressed: This may suggest a person has resolved to die and is now hopeful for their plan.
Impulsive and/or high risk taking or careless behavior, different from the person's normal functioning.
Treatment Options
Depression and thoughts of suicide are serious, but they are also highly treatable. The sooner a person elicits help from friends, family, or a compassionate mental health professional, the sooner they may be able to gain healthier perspectives and insight into ways they can work to handle their current state. Help may be able to instill hope and help a person begin the process of returning to a happier and stable state.
It is important to know some available resources for those experiencing suicidal ideation. First, call 911 immediately if a person is expressing they may no longer be able to remain safe on their own. Second, if safety permits, a person can be taken by friends or family to any hospital emergency department, where the person will receive a comprehensive evaluation and possible placement inside a mental health facility. Third, many therapists have after-hours support available, but this should be used only if there is not an imminent threat to personal safety. Fourth, the National Suicide Prevention Lifeline (24 hours, seven days a week) can be reached at 1-800-273-8255, where a trained person will listen and help a person decide the best route for help. And lastly, many communities have local-based suicide-prevention crisis lines and clinics. Check with your local mental health department to see what resources are available.
Developing a safety plan before depression worsens is a key element in the treatment of those at risk for suicide. Having support systems early and risky behavior identified (e.g., thinking of ways to die, acquiring means to harm self, etc.) can be a life-saver. It is best to have a plan of prevention and response in place before a crisis; trying to develop a safety plan amid an active crisis is often unsuccessful. A mental health professional can help you develop an excellent care and safety plan in your very first session.
© Copyright 2014 GoodTherapy.org. All rights reserved. Permission to publish granted by Dr. Andrew Mendonsa, PsyD, Suicide Topic Expert Contributor
The preceding article was solely written by the author named above. Any views and opinions expressed are not necessarily shared by GoodTherapy.org. Questions or concerns about the preceding article can be directed to the author or posted as a comment below.