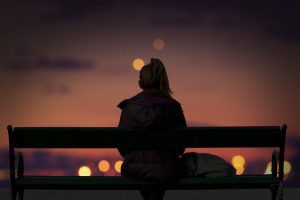 Depression may be one of the most misunderstood health issues in the world. Few people would criticize someone with diabetes or Lou Gehrig's disease, but many people spout their opinions about depression because they think that having "the blues" and clinical depression are one and the same thing. Since all human beings have had "the blues" in life when they lose a loved one, or a job, or their car breaks down, everyone thinks they have experienced it and can offer their advice on how to get through it.
I have heard people smugly proclaim their strength of spirit in not succumbing to depression despite the challenges life has thrown at them. Others criticize depressed people for their laziness and negative thinking. There are frequent posts on Facebook from various sites proclaiming explanations like, "I woke up one day and decided to be happy" and pictures of beautiful scenery with the caption, "Go for a walk—it's cheaper than therapy."
A positive attitude and appreciating the beauty around us is a healthy way to live life; however, it's not that simple for people who experience clinical depression. This is because the very symptoms of depression are the opposite of the aforementioned healthy life habits: Depression causes negative thinking and an inability to enjoy one's surroundings. Often, it zaps people of energy and all they want to do is sleep.
Others have insomnia. Well intended loved ones may encourage the depressed person to "stop being a couch potato" or "stop worrying and get some sleep." When a depressed person expresses hopelessness loved ones may tell him or her to "Get off the pity pot!"
Then there is the ignorance about medications for depression. My pet peeve is frequently seeing cartoons online that blatantly imply that antidepressant medications are dangerous and/or get one "high." I recently viewed a satirical cartoon in which a doctor is telling his patient to put down the methamphetamine so he can prescribe Prozac, Percocet, Xanax, etc.
Here antidepressants are being lumped with prescription drugs for pain and others for anxiety. While these medications can be quite effective in alleviating pain and anxiety, many people end up abusing them to get high and become addicted to them. Just as insulin is a lifesaver for people with diabetes, antidepressants are the same for many with depression. Contrary to popular belief, they are not addictive, nor do they get people high; antidepressants help people function properly by regulating the neurotransmitters in the brain.
And then there are celebrities like Tom Cruise offering advice on how to manage depression. Many years ago, Mr. Cruise criticized actor Brooke Shields for taking an antidepressant for her postpartum depression. He recommended that she take vitamin supplements and exercise rather than take her antidepressant (WENN.com). Celebrities are held in high regard in this country and you can bet that many of Tom Cruise's admirers discarded their antidepressants based on his ignorant recommendation. This was a dangerously misguided recommendation on Mr. Cruise's part.
Someone experiencing depression may unfairly compare his or her depressed self to his or her formerly higher functioning (depression-free) self. This is like breaking one's leg and criticizing oneself for not having won a race against one's formerly healthy-legged self.
Here's the truth about depression: It is not a choice. It is a psychological issue caused by an imbalance of neurotransmitters in the brain, an abusive childhood, or any number of other factors. Just like physical disease and health issues, there is no connection between a weakness of character and depression. When someone starts experiencing depression, it is important to seek psychotherapy, and it might be necessary to also consult a psychiatrist. This may mean disregarding the advice of well-meaning friends who offer their supportive ear in place of professional treatment.
I had a close friend living with depression many years ago. I recommended psychotherapy and her husband told me "She doesn't need all that psychobabble; she has me to talk to." When I asked this man where he got his opinion about psychotherapy, he said it was "Just my value. I believe people should help themselves when they are struggling." I asked him why he had not cured his own broken leg when he had fallen off his roof a few years back? He explained that broken limbs require a professional's intervention while "anybody" can help someone to feel emotionally better.
There are many symptoms of depression which include: Loss of interest, loss of energy, feelings of hopelessness, appetite and sleep changes, and negative, distorted thinking. Depression is like looking into a funhouse mirror, seeing the distorted image, and believing it.
In therapy, one learns positive coping skills which will serve as ammunition to fight depressive symptoms. Your therapist may point out your distorted beliefs, e.g. "I will never get better," or "I'm a loser." In the more severe cases of depression people may feel suicidal. They may need to be hospitalized or attend a daily outpatient program in which group therapy and psychoeducational groups are offered.
Depression is a painful experience that can also be dangerous. That's the bad news. However, there is so much good news about depression:
Depression is not indicative of a weak character
It can be treated with therapy and, in some cases, medication.
Psychotherapeutic treatment for depression can also improve one's self-esteem, assertiveness, and communication skills.
If you are experiencing any of the aforementioned symptoms, please seek psychotherapy and psychiatric (medicinal) treatment. The help of professionals is crucial for recovery.
Reference:
WENN.com Source. (2005). Tom Cruise Slams Brooke Shields' Drug Use. Hollywood.com. Retrieved from http://www.hollywood.com/news/brief/2440860/tom-cruise-slams-brooke-shields-drug-use?page=all

The preceding article was solely written by the author named above. Any views and opinions expressed are not necessarily shared by GoodTherapy.org. Questions or concerns about the preceding article can be directed to the author or posted as a comment below.