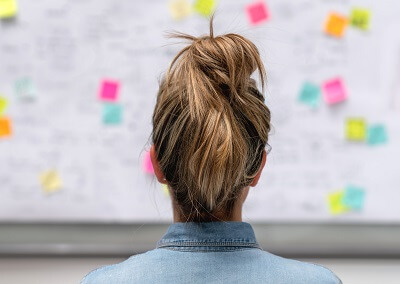 You wouldn't build a house without a sturdy foundation, so why should you develop your small business any differently? When planning your transition into a counseling private practice, you'll want to start with a sound business plan. You may even need this plan if you intend to apply for a loan to fund your fledgling therapy practice. Potential creditors may not want to take a chance on a business that doesn't have a detailed strategy for success.
Making a plan for your private practice gives you the opportunity to identify important points to consider for any small business, including finances, goals, and potential barriers to success. Considering these factors now can help prevent difficulties, or even business failure, in the future.
Finding it difficult to start writing a business plan? We can help with that. Here, we go over several essential elements to include and offer some tips to consider as you begin creating your own business plan.
Key Elements of Your Counseling Private Practice Business Plan
While you'll likely personalize the structure of your business plan to meet the unique needs of your private practice, all business plans should include certain essential information that outlines a path to success.
Mission and vision
Your mission and vision statement communicates the purpose of your private practice. Writing this statement may seem daunting, but all it needs are a few sentences answering at least some of the following questions:
Why do you practice therapy?
How will your private practice assist others?
Who do you work to help?
What concerns do you help them with?
What personal values, if any, contribute to your mission to help others?
Like other components of a business plan, specific mission statements can vary based on your practice's approach. Just take time to consider exactly how you want to help others and how your background, training, and specific approach can offer benefit—then set this out clearly in writing.
Business description
The description of your private practice can be a general overview of your business. Include all relevant information about your business, such as:
Your niche as a therapist
Therapy approaches you use in your practice
The age groups or populations you generally work with
Special skills that enhance your practice (Are you bilingual? Trained to work with special needs children? Have a therapy dog on staff?)
How many clients you'll ideally see in a week
How many current clients, if any
How many current staff members, if any
If you intend to use your business plan for anything beyond your own reference (to seek a loan or create a proposal, for example), consider providing some background about yourself and your practice. Keep things professional, but take this opportunity to personalize your description and make yourself more relatable.
Research
Taking time to research the therapy market in your area can help you make important decisions about your niche, office location, and methods of reaching potential clients.
Researching nearby therapists can provide a clearer picture of a specific location's needs. If your target area already boasts a number of therapists who practice similar approaches or treat the same issues, consider targeting a slightly different demographic or training in a new specialty.
For example, instead of saying "I work with children of all ages," consider "I see clients of all ages but specialize in working with teenagers who have ADHD, learning difficulties, problems in school, or behavioral issues." Consider your skill set and think about the help you, specifically, can provide. You might worry narrowing your practice's focus will decrease the number of potential clients, but the reverse is more likely to be true. People seeking a therapist for any of those specific concerns may find you before they find a therapist who doesn't indicate a specialty.
When choosing your office location, you'll also want to make sure potential clients of your demographic can find and reach you easily. Once you've found an ideal location, you'll need to consider marketing strategies, another key component of market research. How will you get word out once you're ready for clients?
Financial plan
The financial part of a business plan should involve several components.
First, you'll want to calculate your operating costs, or expenses. These costs might include:
Software or technology fees
Staff salaries
Office rent
Office utilities
Office products (tea, toilet paper, bottled water, and so on)
Once you've determined your monthly (or annual) operating costs, you'll need to calculate the minimum amount of income you need to support yourself and keep your practice in business. Once you have this figure, you can use it to set your therapy fees and create a sliding scale, if you decide to use this fee structure. It may help to consider how many sliding-scale clients you can take on at a time
Deciding whether or not to accept insurance is also an important decision you'll have to make before beginning to see clients. Some practitioners prefer to avoid working with insurance companies, so it's important to research the necessary steps and decide whether accepting insurance will meet the needs of your practice.
If you have independent funding to start, make a note of this. If you'll need some income to get it started, also note your strategy for obtaining these funds.
Marketing
You'll find it next to impossible to reach many new clients without investing time and effort into both developing your reputation as a mental health professional and putting yourself in front of potential clients. Including ideas for marketing strategies in your business plan can provide focus. Consider these possibilities:
Commit to spending a certain number of hours each week on marketing strategies. Use those hours to network and meet with potential referral sources, plan new marketing strategies, or make yourself available in your community.
Build a website (or hire a professional to create one for you). Developing social media pages for your private practice on platforms such as Facebook and Twitter can also help you reach more people. Social media pages can also make it easier for potential clients to contact you, since they can send messages directly from your practice page.
Create quality content by blogging about topics related to your practice, including your approach to therapy, self-care and self-help approaches, or strategies for improved wellness. This can help boost your website's ranking in Google and other search engines. Higher-ranked websites appear sooner in search results, so this can put you in front of more people looking for help.
Join a therapist directory. On GoodTherapy's directory, your profile has space for you to describe your approach to treatment, the types of therapy you practice, and the kinds of clients you'd ideally work with. GoodTherapy members can also write and publish original content related to therapy and mental health issues. Links to your published articles will appear on your profile, as well, encouraging interested clients to learn more about your approach.
Goals
The final (and perhaps most significant) component of your business plan? Your goals for the future. These goals should include a time component, and they should be focused and specific.
Your primary goal, when starting your therapy practice, is probably to help people. But consider more detailed goals. Exactly how do you want to help? If you want to help young children overcome trauma, your goal may be pursuing continuing education in trauma-focused therapy approaches during the first 6 months of practice. If you want to counsel pregnant teenagers, it might help to have a goal of learning more about the various school, family, or health-related challenges teen parents face.
Other goals including planning for the growth of your practice. Again, it helps to note specific, achievable milestones along with responses to reaching these milestones. For example, you might mention, "In 2 years, I hope to be seeing 20 clients each week. When I have more than 20 clients for a period of 2 months, I'll look to add another professional to my practice."
Conclusion
Certain details may change over time as your business grows and you adapt your practice to meet new needs. You might add more staff, gain new specialties, or become certified in additional therapy approaches. As your circumstances change, so might the needs or goals of your practice. It's a good idea to revisit your business plan once or twice a year, just to update any information and address any parts that have become less relevant.
References:
Bavonese, J. (n.d.). A business plan for growing your therapy practice. Psychotherapy Networker. Retrieved from https://www.psychotherapynetworker.org/blog/details/509/a-business-plan-for-growing-your-therapy-practice
How to create a business plan for your perfect private practice. (2016, October 24). Retrieved from https://www.aperfectpractice.com/blog/2017/1/18/how-to-create-a-business-plan-for-private-practice