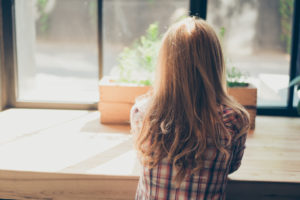 Food is an important element of every culture; the less of it available, the more important the meaning surrounding it. From holiday and traditional celebrations to the ritual of Sunday dinners, almost everyone has memories—happy, comforting memories—tied to food. So it is no surprise that people who are experiencing difficulties sometimes turn to food to try to evoke pleasant feelings.
Everyone is familiar with the idea of self-soothing through food. Eating a pint (or more!) of ice cream after a romantic breakup is a cliché. A cup of tea and a biscuit is an equally iconic response to an upset in English culture. However, this usually harmless form of self-soothing can become a problem for people with serious and persistent emotional challenges such as those occurring as the result of posttraumatic stress (PTSD). These problematic reactions may include:
What Is Posttraumatic Stress?
Briefly stated, PTSD is the result of experiencing a "shocking, scary, or dangerous event" (Post-Traumatic Stress Disorder, 2016). While not everyone will develop persistent symptoms as the result of such events, some people will go on to feel afraid or anxious even though they are no longer in danger. Symptoms may include flashbacks (intrusive memories), nightmares, avoiding places or things which trigger bad memories, being easily startled, or having difficulty sleeping. Sometimes symptoms don't appear until months or even years after the experience.
Binge Eating
According to Dr. Cynthia Bulik, an expert on eating disorders at the University of North Carolina, "Binge eating is not just a lot of overeating … there's this sense of loss of control. You start eating and you feel like you just can't stop" (When Food Consumes You, 2017). This is the most common eating disorder in the United States. People with this condition eat past the point where they are full; they often feel compelled to go on eating. This may lead to obesity and the problems that come with it.
What is the link between the two? Most of the time, the trauma comes first and binge eating later (Brody, 2017). Research shows both PTSD and binge eating are related to production of stress hormones and mood-boosting brain chemicals. About one in four people who binge eat is believed to have PTSD; about 35% of women with a binge eating disorder have been sexually assaulted. PTSD and binge eating are linked in the body.
Bulimia
Sometimes, people who have indulged in binge eating will follow with an attempt to rid themselves of the excess calories. This may be done through self-induced vomiting; the use of laxatives to help food pass quickly through the body; prolonged exercise; or, paradoxically, periods of fasting. People with this condition (known medically as bulimia nervosa) may be able to maintain a normal weight because of their efforts to counteract the high caloric intake of an eating event. However, the cycle of overeating and purging may cause other health issues, including problems with the digestive system or heart irregularities, along with problems from a poorly balanced diet.
One study found about 25% of women with this condition have PTSD. (Blinder, et al., 2006), In a study of women in a residential treatment program for eating disorders, almost three-quarters had experienced significant trauma, and more than half reported symptoms typical of PTSD (Brewerton, 2008).
Anorexia
The least common eating disorder, but potentially the most deadly, is known as anorexia nervosa medically. People who have this condition typically think of themselves as overweight, leading to chronic under-nutrition. People literally starve themselves to death, thinking the whole time that they are obese. People with anorexia are six times more likely to die prematurely than members of the general population (DeNoon, 2011). People who are diagnosed with anorexia in their 20s are 18 times more likely to die prematurely.
Exactly what causes eating disorders may well be a mix of several factors: genes and family history are considered possible factors, along with environment and culture.
Causes and Treatment Options
Exactly what causes eating disorders may well be a mix of several factors: genes and family history are considered possible factors, along with environment and culture. Physical and emotional health, particularly PTSD, are additional factors which may offer opportunities to influence the course of this condition (When Food Consumes You, 2017). Early diagnosis and treatment are critical.
The Substance Abuse and Mental Health Services Administration (SAMHSA) recognizes five evidence-based treatments for PTSD: cognitive behavioral therapy (CBT), cognitive processing therapy (CPT), prolonged exposure therapy (PET), eye movement desensitization and reprocessing (EMDR), and accelerated resolution therapy (ART). However, prolonged exposure therapy may increase the risk of binging at least temporarily (Brody, 2015).
Recent research has suggested that accelerated resolution therapy may be most effective. Walden Behavioral Care, which specializes in treating people with eating disorders, psychiatric conditions, and other comorbid issues, conducted an informal study for purposes of self-improvement. The study, which included 28 people, showed a significant reduction in self-reported levels of stress following treatment with ART. Before intervention, participants reported a mean level of distress of 7.62 (out of 10); after treatment, the level had dropped to 3.16, a reduction of more than half.
For help with problematic eating patterns, contact a therapist.
References:
Blinder B. J., Cumella E. J., & Sanathara V. A. (2006). Psychiatric comorbidities of female inpatients with eating disorders. Psychosomatic Medicine, 68, 454-462.
Brewerton, T. D. (2008, May 8). The Links Between PTSD and eating disorders. Psychiatric Times, 25(6). Retrieved from http://www.psychiatrictimes.com/articles/links-between-ptsd-and-eating-disorders
Brody, B. (2015, January 24). The link between trauma and binge eating. Retrieved from https://www.webmd.com/mental-health/eating-disorders/binge-eating-disorder/features/ptsd-binge-eating#1
DeNoon, D. J. (2011, July 12). Deadliest psychiatric disorder: Anorexia. Retrieved from https://www.webmd.com/mental-health/eating-disorders/anorexia-nervosa/news/20110711/deadliest-psychiatric-disorder-anorexia
Post-traumatic stress disorder. (n.d.). Retrieved from https://www.nimh.nih.gov/health/topics/post-traumatic-stress-disorder-ptsd/index.shtml
Walden Behavioral Care reports aggregate quality assessment information on patients treated with ART. (n.d.). Retrieved from http://acceleratedresolutiontherapy.com/walden-behavioral-care-pilot-study-art/
When food consumes you. (2017). Retrieved from https://newsinhealth.nih.gov/2017/11/when-food-consumes-you

The preceding article was solely written by the author named above. Any views and opinions expressed are not necessarily shared by GoodTherapy.org. Questions or concerns about the preceding article can be directed to the author or posted as a comment below.