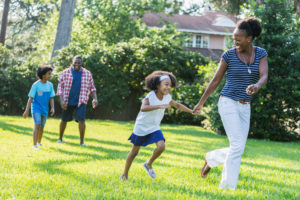 Eat right, exercise, see your doctor regularly, brush your teeth, and go to therapy. These are all common directives we receive when it comes to maintaining our health. Sadly, a factor that has started to overshadow these larger health discussions is one physical metric: weight. Weight has become the litmus test for all subsequent problems or lack thereof. If you're "normal" weight, you probably don't have any health issues—see you in a year. If you're "overweight" or "obese," there is an automatic assumption you must have other health issues as well. The prescription: lose the pounds.
This is incredibly shortsighted, and while this doesn't reflect the practices of all doctors, much of our health care system still rests on the flawed assumption weight = health. The heavier you are, the unhealthier you are, or so the thinking goes. Some research has emerged to undercut this position, yet the social implications and medical assumptions remain. Weight is our nation's blind spot (Reel & Stuart, 2012).
We all have anecdotal evidence that being told to lose weight is about as effective as being told to swim to China when it comes to providing motivation and support for healthy behavior change. Perhaps worst of all, we are given the errant sense that weight is the key to unlocking health and longevity—that, somehow, our ability to shed pounds is more indicative of our health than our ability to learn, implement, and maintain healthy behavioral changes.
If something seems not right about this, it's because it isn't. Weight and body mass index (BMI) are not a magical numbers that give access to the proverbial fountain of youth. No matter how strong our cultural obsession with thinness and dieting and exercise may be, weight will never be the ultimate answer to the various concerns we seek help for. Positive behavioral change is.
So what does that look like?
Give a person a fish and they'll eat for one night. Teach a person to fish and they'll eat for life. This old adage holds true; if we continue to focus simply on weight loss as a health cure, we will (and do) have scores of people who dive into the dieting pool only to return, after a relatively short period of time, to old habits with no gained healthy outcomes (Tylka, et al., 2014; Pietilainen, Saarni, Kaprio, & Rissanen, 2012). However, if we teach healthy food relationships through intuitive eating, smart exercise, and body positivity, people will have the skills needed to make healthy choices without shame and maintain them for the behaviors' sake.
There is increasing support for intuitive eating, moderate inclusion of exercise (and simply moving more), and decreasing stigma in our society related to size and body differences (Reel & Stuart, 2012). Intuitive eating teaches freedom from the morality associated with food choices ("I'm being bad if I eat that slice of pizza." "I've been good today. I only had a salad!"), and increases our ability to listen to our body and its needs. It has been shown to promote greater self-esteem and decreased depressed mood (Reel & Stuart, 2012).
If we teach healthy food relationships through intuitive eating, smart exercise, and body positivity, people will have the skills needed to make healthy choices without shame and maintain them for the behaviors' sake.
Moderate exercise, couched in the idea of lifestyle change rather than obsessed devotion to a weight-loss goal, allows the focus to shift to quality of life. You choose to exercise because your body desires movement, because it lowers blood pressure, and because being outdoors decreases stress—not simply to "undo" that cupcake, a bogus argument in and of itself!
Decreasing stigma, of course, allows us to move more freely in the world without fear of discrimination, judgment, and bias. It allows us to seek medical attention without fear our size will be used against us, either by steering the treatment away from our actual ailments onto weight loss or shielding us from necessary screens simply because we don't fit the "profile."
There is a dire need to adjust how we confront the health issues facing our nation. To avoid the pitfalls of viewing our body mass as the factor that matters most to our health, consider doing the following:
Adopt a "health at every size" mentality and seek out providers who share it.
Mentally check in with yourself when you engage in exercise—ask yourself about the benefits to exercise that are not related to weight loss.
Try connecting with your body's internal cues around when and how much you exercise (i.e., when you are tired, sick, or injured, take a rest day).
Remove morality from your dinner plate; recognize how all foods can fit into a healthy, balanced diet.
Refuse to engage in harmful body talk about yourself and others.
References:
Reel, J. J., & Stuart, A. R. (2012). Is the "health at every size" approach useful for addressing obesity? Journal of Community Medicine & Health Education, 2(4). Retrieved from http://dx.doi.org/10.4172/2161-0711.1000e105
Tylka, T. L., Annunziato, R. A., Burgard, D., Danielsdottir, S., Shuman, E., Davis, C., & Calogero, R. M. (2014). The weight-inclusive versus weight-normative approach to health: Evaluating the evidence for prioritizing well-being over weight loss. Journal of Obesity, 2014, 18 pages. Retrieved from http://dx.doi.org/10.1155/2014/983495
Pietilainen, K. H., Saarni, SE., Kaprio, J., & Rissanen, A. (2012). Does dieting make you fat? A twin study. International Journal of Obesity, 2012(36), 456-464.

The preceding article was solely written by the author named above. Any views and opinions expressed are not necessarily shared by GoodTherapy.org. Questions or concerns about the preceding article can be directed to the author or posted as a comment below.