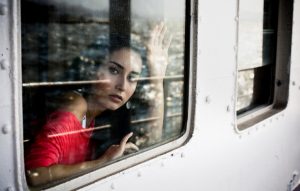 Goodbyes suck.
They really do. They're often uncomfortable. They're also inevitable.
Goodbye experiences are as final as a death and as common as leaving the embrace of your partner to get a snack from the kitchen.
They begin the first time someone takes us out of our mother's arms when we are born (or maybe we didn't even get there; for some of us, they start at birth).
Well, we say, everything comes to an end. Or, harsher, we all have to learn to live with disappointment.
Our first "task" as humans is to learn what psychoanalyst Erik Erikson called basic trust. Developing basic trust means learning that even though our parents leave us in our crib, they will come back. Someone will feed us, hold us, change us, and comfort us.
Hopefully we learn that. Not all of us are so lucky.
For those of us not given the chance to develop basic trust, goodbyes can be even harder. They're hard because we've barely learned how to connect and attach to someone else and we think if we don't attach, we won't feel bad when the time with that person ends. Or so the theory goes for people who try hard not to connect.
Over time, we realize that strategy doesn't work. We continue to get hurt and, worse, don't understand why.
As a young clinician, I hated goodbyes. I resisted the idea and would have preferred therapy just end. "Oh, you're done? Goals met somewhat satisfactorily? Good luck, so long, be well!"
But I was taught to allow people in therapy to have an ending—or "good goodbye," as we called it. (The technical term is "termination process.") So many people have stories in which other people just disappeared from their lives—a common core issue in therapy—that the therapeutic relationship should not only not replicate this, but heal it.
At least, that was the message I was given. But it was difficult to sit with.
This process could last three months, and the difficult part was what happened in those three months.
Have you ever noticed what happens when you know something is coming to an end? Think about the last time a friend moved. Notice anything in how you treated others?
As endings near, we get to see the stuff that was being held back. Maybe you snap at someone you never felt angry with before. Perhaps you find it important to make their final party perfect or hold out hope that when they see how much they will be missed they will change their mind. Maybe you start to see and remember only the amazing and wonderful things about this person and forget the difficult times you've had together.
If you're having a really strong termination process, you'll cycle through all of these. Because if you can move through the stages of denial, anger, bargaining, and depression, you can get to acceptance. You can really say a "good goodbye."
Endings are powerful because, if we allow, we get to release all the feelings we've attached to the other person. When we do that, we are truly in relationship with them.Endings are powerful because, if we allow, we get to release all the feelings we've attached to the other person. When we do that, we are truly in relationship with them.
Allowing this process to happen with your therapist can be incredibly helpful—sometimes the termination may be the most insightful work you do in your therapy.
Because it's so difficult to fully trust that someone will hang around after they've seen the "worst" of us, we inevitably hold stuff back. From friends, from relationships, from family, and from others. It's rare we show all of ourselves to anyone.
When saying goodbye, there's a "what-do-I-have-to-lose" quality at play. And we can become closer because of it.
Sometimes, we avoid the goodbye because we're really angry. A friend of mine was telling me the other day she stopped seeing her therapist. She had been working with this therapist for several years and said the treatment was very good … at first. It was helpful to talk about much of what she'd been holding in, but she wanted something else and wasn't getting it. So she emailed him and ended the therapy.
By emailing, she missed out on letting her therapist know how disappointed and angry she was.
Of course, she also avoided the discomfort. Why put yourself through that?
But that's also what you're going to therapy for: to be able to say all you feel and have it be heard without being judged. You might not get that chance anywhere else.

The preceding article was solely written by the author named above. Any views and opinions expressed are not necessarily shared by GoodTherapy.org. Questions or concerns about the preceding article can be directed to the author or posted as a comment below.