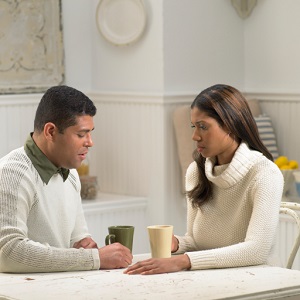 A rich body of research confirms that men interrupt women more frequently than they interrupt men. According to a new study, though, it's not just men who are the problem. Both men and women feel entitled to interrupt women more frequently than they interrupt men.
Men, Women, and Interruptions
Researchers wanted to check for several potential gender differences in communication style, most notably the tendency to interrupt a conversation partner. Forty participants—20 male and 20 female—each had a three-minute conversation with one male and one female conversation partner.
The conversation partners were trained to code the conversations for a host of words and conversational styles, including the use of personal pronouns, hedge statements, adverbs, dependent clauses, empty filler, and interruptions. When researchers examined the conversations, they found that subjects who talked with a woman interrupted more frequently—regardless of the gender of the subject.
Gender Differences in Communication?
We've all heard endless claims—in pop psychology books, in fashion magazines, and virtually everywhere else—suggesting that men and women communicate so differently that they might as well be speaking different languages. This study, however, suggests that may not be true. In addition to analyzing interruption patterns, researchers also looked at the specific words and parts of speech speakers used. When talking to a woman, participants tended to use more dependent clauses. These parts of speech are typically part of longer, more complex sentences.
Researchers speculate that participants who spoke to a woman anticipated that the woman would use more flowery language. Just as you might simplify your speech when talking to a child or develop a subtle accent when talking to someone with an accent, subjects might have thought that women were going to use more developed language, and therefore used such language themselves. Despite these subtle adjustments in the way both men and women spoke to women, though, researchers did not find differences in the way men and women spoke. If the researchers' interpretation is correct, then, both men and women expect women to speak differently, even when they don't.
Social scientists have long argued that gender discrimination is structural and systemic, which means both men and women participate in sexism even when they don't mean to. The notion that women play a role in silencing other women's voices may help bolster this claim.
References:
Hancock, A. B. (2014). Influence of communication partner's gender on language. Journal of Language and Social Psychology. doi: 10.1177/0261927X14533197
Robb, A. (2014, May 14). Women get interrupted more — even by other women. Retrieved from http://www.newrepublic.com/article/117757/gender-language-differences-women-get-interrupted-more
© Copyright 2014 GoodTherapy.org. All rights reserved.
The preceding article was solely written by the author named above. Any views and opinions expressed are not necessarily shared by GoodTherapy.org. Questions or concerns about the preceding article can be directed to the author or posted as a comment below.