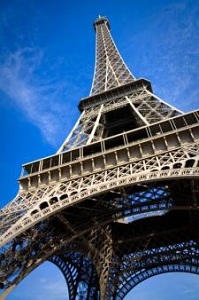 Perhaps you've come across one of the many articles or videos with titles like, "In Love with the Eiffel Tower", or a recent National Geographic Taboo program called "Forbidden Love?" The topic is Objectum Sexuality (OS), a rare sexual orientation which includes affectionate, romantic, and sometimes erotic attraction and relationships with objects. The beloved objects can range from transport to landmarks, from sporting equipment to fisheye buttons.
Such stories may make us shake our heads and mutter, "How can this be?" Are these people delusional, or worse – dangerous? How seriously should we take these stories, and the people who are featured in them?
In April 2009, my interest in autism and Asperger's Syndrome (AS) sexuality led me to contact OS-Internationale, an organization of people who have relationships with objects. I had read on their website that a number of the organization's members reported diagnoses of AS, or showed significant autism traits (while other members simply identified as animists). After some correspondence with Erika Eiffel, one of the most influential and well-known OS activists, I volunteered to do a sexological survey of the membership, so that they could have data to offer other interested professionals, as well as journalists.
I didn't know it at the time, but the accumulated information kindly provided by the 21 English-speaking members of OS-Internationale granted me a perspective unique among sexologists and mental health professionals. I suddenly became "the" expert in Objectum Sexuality – though obviously OS people are themselves the true experts on what it is like to live and love in this manner.
The most startling finding, from my perspective, is how natural object relationships feel to those who have this orientation. Most of the people I surveyed rejected the idea of human-to-human romance, and many have never had a desire to experience it. Only two people reported having a sexual human relationship in addition to object loves.
Other findings: A history of sexual trauma does not seem to cause OS – only a couple of respondents reported abuse. And aside from Asperger's Syndrome and autism diagnoses, one case of Tourettes, and two cases of PTSD – object lovers are a fairly balanced bunch. Though some respondents mentioned feeling anxiety and depression due to social ostracism, all but one person said they were happy with their orientation toward object relationships.
And it's not because object relationships are simple, either. These relationships include jealousy, breakups, and the heartbreak of unrequited love (especially when the object is an inaccessible public landmark or large piece of public transportation) as well as blissful love. Some people who love objects are monogamous, and others are not.
And when two or more people love the same public object, this too requires a complex negotiation within the human community. You can read more about this research in "Love Among the Objectum Sexuals" in the Electronic Journal of Human Sexuality (vol. 13).
At first I saw autism as containing the most likely explanation for Objectum Sexuality – but this didn't account for the people who were adamant that they were not autistic! I knew there had to be some other explanation, or collection of explanations, to account for the feelings of "this is what's natural for me!" held by so many OS people.
Then I happened across an article about object personification synesthesia and realized that if a person senses a pleasing personality in, say, a teapot – it is logical that a person may develop warm feelings for that object, and warm feelings may grow even warmer over time. Humans, being what they are, are capable of eroticizing nearly anything.
Interestingly, synesthesia is also known to be more prevalent among people with autism.
Voila! Object personification synesthesia emerged for me as an area of exploration! About a year later I followed up the first OS survey with a second, shorter one. Many respondents did report various synesthesia-like experiences, including sensing personalities in objects. I am convinced that this area merits more research. My modest (self-funded) efforts can only offer an intriguing glimpse into this mystery of love and brain function. A clever group of well-funded researchers could do so much more.
In the meantime, people who identify as OS have the same needs as the rest of us, and share much in common with other sexual and gender minorities. They need acceptance and understanding from informed helping professionals. They need help dealing with social discrimination, grieving, and all the usual developmental challenges we face in life. OS people ask for the same right to live and love as human-loving humans do, and for access to help as they need it.
OS people, and their lovers, may seem improbable to many of us. But it is my belief that they are not part of a circus side-show, far down the midway, but that they too are in the big tent of trying to make sense of it all. Their erotic and emotional preferences may be rare, but they are real.
As a sexologist, I see the need for professional training in understanding OS, and will begin to offer online classes on this topic next week. While you may never have an OS client yourself, I guarantee that making the effort to understand this group will pay off in expanding your concepts of love and  intimacy.
So, is it love? Or is it object personification synesthesia? My answer is: it's most likely both.
Related Articles:
What Do Your Sexual Fantasies Mean?
An Introduction to Clinical Sexology
Writing Your Personal Manifesto

The preceding article was solely written by the author named above. Any views and opinions expressed are not necessarily shared by GoodTherapy.org. Questions or concerns about the preceding article can be directed to the author or posted as a comment below.