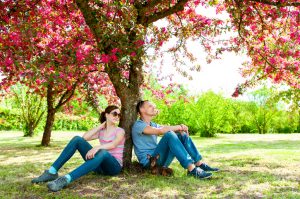 Productive and meaningful time management is a highly prized skill, but failing to make space in your day for unscheduled time may have a direct and negative effect on your sense of well-being. While many people seek therapy to master situation-specific goals, an overwhelming percentage struggle to let themselves relax and exist without actually doing anything. Without a basic ability to be comfortable being yourself, attaining states of further contentment and well-being through psychotherapy can be much more difficult. As the saying asks us to consider, is our inherent purpose to exist as human beings or human doings?
Our educational and work systems reward deadline-driven industriousness, and our society values people who work hard, meet goals, and build impressive résumés. With the invention of smartphones, digital calendars, GPS maps, and other technological tools, we have become increasingly able to accomplish more things faster than would have been imaginable a few decades ago. The lines between work and personal time blur more than ever as our attention to work email may extend throughout our waking hours and our families and friends distract our work or study periods with text or social media communication. And to what end? Societally, we seem conditioned to believe our worth is tied to using our time "wisely." However we may define that, we seem to have lost our ability to value our space, solitude, and downtime. Ultimately, this is leading to individual and collective loss of the experience of feeling both content and human.
In order to understand the remedy for this modern-day issue, it is important to first understand the cause of our discontent. I believe an unfortunate confluence of cultural beliefs and technological advances have come together to rob us of our ability to be present and in tune with ourselves, necessary components to feeling "okay."
Our society tells us that we must be occupied to avoid "wasting time" such that people begin to believe their self-worth and goodness are tied to their productivity. Much to my surprise, I frequently hear people seeking therapy say they are unable to take time to be present with themselves, as there are "more important" uses of their time. Perhaps our societal belief that "time is money" has been taken far beyond its original meaning, making people captive to their activity. What's more, as these habits of busyness and speediness take hold, people may become less able to stand being unoccupied and thus seek out momentary entertainment as a means of "killing time." When was the last time you waited in a long line and didn't consider reaching for your phone?
If we fill every moment with activity and distraction, we are missing some of the greatest gifts contained within time itself. In order to feel better about ourselves, we must be willing to just "be" rather than "do."
Layered atop the societal value placed on productivity, pervasive technology and social media have made instantaneous and perpetual distraction easily available. The level of instant gratification that arises out of the momentary amusement has made these devices ever-present in waiting rooms, at dinner tables, and in bed. Every moment of life is filled, and there is no space to simply feel or "be." In fact, our tolerance and willingness to feel alone, bored, or unproductive, even for short periods of time, is diminishing. This is particularly true for younger people who have never known a world without ubiquitous connectivity, and for whom connection to self and other often comes through screens rather than a felt sense of self experienced through being present in the physical world. Learning to be present with yourself may ultimately enhance genuine real-world connection with others that is mistakenly being sought through screen-based interaction.
The problem with these societal beliefs and our reliance on digital entertainment is that creativity is born out of boredom. Our sense of aliveness comes from being present with the life we live. If we fill every moment with activity and distraction, we are missing some of the greatest gifts contained within time itself. In order to feel better about ourselves, we must be willing to just "be" rather than "do."
The antidote to busyness and speediness is to spend unscheduled time experiencing being yourself. You may pause and try being yourself while you are in nature, between tasks, or upon waking. I find that doing this exercise in the presence of trees or plants can be helpful, as they provide an excellent example of living entities that are doing nothing more than being fully what they are. If you are unable to easily access flora, any space in which you feel comfortable and able to relax and "be" will work.
In order to "be," allow yourself to explore what it means to be present with yourself and your surroundings. Notice the thoughts that arise, including any cravings relating to wanting to do something. Allow yourself to be curious about feelings, including those of boredom and loneliness. What sensations do you notice? None of these thoughts, feelings, or sensations is a problem. None is right or wrong. They simply provide information about your state of being at that moment, and this knowledge informs your endeavor to fully be yourself.
Finally, see if it's possible to be yourself without needing to do or be anything else—just exist as who and what you naturally are. While these directions may seem simple, they contain the essence of what it means to be alive, the cure to our modern state of existence, and ultimately the foundation for building a state of contentment.
© Copyright 2016 GoodTherapy.org. All rights reserved. Permission to publish granted by Tai Pimputkar, MSW, LCSW, GoodTherapy.org Topic Expert Contributor
The preceding article was solely written by the author named above. Any views and opinions expressed are not necessarily shared by GoodTherapy.org. Questions or concerns about the preceding article can be directed to the author or posted as a comment below.