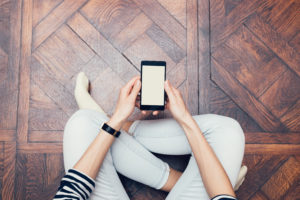 The internet has put everything at our fingertips, both figuratively and literally speaking. With the click of a button, you can get something delivered to your home in hours, connect with people on the other side of the world, and get information on anything and everything you can think of. But with these advantages comes responsibility.
Access to technology can feel crucial. You use it to complete work, stay connected with your friends, and keep up-to-date on the latest and greatest. Technology can be really beneficial for these purposes. But if you are not careful, technology can switch from being your best friend to your worst enemy. Whether this happens, believe it or not, is often within your control.
These dos and don'ts are here to help you remember to maintain a healthy relationship with technology.
Don't: Say anything online you wouldn't say in person.
Do: Think before you post.
Communicating online can give anyone a false sense of confidence, anonymity, and protection. It is easy to forget that what we do and say online can be saved and shared with anyone and often has very real consequences in your personal life and relationships. Instead of responding to things in a reactive way, stop and think before you post. Count to three or take a break from your device and think about any potential consequences before hitting send.
Don't: Share your passwords with anyone.
Do: Practice good tech security.
When you're friends with someone, it can be hard or impossible to imagine you will ever stop being friends or that they would do something to hurt you. But sometimes friends have a falling out; people can surprise us or make mistakes. Sharing passwords, even with your best friend, can increase the risk of someone accessing your private information or impersonating you with the intent of causing you harm. There is rarely a good reason for someone else to have your login information, so keep it private.
Don't: Believe everything you read or see.
Do: View information through a realistic lens.
It may feel like technology use is connecting you with others, but this is nothing compared to connection and engagement with people and the world around you.
Think about what you post online. Are you posting pictures of yourself when you first wake up—hair all over, no makeup, and wearing pajamas? Are you sharing information about embarrassing moments, bad choices, or your own vulnerabilities? Probably not. People are very careful about creating their online personas. That Instagram picture of your friend with the "perfect body" smiling at the beach may have taken ten tries to get the most flattering shot. The post about your friend's awesome weekend is probably 80% truth and 20% fluff.
It can be easy to think everyone you follow online is happy, has the best body, or lives the most exciting life. But technology can be deceiving, and people have the power to display only their good parts. Remember to take everything you read with a grain of salt and maintain a healthy perspective about what you see online.
Don't: Use online resources as your only information source.
Do: Reach out to adults or professionals when you need help or have questions.
The beauty of the internet is that you can find information about nearly anything. The downside is that not all of that information is helpful or accurate. Using the internet as your sole source of information can lead to some unhealthy choices. If you are concerned, have questions, or are unsure of something, ask a trusted adult or professional for help.
Don't: Go down the technology rabbit hole.
Do: Make conscious choices about how much time you spend on your devices and remember to invest in face-to-face relationships.
Think about how much time you spend on your devices, including your phone, tablet, computer, and video game console. Chances are, you spend much of your time on some device. Take a moment to think about how this use impacts your life. How many moments have you wasted because you were browsing Instagram stories? What fun activities have you missed because you opted to spend your time on Snapchat or YouTube? How many relationships have you neglected because of the amount of time spent playing video games?
It may feel like technology use is connecting you with others, but this is nothing compared to connection and engagement with people and the world around you. Be conscious of the time you spend online. Make an effort to put down your device when around family or friends. Look up from your phone and take in the world. You might be amazed at what you find and the experiences you may have.
Take inventory of your relationship with technology. If you realize you have developed an unhealthy and unbalanced relationship, don't wait to make a change. Start making smart tech choices today! Reach out to a compassionate therapist or counselor if you are having difficulty disconnecting from technology.
© Copyright 2018 GoodTherapy.org. All rights reserved. Permission to publish granted by Katelyn Alcamo, LCMFT, GoodTherapy.org Topic Expert
The preceding article was solely written by the author named above. Any views and opinions expressed are not necessarily shared by GoodTherapy.org. Questions or concerns about the preceding article can be directed to the author or posted as a comment below.