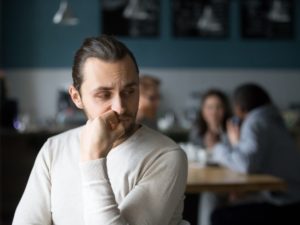 No one looks forward to rejection, but many people can weather the emotional blow and recover from it without too much difficulty. Individual factors such as resilience, social support, and self-esteem can play an important part in the ability to cope with rejection.
Rejection affects people in different ways though. Not everyone gets over it quickly or easily. In fact, some people experience what's known as rejection sensitive dysphoria (RSD): a severe emotional reaction that makes it particularly challenging to deal with rejection.
Rejection sensitive dysphoria, also referred to as rejection sensitivity, isn't considered an official diagnosis, but research increasingly suggests it involves much more than "being sensitive".
Signs of Rejection Sensitive Dysphoria
The most telling marker of rejection sensitive dysphoria is an extreme response to real or perceived rejection. Most people may experience sadness, disappointment, or frustration after experiencing rejection. But with RSD, rejection or critique can be overwhelming enough to lead to:
Outbursts of rage or panic
Feelings of despair and hopelessness
Beliefs that one has failed or disappointed their loved ones
Feelings of shame and humiliation
Extreme rejection sensitivity can make it tough to move forward after an experience of rejection. Some people might continue thinking about the rejection throughout the day or into the next, experiencing circling thoughts or even feelings of physical discomfort. Some may also experience low self-esteem or feel frustrated with their inability to prevent the intense emotional response.
RSD doesn't only happen in response to an actual incident of rejection. These feelings can also develop in response to behaviors they perceive to be rejection. For example, an individual may interpret an instance of friendly teasing as evidence that their friends hate them.
RSD is often mistaken for social anxiety, since both involve a fear of rejection. However, social anxiety generally happens before the experience, not after. People with RSD don't necessarily feel distressed or uncomfortable when they interact with others, unless that interaction involves something they see as criticism or rejection.
Angry vs. Anxious Rejection Sensitivity
Rejection sensitivity can manifest in many ways. That said, it is common for symptoms to follow one of two clear patterns: high-anger RSD and high-anxiety RSD.
High-anger RSD typically involves symptoms and behaviors such as:
Outbursts of anger or hostility
An urge to lash out or get revenge on the person rejecting or criticizing
Aggressive behavior, either directed at the self or others
With high-anxiety RSD, symptoms may include:
Avoidance of situations with a possibility of rejection
Withdrawal from others in order to avoid rejection
Rumination, or thinking about the experience of rejection again and again
Research also suggests feelings of depression are more likely to develop in people who experience anxious rejection sensitivity. Instead of expressing distress through anger, they can direct their pain inward. These sudden drops in mood may be misdiagnosed as rapid-cycling bipolar.
Rejection Sensitivity and ADHD
Emerging research on rejection sensitivity suggests it is strongly associated with attention-deficit hyperactivity (ADHD). RSD has also been linked to autism. Not everyone who has either condition will also experience RSD, but both conditions seem to increase the risk of RSD.
Carey Heller, PsyD, shares his thoughts: "Rejection sensitivity is often a common issue with ADHD. This is partly due to the fact that many people with ADHD struggle with emotion regulation and may feel emotions more intensely." Emotional instability, or trouble regulating mood and emotions, affects many people living with ADHD.
In addition, people with ADHD often have trouble with behaviors that come normally to others, such as sitting still or focusing on an assignment. ADHD symptoms may cause them to miss social cues, increasing the likelihood of social friction. As a result, they often hear more criticism and correction than people who don't have ADHD. This frequent criticism may seem like rejection of a sort, and it may contribute to feelings of shame and embarrassment that can trigger rejection sensitivity.
What's more, hyperarousal in the brain can make it challenging for people with ADHD to differentiate smaller issues, like a phone call that wasn't returned, from more significant types of rejection, like being dumped. Because of this, every instance of possible rejection, even a moderately raised voice, may seem more devastating and severe.
Long-term Effects of Rejection Sensitive Dysphoria
RSD isn't an easy thing to live with. It can cause intense, overwhelming distress that individuals struggle to control.
Mistakes and rejection are both part of the human experience. A life without either doesn't present much opportunity to learn or grow.
Furthermore, RSD can significantly affect quality of life, since people who fear rejection may end up avoiding all situations where it could occur. For example, they may not try to date or connect with others, even if they want to develop friendships or romantic relationships. They may stay in unfulfilling jobs because they fear getting rejected while applying for a new job or promotion. But over time, this behavior can cause feelings of frustration, dissatisfaction, or even depression.
People who respond to rejection sensitivity by trying to please everyone or developing perfectionist traits may experience frustration and distress when these measures don't work. People pleasing can involve a loss or denial of the self, which can contribute to resentment. Mistakes and rejection are both part of the human experience. A life without either doesn't present much opportunity to learn or grow.
Help for Rejection Sensitive Dysphoria
Rejection does hurt, but this pain is generally not permanent. It can also be helpful to address it in the moment by talking over the situation with the other people involved. Explicit communication can help individuals figure out when rejection is truly intended and when it is a misunderstanding.
For example, it can help to try asking a friend, "Why didn't you return any of my text messages? I tried to get in touch with you all night. We were supposed to hang out!"
They may respond by saying, "Oh, I'm so sorry. I dropped my phone in the sink and couldn't use it at all. Let's hang out tomorrow instead."
If an individual suspects they have RSD, they may want to see a mental health professional. Since RSD can resemble other mental health issues, it is important to get the correct diagnosis so that an individual gets the right treatment. Someone with bipolar will likely need a much different intervention than someone with ADHD-based rejection sensitivity.
Therapy can help individuals recognize when their RSD has been triggered. A therapist can help individuals reduce their overall stress and manage their perfectionist tendencies. Addressing these issues can make RSD episodes less frequent.
RSD often triggers an extreme response in the body's HPA-axis, which controls the body's stress hormone cortisol. Thus, some people use medication to address the biological aspect of RSD. Guanfacine, which is often prescribed for hyperactivity, is one of the more common medications used to address RSD. However, side effects such as sedation may make some individuals reluctant to take medication.
Would you like to learn more about rejection sensitive dysphoria? Find a qualified mental health professional today.
References:
Dodson W. (2019, November 26). Could you have rejection sensitive dysphoria? ADDitude. Retrieved from https://www.additudemag.com/rejection-sensitive-dysphoria-adhd-symptom-test/
Dodson, W. W. (2016). Emotional regulation. Attention. Retrieved from https://chadd.org/wp-content/uploads/2016/10/ATTN_10_16_EmotionalRegulation.pdf
Rejection can be more painful with ADHD. (2019, April 4). ADHD Weekly. Retrieved from https://chadd.org/adhd-weekly/rejection-can-more-painful-with-adhd
Rejection sensitive dysphoria: What is it and how to deal with it. (2018, April 8). Retrieved from https://www.depressionalliance.org/blog/2018/04/08/rejection-sensitive-dysphoria
Zimmer-Gembeck, M. J., & Nesdale, D. (2013). Anxious and angry rejection sensitivity, social withdrawal, and retribution in high and low ambiguous situations. Journal of Personality, 81(1). Retrieved from https://www.ncbi.nlm.nih.gov/pubmed/22583003

The preceding article was solely written by the author named above. Any views and opinions expressed are not necessarily shared by GoodTherapy.org. Questions or concerns about the preceding article can be directed to the author or posted as a comment below.