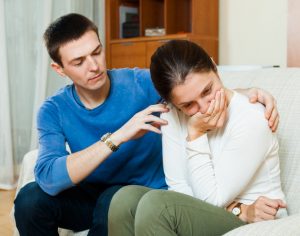 All close relationships have difficult moments, times when partners feel hurt, disappointed, or frustrated with one another. But some wounds are so deep they threaten the fabric of the relationship. At these times, the wounded partner's experience can typically be summarized as either: "When I needed you most, you weren't there for me," or, "I trusted you and you betrayed me." Either way, the spoken or implied reaction is, "I will never trust you and risk being so hurt and disappointed again."
Practitioners of emotionally focused therapy (EFT), a well-researched, effective model of couples therapy, call these destructive experiences attachment injuries. EFT encourages hurt partners to share not just the facts about their injury, but the deep pain and sadness they experienced. Offending partners are helped to listen non-defensively, fully understand the emotional impact of their behavior on the injured partner, and express sincere remorse and regret. Couples are then guided through the process of asking for and receiving the comfort and support that was missing at the time of the injury.
When partners complete this process, many find their bond is not just repaired but strengthened. They understand each other's needs and experiences in new ways that allow them to be more responsive to each other in the future.
But for a number of couples, understanding their partner's experience and offering heartfelt apologies is not enough. The wounded partner still has trouble moving on, and the remorseful partner feels stuck in purgatory, not knowing what more to do.
If you have ever been that remorseful partner, unable to regain your partner's trust, chances are you have experienced your own emotional pain. You may have felt hurt your partner wouldn't give you another chance, sad your thoughtless behavior had such monumental consequences, ashamed of what you did, scared you would never repair your relationship, or angry your partner was unwilling to move on.
Chances are, you felt confused and stuck. What more did your partner want from you? What more could you do?
At that moment, your confusion, fear, anger, hurt, or despair placed you at high risk of doing something to make things worse. Or, afraid to say or do the wrong thing, you might have done nothing at all. Either way, your good work in understanding and acknowledging past mistakes could easily be undone.
But for a number of couples, understanding their partner's experience and offering heartfelt apologies is not enough. The wounded partner still has trouble moving on, and the remorseful partner feels stuck in purgatory, not knowing what more to do.
What you may not have understood is that you—your presence, comfort, and understanding—were the key to your partner's recovery. Your partner felt alone and abandoned at a vulnerable time. The antidote to this painful memory is to experience your presence whenever they share their pain, for as long as it takes to believe they can count on you again.
Whether partners share pain for the first time or for the hundredth, they are asking, "Do you really care how I feel? Are you really there for me now?" If the answer is, "Yes, I'm here and I care, and I'll be here for as long as it takes," your relationship has taken at least a small step forward. If you grow impatient, if you get angry or defensive or hopeless, your partner may again feel dismissed or alone at a time of need. In other words, you will have replayed and reinforced the original hurt.
A couple I recently saw—I'll call them Allison and Mark—exemplify how couples can continue to struggle after a heartfelt apology. After months of working on their relationship in therapy, Allison summoned the courage to tell Mark how deeply wounded she had been since a dismissive remark he made to her several years earlier, at a time she was depressed and overwhelmed.
Because of the good work they had already done on their relationship, Mark was able to take in Allison's experience without defending himself or minimizing her pain. Understanding the magnitude of her wound, he was stricken. He expressed his heartfelt apology and sat with her in a moment of shared sorrow.
But the wall Allison had put up to protect her from ever feeling that vulnerable and hurt again did not immediately come down. "I wish I could just take the wall down and move on," she told him sadly, "but I can't yet. I don't know why."
And then he panicked. What if Allison never recovered from this injury? What if there was no way to undo or repair the damage? What if she decided he couldn't be the man she needs?
In his panic, Mark tried to convince her they couldn't change the past and she needed to begin trusting him again. He understood what he did wrong, and he would try to be a better partner. But instead of feeling reassured, Allison felt he was telling her, "You shouldn't be feeling hurt and alone anymore. You should be able to move on."
If the conversation stopped here, as it often did at home, Allison would have felt Mark was once again dismissing her feelings, leaving her to struggle alone. She would have felt less trust in him than before the apology and added a few more bricks to her self-protective wall.
But this time, I was able to explain that Allison needed a different kind of reassurance. Mark then turned to her and said, "I'll wait as long as you need me to. I don't care how long it takes for you to take the wall down. I'm here and I love you."
And with that, their relationship took a small but important step forward.

The preceding article was solely written by the author named above. Any views and opinions expressed are not necessarily shared by GoodTherapy.org. Questions or concerns about the preceding article can be directed to the author or posted as a comment below.