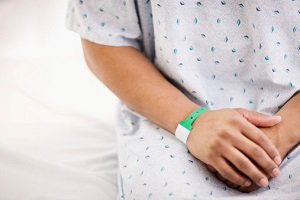 Mental health issues carry such a stigma that few people wish to talk about their experiences at a psychiatric ward. I am learning involuntary commitments are rarely necessary but are frequently directed by emergency room (ER) physicians who do not know how to deal with mental health issues. I share this experience so others know what happens when someone is committed to a mental institution. My opinions are not meant to be medical advice. Talk all medical issues over with a dedicated, concerned, and compassionate health care professional.
It Began with the Itching
The hydromorphone pill I had been prescribed for pain from a hysterectomy made me itch. Five days later the dysphoria set in. Dysphoria is an emotional state, sometimes instigated by medication, often indicated by restlessness, anxiety, and depression. The next day the anger followed. Finally, suicidal ideation took up camp in my mind. All I could think about was how relieving a long swim in the ocean would be to make the thoughts go away.
My nephew had committed suicide two years before. In reading up on suicide, I had learned those who take their own lives don't understand suicide is a long-term solution to a short-term problem. The "sane" part of my brain continually played this mantra, keeping me from moving from ideation to suicidal intent. There are numerous definitions of suicidal ideation versus suicidal intent, and these often overlap. I refer to Carmel McAuliffe: "Suicidal ideation is a low-risk, common factor among nonclinical population samples…. Ideation may only become a risk factor for attempted or completed suicide when it is comorbid with rarer risk factors such as a dichotomous thinking style and in the absence of certain protective factors such as social support."
I asked a neighbor for help, which was the first thing I did correctly: seek help from a trusted person when you are in distress. My primary care physician (PCP) was called. This, on the other hand, was my first mistake; my surgeon should have been called first. Your surgeon's office should encourage people to call with questions/issues at any time. If they don't tell you this, do it anyway. My PCP directed me to my local emergency room.
I agreed to go, as I naively thought my local hospital would be able to address my medical issues. Drug-induced dysphoria is not considered a mental illness, but at your ER, you will be committed to a psychiatric ward, either voluntarily or involuntarily, "for your safety," even though this may not be the best option for you. It is the best option for the ER staff as they are not experts in mental health.
My husband took me to the emergency room—second thing done correctly: always bring with you an advocate who can think rationally on their feet. My medications were given to the ER nurse, which was the third thing I did right. Take your meds or a list with you to the hospital.
One-Way Transport to a Psychiatric Hospital
My husband left the room so I could be examined by the ER physician. This was mistake number six. Keep your advocate with you at all times. I was asked about suicidal ideation, but not suicidal intent. None of my pain medication was discussed, even though it was known I was post-operative. A search on Medscape.com and Epocrates.com show that suicidal ideation is a known adverse reaction of bupropion (one of my medications) and dysphoria is a known adverse reaction of hydromorphone. I have since learned it is the responsibility of the person committed to monitor adverse reactions to drugs as every person's body reacts differently to medications. Your doctor has no responsibility to share this information with you.
After a few questions about my mental state, I was asked if I would voluntarily commit myself to a mental institution. I said no, because I believed the root of the problem was physiological, not psychological. I was told I could go home if I agree to a day program and, though I wasn't sure how this would address the physiological issue, I was open to the idea.
I then learned the day center did not have a place for me to lie down, so this option was not physically possible being that I was one-week postoperative. This was another mistake. Because of my "uncooperative behavior," the ER physician filed a Section 12a on me, which in the state of Massachusetts meant I was then involuntarily committed to a mental institution of its choosing.
A guard was put at my door. I repeatedly tried to get the ER staff to understand my problem was physiological, not psychological. I am assured that my medical needs will be addressed at the psychiatric ward. The vice president and executive director of the hospital said she was sure that by the following week, she and I would meet again and I would thank her for the care I have received at the psychiatric hospital. This proved to be grossly inaccurate.
Stark Reality of a Mental Institution
The dysphoria and suicidal ideation abated by 11 a.m. At 6:30 p.m. I was transported by ambulance to the psychiatric hospital. Mental institutions are exactly how movies portray them: stark, cold, and dark, with stale air. Strapped to an ambulance gurney, I rolled through the unadorned white corridors. As the first set of automatic doors opened and slowly closed, I realized my children, husband, friends, and family were no longer available to me. When the second set of locked doors clicked shut, my freedom of movement and privacy left. As the third set of doors slammed behind me, dignity, respect, and even intelligence were stripped from me.
From then on, I wore only the label of "mentally ill."
After being checked in, I was assigned a hospital gown for sleeping, towels, and one blanket. I was not allowed a bra, as I might hang myself with it. No dental floss, as I might slit my wrists. No iPod because of the headphone wires… and the list goes on.
The acting physician came in, reviewed the pain medications I was taking, and prescribed the same ones again. As he left, I said, "Out of curiosity, should the hydromorphone make me itch?" He stopped and said, "You are allergic to it." So it was the hydromorphone that I was allergic to! That was the fourth thing I did right: ask endless questions of your physicians. Do not fear them; fear the mistakes they could make. I would have been prescribed the harmful drug again.
Always Cooperate
I remember years ago reading that if you are ever involuntarily admitted to a mental institution, cooperate at every level. I made a series of requests, which were refused—food, ibuprofen, tea, and constipation medicine—because at that point it was too late in the evening to have them approved. By then, I must have seemed like an unreasonable patient, so I went to bed to stare at the ceiling until daylight. My roommate slept restlessly. I started taking notes in order to provide my husband with concrete examples of how my medical needs had not been met. Another thing done right: take notes. I recorded times and who I had spoken to.
 My Psych Team Does Their Job
At 9 a.m., I fought to find my breakfast tray in the cafeteria. Breakfast consisted of pancakes dripping in syrup along with sausages, which I knew my body would not process. Kind Nurse1 brought me a bowl of oatmeal, and a dietician came over to discuss what I could eat. She said, "Ok, we will start providing them to you tomorrow," and I thought, "Tomorrow? What am I supposed to do today?" I remained quiet. When lunch arrived, I saw it was a peanut butter and jelly sandwich. I explained I was allergic to peanut butter, thanked the attendant, and went back to my room.
My "support team" met with me later. My intake report, which I subsequently requested, indicated I was "helpless, hopeless, and suicidal." Later I learned my poor mental state was attributed to my not looking the admitting ER physician in the eye (while I was lying on a hospital bed). This was yet another mistake of mine. Make sure you look all interviewers in the eyes so they realize you are in full control of your mental state. At the meeting with my support team, the hospital psychiatrist held my intake report and asked me why I was there. I told them it was because of an allergic reaction to hydromorphone.
An activity coordinator asked, "What are your goals during your stay?" I was ready for this question, as while I was in the ER I used the hospital Wi-Fi to get an idea of what to expect, since I had never been to a psych ward. I replied, "To finish chapter three of the book I am writing."  I've since been informed that this could be interpreted as "Delusional Disorder, Grandiose Type," since no one there knew I was a well-published university professor.
My only identity, according to my team, was "mentally ill with suicidal tendencies." Wouldn't I rather work on anxiety or other problems, they asked. I remained committed to chapter three of my book (with all due respect). "Well, ok," they said, "there are board games, cards, and art you can do if you prefer. Maybe you would like a group session."
Here is a reminder to mental health providers: people do not automatically lose their intelligence once they enter your facility. (I have come up with several other pieces of advice, which you can see here.)
My Husband Advocates for Me
By midday a hospital human rights officer had arrived and said my husband filed a complaint. From that moment forward my care changed dramatically. My meals were brought to my room with food I could actually eat (that day, not the next), and drinks were supplied without my asking, including warm prune juice.  I received fruit and vegetables for grazing on throughout the day. I got my iPod back, and I was given privileges for outside air twice daily. I refused group therapy because of pain, but I could ask for ibuprofen for breakthrough pain as well as milk of magnesia for constipation. I also received dental floss, and Kind Nurse2 provided tea twice in the evening. When I explained I needed a sleeping pill, Kind Nurse2 called the doctor immediately and I got an OTC sleeping pill.
You do have rights. If you feel they have been violated, have your advocate talk to the human rights officer.
Released
On the morning of my third day, I was asked to sign discharge papers which said I suffer from MDD, major depressive disorder. I refused. I asked the hospital psychiatric doctor whether my file stated I had an allergic reaction to hydromorphone. The answer was no. I asked for it to be added but did not stick around to see that it was.
I was released at 11:45 a.m., 52 hours after walking into my local ER. Ever so happy to see my husband, I finally let myself cry.
Five Lessons Learned
Bring an advocate when seeking medical care. Four different doctors misdiagnosed my symptoms. Don't fear your doctors; fear the mistakes they may make. Ask questions! Have your advocate ask the questions and take notes if you can't. Have your advocate fight for your rights.
Immediately call your physician or a poison control center if you or a loved one has ANY reaction to a medication, common or not (blurred vision, itching, hives, euphoria, dysphoria, anger, etc.). Epocrates.com and Medscape.com are good places to consult about side effects and drugs combinations that should be monitored closely.
Share this mantra or a similar one with everyone you love, especially young adults: Suicide is a long-term solution to a short-term problem. Have a support system in place of people you trust; you never know when you might need them.
Cooperate at all times if you are misdiagnosed and admitted to a psychiatric ward. Agitation and despondency support the diagnosis. While confined, your job is to relax; your advocate's job is to fight on your behalf to get you out. Have your advocate bring magazines, newspapers, or something to keep you busy, and be prepared to get caught up on 2-3 days of reading.
Know what is in your medical records. Ask to see them and make sure they are in a language/terms you understand. This is your right.
My surgeon later confirmed the hydromorphone likely caused the dsyphoria/suicidal ideation. If you are wondering, I did not abuse the pain medication. At admittance, eight days after surgery, the psych ward counted 20 pills left in the bottle out of a prescription of 30. I have been told the type of reaction I had is rare, but I wonder how many times this type of issue is misdiagnosed.
In this experience, I made mistakes more than I did things right, and I have made this report so you don't make similar mistakes. Please pass on my story so others are educated likewise.
Dr. Rummel is an associate professor of marketing and innovations at a well-known university in the northeast. She holds a BS in Chemical Engineering, as well as an MBA, in addition to her PhD. She has two wonderful teens, a puppy, and a devoted husband. Mental health issues, especially depression, run in her family, but deter none of her family members from living full lives. She shares her experience in the hope that the health care industry will be the first to demystify mental health issues. Only then can the general public appreciate the commonality of temporary and long-term mental illnesses.
Reference:
McAuliffe, Carmel M. (2002). Archives of Suicide Research. 6:325-338, p. 336.

The preceding article was solely written by the author named above. Any views and opinions expressed are not necessarily shared by GoodTherapy.org. Questions or concerns about the preceding article can be directed to the author or posted as a comment below.