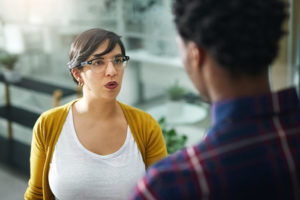 In day-to-day life, we often spend a lot of time holding in the feelings and thoughts we have about others. These thoughts may be about people we love, someone we're in relationship with, those we work with, or even just people we dislike but need to interact with regularly.
Life is about relationships; the quality of those relationships can contribute to how fully alive and happy we get to be. The authenticity and honesty in our closest relationships are strong markers for a healthy life—but we still hold back.
Why Do We Hold Back?
Part of the reason for this is maturity. Many of us know what it's like to be with a child who doesn't have a filter. They might tell a stranger that they're ugly or let Great-Aunt Abigail know that her birthday gift was the same as last year's—and it wasn't appreciated then! This child hasn't yet learned that little white lies can be okay and that there are times we aren't blatantly honest in order to protect the feelings of others.
Another contributing factor is that we can get so used to holding in our thoughts and feelings that we lose awareness of them. And when they do make it awareness, we often say, "Bah! It's not that big of a deal. Forget it."
There goes another repressed feeling.
When Repressed Thoughts and Feelings Surface
Maybe we unload into a journal or speak with a friend or partner (not about them, but about each other.) Perhaps those feelings get displaced onto others, or even somatized into physical symptoms. Suddenly, all the little things we didn't think were important are coming out in unexpected, unhelpful, and unhealthy ways.
We must learn to bring into consciousness the small cuts that build up in our lives and hold us back from more intimate relationships.
We think, "Okay. Let's head to therapy! That will help with my anger, anxiety, or depression."
In a counseling session, we may talk about Great-Aunt Abigail's cheapness and how it seems to show how little she's cared for us all along. Maybe we talk about a demeaning boss with whom we can never express our full frustration. Perhaps we get to share about all our friends who willingly take and take but never seem to return all we do for them.
Realizing Your Therapist Is Human
We should talk about all of these issues with our counselor. But over time, something else often becomes apparent: we discover our therapist is also a human being. We begin holding back the same kinds of thoughts and feelings from them.
A few examples of these thoughts include:
"They looked at the clock a few more times than they usually do, but maybe they're just hungry and looking forward to lunch. Never mind that it made me feel expendable."
"Okay, they stumbled when remembering my child's name—I've only been talking about the little brat for 8 months now. But they must have so many clients, right?"
"That was definitely a yawn. A yawn! How dare they. Oh, come on, it's 8 p.m. It's not a big deal. Stop thinking about it."
Why Should I Share These Thoughts With My Therapist?
We often censor feelings and thoughts about our therapists because we know that's the mature thing to do. We certainly won't make too many friends if we're constantly telling the people in our lives how they've let us down. But we're not in our "daily lives" in therapy. We're in therapy. We're in this experimental petri dish to get to know ourselves better, something we can only do in relationship to someone else. We must learn to bring into consciousness the small cuts that build up in our lives and hold us back from more intimate relationships.
Talking with your therapist about any of the thoughts listed above may not get them to change or apologize, although that may happen. The main purpose of verbalizing these feelings is to give you the experience of exploring how these slights, which are most likely replicated in real life and often in bigger ways, affect you and your relationships with others. Discussing these thoughts in a trusting therapeutic relationship can help you work toward spending less energy holding them in on a regular basis. It can help to find a trusted therapist near you with whom you can explore these feelings.
Over time, you may find you are not holding grudges for as long as you used to or that your expressions of anger are not as strong as they've been in the past. This may mean you've begun to release yourself from the grasp of those slights and the repressed thoughts that often accompany them.
© Copyright 2018 GoodTherapy.org. All rights reserved. Permission to publish granted by Justin Lioi, MSW, LCSW
The preceding article was solely written by the author named above. Any views and opinions expressed are not necessarily shared by GoodTherapy.org. Questions or concerns about the preceding article can be directed to the author or posted as a comment below.