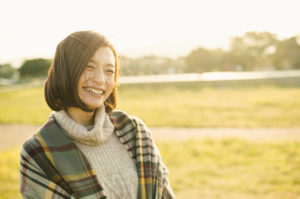 Some statements are made in psychotherapy with regularity. While every person's reasons for seeking counseling are unique to them, there are similarities in the thoughts many people have as they consider reaching out for help and as the counseling process unfolds. My hope is that recognizing these thoughts as familiar will serve as encouragement to those who are on the fence about beginning therapy.
1. I've been thinking about going to therapy for quite a while.
People often consider getting counseling for a long time (sometimes years) before they do so. They hope things will get better, wait for the "perfect" opportunity, question whether it will help, or simply put themselves and their self-care at the bottom of their priority list. They experience a sense of relief and hope after finally making the call and putting the first appointment on the calendar. That's not to say there isn't some nervousness in approaching that first session, but there can be comfort in knowing they've taken the first step toward their healing and they are no longer trying to do it all on their own.
2. Now that I hear myself say it out loud …
So often, people complain of a sense of overwhelm and uncertainty. Once they start talking about what is troubling them or the choices they have before them, they gain a sense of clarity. Things become more obvious as people give voice to their thoughts. They develop more of an awareness around their inner compass and the power of their voice.
3. I feel safe in this judgment-free zone.
People are sometimes surprised at the lack of judgment they experience in therapy. They often project their own judgments onto themselves, engaging in self-criticism and beating themselves up for behaving in ways that don't serve them or others well. Being in a judgment-free zone can serve as a model for letting go of negative self-talk, furthering understanding, and practicing self-compassion.
4. It's nice to be able to talk with someone who is objective.
Many people share that, for a while, they chose to confide in family or friends because it was more convenient; there was no financial cost involved; and that's what friends are for, aren't they? However, those people soon realized it can be difficult (or next to impossible) for friends and family to remain objective. They are often invested in what is happening or are impacted by it. They might be emotionally attached to your well-being (or perhaps your lack of it). If you're considering enacting change, friends and family may be affected by it, causing them to have an opinion one way or another on how you proceed.
5. I don't know.
There are points in therapy when people may express they have no idea what the next appropriate step is. Often, underneath pain or uncertainty, there is an inner voice that has been muffled or perhaps ignored. Through therapy, people can learn that they often have the answers inside them, and can slowly build trust and confidence in that inner voice again—or for the very first time.
People sometimes come to therapy looking for advice. What they find instead is someone who will help them examine the potential ramifications of various courses of action, so they can ultimately learn to make their own decisions in their own best interests.
6. I wish you could tell me what to do.
People sometimes come to therapy looking for advice. What they find instead is someone who will help them examine the potential ramifications of various courses of action, so they can ultimately learn to make their own decisions in their own best interests. Becoming comfortable with making your own choices is empowering, whereas having someone tell you what to do prevents you from taking full ownership of your well-being. Independent decision-making allows you to cultivate faith in your abilities.
7. I dislike change.
People often come to therapy because they're feeling stuck, repeating the same thought processes and behaviors, unhappy with not being able to move forward. At the same time, they express hesitancy regarding wanting change. People define their habits as comfortable, despite the fact they're no longer working for them. They gravitate toward what is familiar. There is great power in doing something to break through a status quo that is no longer healthy or appropriate. Your therapist can guide you to take small steps so you can note your progress along the way and maintain your momentum.
8. Fear holds me back.
What often keeps people stuck is their fear of what might lie ahead (anxiety is driven by the phrase "what if …")—fear of the unknown, failing, succeeding, disappointment, stepping outside of a comfort zone, etc. A therapist can help you dismantle your fear and move through it in a way that helps you feel as safe as possible. Sometimes, the thing we fear most is the very thing we need to confront to reclaim our sense of power and wellness.
9. This is hard.
Therapy isn't about finding an easy way out. It can be challenging to learn to move through pain and discomfort rather than avoid, numb, or repress. Sometimes, just showing up can be difficult. Reminding yourself that the reason you reached out to a therapist to begin with was because things were hard may enable you to put forth the effort to take the important and necessary steps to further your healing.
10. I can't believe how far I've come.
Sometimes it comes as a surprise, as if people hadn't imagined they'd see the improvement they sought. Noticing progress along the way, such as creating subtle shifts in daily habits, making more confident decisions, implementing effective coping strategies, being proactive instead of reactive, or interacting with others more effectively, is how success and increased well-being build. If you're thinking about therapy, believe in the possibility of saying "I can't believe how far I've come" to yourself. Believe in yourself—and schedule that appointment.
© Copyright 2018 GoodTherapy.org. All rights reserved. Permission to publish granted by Laurie Leinwand, MA, LPC, GoodTherapy.org Topic Expert
The preceding article was solely written by the author named above. Any views and opinions expressed are not necessarily shared by GoodTherapy.org. Questions or concerns about the preceding article can be directed to the author or posted as a comment below.