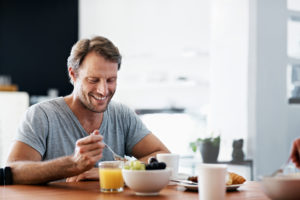 December is for searching Pinterest for resolution inspiration. January is for action. And February, for the vast majority of Americans with resolutions, is for giving up. In fact, only around 8% to 9% of Americans who set resolutions achieve them.
The problem isn't necessarily a lack of determination or desire. Instead, there's a divide between our calculated intentions to achieve a goal and the feelings that tempt us to give up.
In other words, we're getting in our own way.
Humans Are Both Rational and Irrational
Humans are only partially rational beings. It seems like our irrational selves get in the way of the things our rational selves decide to do—things like sticking to New Year's resolutions. What's really at play here is a showdown between our rational brain and our limbic system.
The limbic system is the center of our emotional memories, motivation, and arousal. To make things more complicated, the limbic system doesn't deal with language or thought forms. Instead, it communicates using sensory experiences and physiological expressions.
Think about the last time you smelled a scent that took you back in time. The memory was as clear as if it had happened yesterday. That experience is the language of your limbic system. It's not based on learned verbal communication; it's based on the way something made you feel.
Don't Bully Your Feelings; Observe Them
Because there's a push-and-pull between your rational brain and your limbic experience, it's important to mindfully consider your feelings about both the process and the outcome of keeping your resolution. Regardless of how determined you are to succeed, your chances of success aren't high if you ignore your feelings.
The dread you feel as you prep meals, for example, can't be rationalized away. You have to be still and nonjudgmental with the dread, taking the time to observe what it's all about. Try asking yourself questions about what you're feeling, such as:
When did the dread start?
What does the dread feel like?
When have I felt it before?
Is there a way to relieve the dread without ignoring it?
Once you see and understand the dread, assess whether you're pushing yourself too hard or triggering an unpleasant association. Developing this clarity may help you move past the dread and stick to the promises you've made to yourself.
Give Yourself a Little Motivation and Focus
Motivation is a byproduct of a dopamine spike. You create this spike through the anticipation of something important (either rewarding or threatening). Motivation is pivotal to goal success, but tapping motivation too hard can exhaust you and lead to failure. It's important to understand how to hit the motivation sweet spot.
Pay attention to your naturally occurring positive thoughts and feelings regarding the goal you're setting. Observe these thoughts and feelings thoroughly to get clear on how to access them.
Amos Tversky and Daniel Kahneman, who conducted studies on intuitive judgment and decision making, found that the ease at which thoughts come to mind and the amount of intuition (over deliberate reasoning) of those thoughts directly correlates with a person's ability to use their thoughts to make decisions. Simply put, the thoughts that are easiest to access are the easiest to use for self-motivation.
Repetition, Repetition, Repetition
Habits, by definition, are natural responses to contextual cues, like washing your hands after using the restroom. Repetition of a simple behavior leads to transference of the action to external cues, at which point a person's conscious motivation and interest in acting are insignificant.
You may not know why you're washing your hands, but you feel wrong if you don't do it. Long ago, your parents worked with you to form the habit; now, you've been doing it for so long it's second nature.
The goal is to develop the desired behavior into a habit so it is effortless, requiring as little motivation and interest as possible. This calls for repetition of an action within a consistent context. To make that happen, follow these steps:
The goal is to develop the desired behavior into a habit so it is effortless, requiring as little motivation and interest as possible. This calls for repetition of an action within a consistent context.
Step 1: Initiation
Select the behavior and the context in which you want the behavior to occur. Then, take the feeling you've observed and decide how you'll initiate the habit. If you want to lose weight, you might decide to eat oatmeal every morning as part of a larger weight loss goal.
Easily accessed motivation: Identify your easy-to-access positive thoughts about oatmeal—like the memory of grandma's oatmeal cookies, fresh from the oven. (Add a dash of cinnamon if it helps you stay motivated.)
Stability of context: Set a time and place to eat your oatmeal. Every morning, eat your oatmeal at a consistent time or after another habitual activity, like taking a shower. As you're deciding on sequence, pay particularly close attention to your naturally occurring feelings and thoughts.
Step 2: Learning
During this phase, the behavior's relationship to the context is strengthened. Gradually, the habit requires less effort to perform. Once installed, it will be like second nature.
Consistency: Many pop cultural advisors would suggest mixing things up during this phase to avoid boredom. Switching from cinnamon to blueberry oatmeal might seem harmless, but it changes the learning context. Once you change the oatmeal, it's no longer associated with grandma's cookies. When you remove the association, you have to look elsewhere for motivation.
Step 3: Successful Installment
Successful habit formation culminates in the stability of a behavior that requires little effort to maintain. You'll know the behavior is installed when you perform it as effortlessly as washing your hands after using the restroom.
The 21-Day Farce
We hear it everywhere: it takes 21 days to form a habit. The 21-day myth comes from a 1960 research study that tracked how long it took plastic surgery patients to adjust to their new appearance. In reality, automation of a habit typically occurs in around two to three months, though this can vary greatly.
How About the Big Goals?
Since small behavioral steps are easier to turn into habits than complex behaviors, start your big goals by making small, manageable changes. Before you commit to riding your bike to work every day, start by riding it to the store every Tuesday. Once you've installed that small habit, you may be more confident in your ability to ride to work daily. It's easier to be mindful of adverse emotional reactions and observe your experience when the task at hand isn't overwhelming.
Don't Remove a Behavior; Replace It
Removing a habit is much more difficult than installing one. That's why you hear fitness gurus encouraging you to focus on eating healthy instead of giving up bad food. If you have a behavior that you want to change, consider replacing it with something you would rather be doing.
This Can Be Your Year!
Approaching your goals in this way may feel a bit lackluster. We live in an age where routines are often considered boring and doing the same thing for two days in a row is almost unheard of. However, goal sustainability is dependent on habit formation. Habits may not be hot, but their yields can be.
For support in forming and sticking to healthier habits, contact a licensed therapist in your area.
References:
Bandura, A. (2001). Social cognitive theory: an agentic perspective. Annual Review of Psychology, 52, 1-26.
Bayley, P.J., Frascino, J.C., & Squire, L.R. (2005). Robust habit learning in the absence of awareness and independent of the medial temporal lobe. Nature, 436(7050), 550-553.
Gardner, B., Lally, P., & Wardle, J. (2012). Making health habitual: The psychology of "habit-formation" and general practice. The British Journal of General Practice, 62(605), 664-666. Retrieved from http://doi.org/10.3399/bjgp12X659466
Gardner, B., Phillips, L.A., & Judah, G. (2016). Habitual instigation and habitual execution: Definition, measurement, and effects on behaviour frequency. British Journal of Health Psychology, 3, 613-30. doi: 10.1111/bjhp.12189
Kahneman, D. (2003). A perspective on judgment and choice. American Psychologist, 58(9), 697-720.
Lally, P., van Jaarsveld, C.H.M., Potts, H.W.W., Wardle, J. (2010). How are habits formed: Modelling habit formation in the real world. European Journal of Social Psychology, 40, 998-1009.
Lally, P., Wardle, J., Gardner, B. (2011). Experiences of habit formation: A qualitative study. Psychology, Health and Medicine,16(4), 484-489.
New Years Resolution Statistics. (2018, January 9). Retrieved from https://www.statisticbrain.com/new-years-resolution-statistics
Salamone, J. D., et al. (2012). The Mysterious Motivational Functions of Mesolimbic Dopamine. Neuron, 76(3), 470-485.
Wood, W., Neal, D.T. (2007). A new look at habits and the habit-goal interface. Psychological Review, 114(4), 843-863.
© Copyright 2018 GoodTherapy.org. All rights reserved. Permission to publish granted by Caty Harris, LCSW, GoodTherapy.org Topic Expert
The preceding article was solely written by the author named above. Any views and opinions expressed are not necessarily shared by GoodTherapy.org. Questions or concerns about the preceding article can be directed to the author or posted as a comment below.