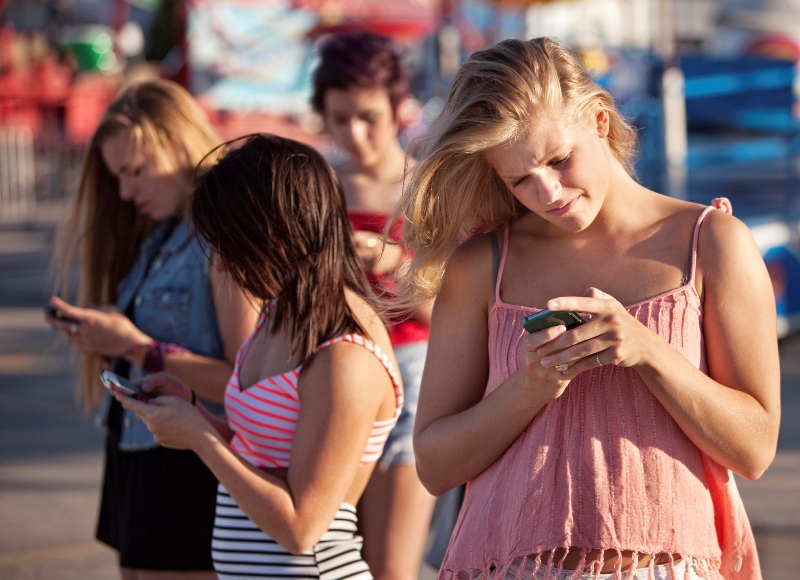 You might be reading this on a small screen cradled in your hand, in which case the device you are holding may also be used to remind your friend to "pick up bread" for the dinner party, to say "happy birthday!" to your mother, and to tell your partner "I'm sorry" and your daughter "goodnight." Notice the language I used: "remind," "say," and "tell." But I'm referring to text-based communication here.
One of the more antiquated features of our phones is just that: the phone feature. In fact, 31% of American adults would prefer to use text messaging versus a phone call. U.S. adults who report using text messages send or receive an average of 41.5 text messages a day. Putting that in perspective, that's an astounding 15,000 messages per year!
As a practicing psychotherapist, I encounter an array of people struggling with communication. One fairly common issue involves two individuals describing and disputing a "fight" or something one of them "said." What inevitably surfaces is that the communication was entirely via text messages, email, or social media, and not vocalized or in person. For many people, digital text-based messages are disseminated like dandelion seeds on a windy summer day. The speed that technology offers is a wonderful way to communicate from anywhere in the world. At a fundamental level, we need and desire connection with other people.
I spoke in January 2015 with Flint Sparks, psychologist and Zen Buddhist priest, about this issue. He told me, "Humans are connecting animals. Our whole bodies are built for sensory exchange—to build secure attachment, to engage in the dance of emotional attunement, and the creation of gentle care and sustaining love. It is how we come to know each other most intimately and how we understand ourselves most deeply."
As we travel deeper into the 21st century, how do we incorporate these primal needs into our high-paced digital media? Here are three areas to think about when communicating via text-based interactions to avoid hairy situations within your relationships:
1. Body Response
Sparks pointed out that "digital communication obviously narrows the range of what can be communicated between relationship-craving humans," because, to put it simply, we can't touch each other or feel the presence of another's physical energy as well as body language. Sparks did say that digital forms of communication cause emotional responses in our brain. The digital signals allow "just enough of a hit to build the illusion that we are connecting in the essential body-based ways."
A quick way to notice when a digital conversation is getting emotional for you is to notice what is going on with your body. If your stomach drops or you experience tightness in your chest, you are having an emotional reaction to something written in front of you. The reaction that is occurring is based on a perception of your experience. There is much more information being projected onto the screen than is actually emanating from the message itself. We tend to tell ourselves a story about the content. Noticing this process will help you to discern the messenger's intentions.
2. Content and Clarity
All of our experiences get projected onto the messages we receive in order to resolve some sense of uncertainty, to solidify the connection with the other person. "We do feel things [about the messages], but mostly we get it wrong," Sparks said. The lack of complexity in a text message, short email, or tweet forces us to add misinformation to the content. This is where we "get it wrong." We can't see what the other person is doing or what mood he or she is in, so we fill in the gaps with our own narrative. Looking at it from the other direction, one needs to be mindful of what is being sent to others.
Is the information you are trying to communicate concrete and rational? Or is there a lot of ambiguity and confusion in the material? Are you seeing a surplus of emoticons? How many explanation points and bolded, capitalized words are in the text? If the answer is more than a definitive "none," then you are likely delving into the emotional part or "reptilian brain." In this state of mind, the recipient is more likely to add narrative in between the lines while developing a conviction for "what he/she really means." Stay objective in your writing and save the emotionally fueled responses for face-to-face interactions.
3. False Certainty
If you are like me, the omission of information can create anxiety and distress when it comes to digital communication. At times I begin a running commentary in my head of irrational thoughts (e.g., "Why haven't they emailed me back yet?" or "Did I say something wrong?"). If those thoughts come and go like a raft floating down a river, then it isn't a problem. You can say to yourself, "Wow. Where did that thought come from?" But when the thoughts become attached to a story about us, this relaxing river tide can quickly flood our mind. If this isn't caught, the internal process can look something like this: "They aren't going to message me back because of what I said. What I said was stupid. This means things aren't going to work out, because they don't like me. I must be inadequate." This progression of stirring up information and internalizing beliefs acts to develop certainty we don't have about the communication.
The belief is that the only way to calm this anxiety is to constantly check your email inbox or respond on top of the initial message to beg for clarification. Meanwhile, you come to find out that the universe does not actually revolve around you and the other person has a reasonable explanation for the delay in response time. If you were sitting with the person and he or she did not respond to something you verbalized, you would have a sense of context (what is happening in his or her environment, nonverbal cues, affect, etc.).
There isn't a simple anecdote for this uncertainty. Patience goes a long way, but engagement with others can battle the tendency to try to not think about it or attempts to suppress feelings. Instead, connect with others. Power down the device or "sleep" the computer and actively seek out another activity.
One message that is clear is we need to supplement our digital communication with the real deal. Following up with a partner, friend, or family member in person as well as on the phone to identify ambiguities will foster healthier relationships. We cemented our first attachments as babies with others as our emotional brains grew without the ability to use language. There was no Wi-Fi or data package in our cribs. Eye contact, voices, smells, touch, and proximity to others are what we relied on.
As technology appears to be merging with our bodies, take notice that the experience is different. Sparks identifies the flawed cultural construct beautifully: "We forget that a tweet is not a kiss on the cheek, an email is not a whisper in our ear, and a friend request on Facebook is not a warm, outstretched hand."
Do something radical today and speak to someone you care about.
Reference:
Smith, A. (2011). Pew Research Center. Americans and Text Messaging. Retrieved from http://www.pewinternet.org/2011/09/19/americans-and-text-messaging/
© Copyright 2015 GoodTherapy.org. All rights reserved. Permission to publish granted by Andrew Archer, LCSW, Mindfulness-Based Approaches / Contemplative Approaches Topic Expert Contributor
The preceding article was solely written by the author named above. Any views and opinions expressed are not necessarily shared by GoodTherapy.org. Questions or concerns about the preceding article can be directed to the author or posted as a comment below.