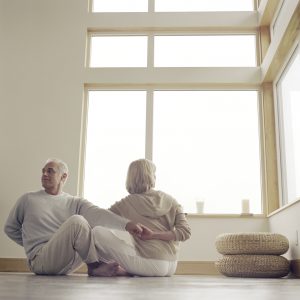 Both yoga and brain training games can reduce symptoms of pre-Alzheimer's cognitive decline, but yoga may be more effective at improving spatial reasoning, according to a small study published in the Journal of Alzheimer's Disease.
Alzheimer's is the sixth-leading cause of death in the United States, with 1 in 3 seniors dying with Alzheimer's or another dementia, according to the Alzheimer's Association. One in nine people older than 65 has Alzheimer's, costing the average caregiving family at least $5,000 per year.
Yoga to Prevent Pre-Dementia Cognitive Decline
Previous research has pointed to the value of exercise, meditation, and brain training to reduce symptoms of cognitive decline, particularly in the early stages of dementia.
For this study, researchers recruited 25 volunteers older than 55 to compare yoga therapy to brain training. Each participant reported some memory issues, such as forgetting names and losing things.
For three months, 11 participants completed hour-long weekly brain training sessions that included exercises such as crossword puzzles and computerized brain training. Fourteen participants had a weekly hour-long Kundalini yoga session, in addition to engaging in Kirtan Kriya meditation for 20 minutes each day. Kundalini yoga focuses on strength, flexibility, and breathing, and Kirtan Kriya is its meditative offshoot.
Easing Depression to Combat Dementia
In addition to improving memory and spatial reasoning, yoga also improved mental health. The yoga group experienced fewer symptoms of depression and anxiety after 12 weeks. Previous research suggests depression and anxiety are correlated with an increased risk of dementia, so improved mental health could also mean improved cognitive health.
The yoga group reported being better able to cope with stress, which suggests yoga might be a valuable tool for more than improving seniors' quality of life.
References:
Anxiety and depression increase dementia risk. (n.d.). Retrieved from https://www.alzinfo.org/articles/anxiety-depression-increase-dementia-risk/
Knapton, S. (2016, May 10). Yoga better than crosswords for preventing pre-Alzheimer's memory loss. Retrieved from http://www.telegraph.co.uk/science/2016/05/10/yoga-better-than-crosswords-for-preventing-pre-alzheimers-memory/
Latest Alzheimer's facts and figures. (2013, September 17). Retrieved from http://www.alz.org/facts/
Rettner, R. (2016, May 12). Yoga may improve memory better than brain training | Fox News. Retrieved from http://www.foxnews.com/health/2016/05/12/yoga-may-improve-memory-better-than-brain-training.html
© Copyright 2016 GoodTherapy.org. All rights reserved.
The preceding article was solely written by the author named above. Any views and opinions expressed are not necessarily shared by GoodTherapy.org. Questions or concerns about the preceding article can be directed to the author or posted as a comment below.