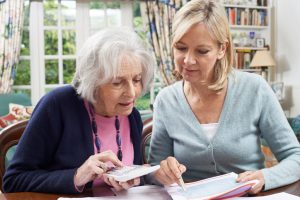 Vascular dementia, a cognitive decline typically caused by mild strokes that affect the supply of blood to the brain, significantly changes the way a person's brain functions, both physiologically and emotionally. It is the second-most common type of dementia after Alzheimer's, a condition with far-reaching challenges that are the basis for the observance of World Alzheimer's Month each September and National Alzheimer's Disease Awareness Month in November.
When my father was diagnosed with vascular dementia in 2009, it was shocking news. Living away from my parents, I didn't see the signs as clearly as my mother and brothers did. Symptoms of vascular dementia include confusion, disorientation, trouble speaking or understanding speech, and vision loss. Depending on which areas of the brain are affected, memory loss may also be an issue. Vascular changes in the brain can coexist with changes linked to other types of dementia, including Alzheimer's.
"Dementia" is a general term for memory loss and impairments in other cognitive abilities severe enough to interfere with daily life. Alzheimer's, for its part, is the 6th-leading cause of death in the United States. Other common types of dementia include Parkinson's, Huntington's disease, Korsakoff syndrome, and Creutzfeldt-Jakob disease, to name a few.
Most types of dementia are progressive, where symptoms start slowly and progress over time. In mild (early-stage) Alzheimer's, people generally can maintain their independence but experience memory lapses, have trouble remembering names, and may lose or misplace important items. In moderate (middle-stage) dementia, the person may confuse words, have increased anger or irritability, have difficulty telling time, and have an inability to recall things such as their phone number. There may also be other personality changes. In severe (late-stage) dementia, individuals lose the ability to respond to their environment and to carry on a conversation, even though they might still say words or phrases. Memory and cognitive skills continue to worsen over time, and eventually they come to completely rely on others.
The Challenges Caregivers Face
Because people in the late stages of dementia need help with every aspect of daily living, caregiving can be physically and emotionally exhausting. Many caregivers give up their own interests, hobbies, and activities to care for their loved one, which can result in isolation, anxiety, and even resentment. Nearly 40% of all caregivers report symptoms of depression, and some stop seeking medical help for themselves.
Like many partners whose loved one is diagnosed with dementia, my mother took on the role of caregiver without hesitation.
On average, caregivers for people with Alzheimer's spend more than $5,000 a year caring for their loved one. In 2015, 15.9 million family and friends provided 18.1 billion hours of unpaid care to family members with Alzheimer's and other forms of dementia. That care had an estimated economic value of $221.3 billion, according to alz.org (2016).
Like many partners whose loved one is diagnosed with dementia, my mother took on the role of caregiver without hesitation. She rarely asked for help early on, only turning to others when my dad's health had critically declined. When he reached the severe stages, hospice services were obtained to help give my mother some relief. I'd like to think it helped mitigate some of the challenges she was facing.
Are you a caregiver for someone with dementia? If so, does this resonate with you? Here are a few questions to ask yourself. Do you regularly:
Feel isolated from others?
Experience empathy overload?
Find yourself worrying about finances?
Feel a loss of independence?
Feel helpless?
Experience emotional or physical problems?
If you answered yes to most of these questions, you may be putting your own health at risk. I encourage you to seek support, be it from a trained therapist, hospice, or through the Alzheimer's Association. Learn what kinds of respite programs are available in your community, and accept offers of help from friends and family. Seek out support groups and networks that are knowledgeable about dementia. Visit your own doctor regularly, and especially if you have increasing physical or mental health concerns. Get regular exercise and sleep.
In short, the best way you can care for your loved one is to care for yourself also.
References:
Alz.org. (2016). Vascular Dementia. Retrieved from http://www.alz.org/dementia/vascular-dementia-symptoms.asp#symptoms
Brophy Marcus, M. (2016, March 30). Some caring for Alzheimer's patients make "startling" sacrifices. com. Retrieved from http://www.cbsnews.com/news/alzheimers-patients-caregivers-make-startling-sacrifices/
Centers for Disease Control and Prevention. (2016). Leading Causes of Death. Retrieved from http://www.cdc.gov/nchs/fastats/leading-causes-of-death.htm
© Copyright 2016 GoodTherapy.org. All rights reserved. Permission to publish granted by Andrea M. Risi, LPC, GoodTherapy.org Topic Expert Contributor
The preceding article was solely written by the author named above. Any views and opinions expressed are not necessarily shared by GoodTherapy.org. Questions or concerns about the preceding article can be directed to the author or posted as a comment below.