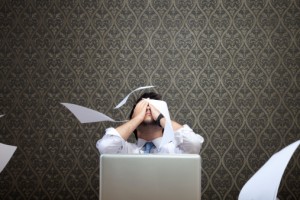 Never say never. 
Nothing is impossible. 
These are wonderful messages that encourage people to persevere, have courage, and take bold actions in pursuit of their dreams. It's the kind of thinking that can lead to great achievements and a wonderful feeling of accomplishment.
But there are also times when it may be best to quit and move on.
I know this might sound negative or discouraging, but quitting isn't a dirty word, especially when it frees you to move on.
It might be time to stop if:
Your pursuit of this one goal is preventing you from enjoying everything else.
You aren't having any fun.
You've lost your passion for both the work and the goal.
You're interested in the goal but hate doing the work.
You've given it all that you've got and now you're burned out.
You realize that you've never really given it your all and you never will.
There's clear and significant evidence that you will fail.
Thinking about quitting inspires you instead of depressing you.
You want to quit but worry about what others would think.
Answering yes to too many of these questions and weighing the severity and duration of these feelings can help clarify the difference between feelings you need to overcome and evidence that's telling you it's time to move on.
Making a Conscious Choice
The important thing is to be aware of what we're choosing for our lives, and why.
It's easy to live life unconsciously—following the road map that our parents followed, sticking with the life plan that we came up with in college, too afraid to switch directions. Are we getting married and having kids because that's what we grew up believing we're supposed to do? Are we going to law school because that's what our parents did?
Priorities change as we age. Clinging to one course of action can block a person from growing and evolving into someone they couldn't imagine becoming when they were 18. Moving on could be the start of going after what is really important to you.
The Difference Between Wanting and Pursuing
It's also important to be conscious of the difference between wanting and pursuing. People confuse pining over a goal with actually doing the work to achieve the goal.
If you're sporadically making half-hearted attempts at your goal while telling yourself that you're giving it your all, you're doing yourself a disservice. Lack of action can be a clue that you're pursuing the wrong goal.
Fear of the Unknown
Even if you know that you want to quit, you may be afraid to because you don't know what you'll do next. Fear can be a trap. Making the decision to quit doesn't mean you have to quit that day, but it can free your mind to begin planning your next move.
Not Ready to Stop?
If you're not ready to move on, think about ways you can improve the areas that are causing you problems, like finding ways to enjoy the work, balancing the time to do other things that are important to you, or setting a time limit on the pursuit of that one goal.
The Pursuit of Happiness
Ultimately, we're all engaged in the pursuit of happiness. And for the seven billion-plus people on this planet, there are countless ways to get there. If you're not happy, be creative. Find another path. Happiness is the one goal where you should never say never.

The preceding article was solely written by the author named above. Any views and opinions expressed are not necessarily shared by GoodTherapy.org. Questions or concerns about the preceding article can be directed to the author or posted as a comment below.