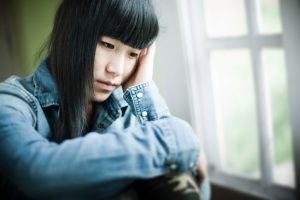 Adolescent bullies and their victims are more likely to be preoccupied with weight loss than adolescents who are not involved in bullying, according to a study published in the International Journal of Behavioral Nutrition and Physical Activity.
The authors of the study hypothesize that bullies have a strong desire to fit in by meeting social standards of beauty that demand a particular body type. Bullying victims, by contrast, may become fixated on weight due to the low self-esteem that often results from being bullied. This can make them more vulnerable to eating disorders.
The Relationship Between Bullying and Weight Fixation
The study involved two stages. In the first stage, researchers used peer- and self-reports to screen 2,782 adolescents from five secondary schools in the United Kingdom about their involvement in bullying. In the second stage, investigators gave 767 students involved in bullying—either as bullies, victims, or both—a variety of assessments of mental health, body image, and attitudes about weight loss.
Even after controlling for sex, age, body mass index (BMI), and other variables linked to self-esteem and attitudes about weight, the results showed a link between bullying involvement and weight preoccupation. However, the link between being a bully and being obsessed with losing weight was statistically significant only in boys.
The study points to the role of self-esteem and body image in bullying. It suggests addressing bullying could potentially reduce the risk of developing eating and food issues.
Bullying, Weight, and Mental Health
Other research also points to a link between bullying, weight, and mental health. One study found weight-related teasing damaged teen girls' self-esteem. It also increased their risk of developing eating disorders. Another study found loved ones' comments about weight are linked to increased weight gain.
References:
Bullies and their victims obsessed with weight-loss. (2017, March 29). Retrieved from https://medicalxpress.com/news/2017-03-bullies-victims-obsessed-weight-loss.html
Lee, K., Guy, A., Dale, J., & Wolke, D. (2017). Does psychological functioning mediate the relationship between bullying involvement and weight loss preoccupation in adolescents? A two-stage cross-sectional study. International Journal of Behavioral Nutrition and Physical Activity, 14(1). doi:10.1186/s12966-017-0491-1
© Copyright 2017 GoodTherapy.org. All rights reserved.
The preceding article was solely written by the author named above. Any views and opinions expressed are not necessarily shared by GoodTherapy.org. Questions or concerns about the preceding article can be directed to the author or posted as a comment below.