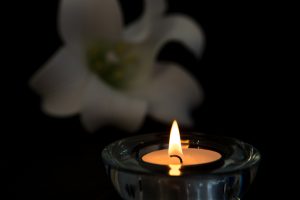 For the past 19 years, the transgender community has come together on November 20 to honor and mourn those brutally murdered for nothing more than their gender identity or expression. But the grief over this kind of tragedy should not be limited to the transgender community; the murder of innocents affects us all. Is there any group of people who have not, at some point in time, in some place, been discriminated against or attacked because they were different? We need to stop thinking of the International Transgender Day of Remembrance as "their" day—it is "our" day.
In 1624, John Donne published these words:
Any man's death diminishes me,
Because I am involved in mankind,
And therefore never send to know for whom the bell tolls;
It tolls for thee.
It is a viewpoint whose adoption would vastly improve quality of life everywhere. But where does the hatred come from that would cause someone to kill? I don't propose to answer a question that greater minds than mine have tackled. However, I do have some thoughts on the subject.
Biologically, we do have some wiring that makes us wary of the stranger, those who are not like us. This was, no doubt, important to the survival of early humans. However, there are many things that are biological that we have modified over time with our intellectually evolved brains. We work by the clock now, not the sun (possibly not an improvement); we eat with utensils and not our hands (most of the time); and we use tact and manners when interacting with others (again—most of the time).
This leads me to another of my theories. Anyone who has studied psychotherapy has learned about "triangling," the act of diverting conflict between two parties by dragging in a third party. Most people have experienced it firsthand, as when two arguing friends drag them into the quarrel. Or when resolution of marital discord is avoided by focusing on a child's poor grades.
Is it possible that those who persecute others do so to avoid dealing with their own personal issues? I think it's likely. After all, it is not a question of fighting over much-needed resources in order to survive, as did our ancestors. There is enough to share if we cooperate.
Lastly, giving up hate requires change, and change is hard. Change requires time and effort. In some cases, it involves changing long-held beliefs. One of the most difficult things we can do as human beings is take a good look at ourselves and realize where there is room for improvement. How much easier it would be if everyone around us would do the changing!
How do we stop the hate and the violence? We cannot legislate people's thoughts and attitudes, but we can legislate equal rights to represent our nation's highest ideals. When states pass marriage-equality laws, when LGBT people are allowed to proudly serve in the military, and when no one can be fired from a job just for being gay, we acknowledge acceptance of our LGBT citizens—and their protection.
On a personal level, we can acknowledge that every time we oppose equal rights, for whatever reason, we are creating an atmosphere where hate can live. We need to take a note from John Donne, and be involved in mankind.
© Copyright 2013 GoodTherapy.org. All rights reserved.
The preceding article was solely written by the author named above. Any views and opinions expressed are not necessarily shared by GoodTherapy.org. Questions or concerns about the preceding article can be directed to the author or posted as a comment below.