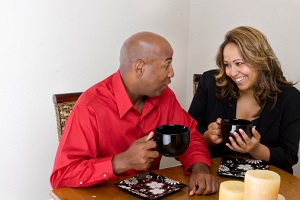 Couples entering therapy typically want help resolving their conflicts. They want their therapist to guide them to safe and satisfying resolution of the topics that have generated tensions between them, and they want to learn how to solve differences more effectively in the future.
Therapists therefore need conflict resolution expertise. Expertise on the pathway enables a therapist to guide people effectively and efficiently along the three steps of win-win conflict resolution. Couples also need this expertise so that in the future they can make cooperatively decisions, resolve their differences, and clean up after upsets, on their own.
At the same time, people who seek individual therapy for help with life transitions, handling difficult circumstances, or to ease negative feelings such as depression, anxiety, or anger are seeking help with their conflicts—issues, problems, and other life dilemmas that have been addressed ineffectively—which give rise to negative emotional states.
The Win-Win Waltz
Conflicts can occur within a person. Right now, for instance, I would like to go outside and enjoy the Colorado sunshine. Yet I feel obligated to stay indoors to complete this article by the date I'd told this website I would send it to them. Inner conflicts, including this one, can produce feelings of unease and inner turmoil.
Conflicts occur between people as well, such as if one spouse wants to share a walk in the sunshine, and the other wants to stay indoors and read a book. The adversarial interactions that can then emerge may feel like a quiet tug of war or can lead to arguments and fights.
A third arena where conflicts emerge is between a person and circumstances. All of us generally want to be healthy; illness puts us into a conflict of this type. The conflict then is between a person and undesirable circumstances. If I want to go outside for a walk but I have been ill, and the cold outside might worsen my condition, the conflict is between me and illness, or maybe between me and the weather.
Interestingly, conflicts in any and all of these three realms—within a person, between people, and between a person and circumstances—move to resolution via the same three basic steps. In conflict resolution treatment terminology, these three steps are termed the win-win waltz.
Step One: Express initial positions. A position is a plan of action, a solution, or something that someone would like to do.
Teresa: I want to renovate the house.
Charles: Bad idea.

Step Two: Clarify the underlying concerns. Underlying concerns are the factors, preferences, desires, and fears that motivate a particular plan of action.
Teresa: This house, it's so dark and gloomy. Let's brighten it.
Charles: Let's not spend fortune we don't have.
Step Three: Create win-win solutions responsive to all concerned. A solution is a plan of action. A particular solution is win-win to the extent that it is responsive to all of the underlying concerns that any parties involved in a conflict have expressed.
Teresa: What do you think of a house-painting weekend? We could invite people to help paint the walls white, plus yellow or peach. Or lime.
Charles: I'm comfortable with what we can afford. As long as we only have to pay for paint, sure. Let's do it.

The three steps from perceiving a problem or conflict to finding win-win solutions may seem fairly obvious. Many people flow through these three steps in making collaborative shared decisions without being aware of the pathway they are traversing. For these people, life seems to flow smoothly, problems move effortlessly to solutions, differences between people lead to creative plans that satisfy them both, and relationships tend to feel positive and cooperative.
Yet most emotional disturbances stem from missteps along this sequence. Disengaged couples—that is, couples who have grown apart, typically fail to take the first of the three steps. Fearing conflict, they avoid launching discussions about issues where they have differences.
Argumentative couples, by contrast, take the first step. They then, however, draw battle lines. Instead of calmly exploring the concerns underlying each of their preferences, they engage in power struggles to determine who will win and who will lose. To make decisions, they fight a tug-of-war, battling over whose initial position shall prevail. In the language of mediation, these couples get stuck in positional bargaining: "My way!" "No. My way!" is the underlying theme of every battle.
Argumentative couples need to learn to move from step one, expressing their initial ideas of what to do, to step two, exploring their underlying concerns. Exploring underlying concerns enables them to stay cooperative. This step fosters thinking in terms of "Yes, and." instead of "But." "Yes, the house does look pretty dark with the current wall colors. I'd like to brighten it, too. And at the same time (rather than But…) with the economy so tight and both of our jobs pretty iffy, I'm reluctant to commit us to spending a lot of money. On anything, not just redecorating."
Two lists of underlying concerns would re-establish antagonistic interactions even if the couple had succeeded in moving from fighting over initial positions to exploring underlying concerns. When cooperative people explore underlying concerns, the rule of thumb is that any concern of yours immediately becomes a concern of mine as well. On the win-win pathway of cooperative decision making, there is, conceptually, one shared list for the underlying concerns of both sides.
Teresa and Paul, for example, were concerned about how dark the house felt, how much nicer they would feel if the house had lighter, brighter colors, and how stressed they felt about money. Two lists of concerns—one of his and one of hers, or one of pros versus one of cons—would have made their interactions adversarial; one list for both of their concerns sustains their collaborative decision-making and win-win conflict resolution.
Conflict resolution glitches characterize collaborative, distanced and disengaged, and enmeshed or argumentative couples.
Personal character patterns, such as narcissists and borderline personalities, tend to manifest characteristic skill deficits in their conflict resolution patterns. Narcissists, for instance, make unilateral decisions. Forgetting that partnership involves two people, they skip the symmetry of putting out both of their initial solution ideas or exploring both of their underlying concerns. "Let's go to a movie tonight," the narcissist might say, showing little or no interest in how his partner feels about the plan. If the narcissist's partner argues in favor of their own solution, either an argument will ensue, or the narcissist will graciously offer to go with his partner's suggestion. What is missing, however, is a pattern of both partners putting forth their concerns toward finding a genuine win-win option that would be responsive to all the concerns of both participants. Narcissists want their own way, or may be the generous decision-maker who grants their partner their way. They lack a pattern of finding an our way.
Therapists need to coach narcissists to include their partner in each of the three steps of the win-win waltz, e.g., of shared decision-making. A narcissist who asks, "How would you feel about the movie idea?" Might discover that his partner is wary of going out in the cold, having had bronchitis this winter. "What if I rented a movie?" Now this couple moves toward a win-win solution. "Do that. Thanks. I'll make popcorn and hot chocolate," says the pleased partner.
People with so-called borderline personality disorders have difficulty with the win-win waltz in a different way. Fearing that their concerns will not be considered or taken into account, they tend to erupt in anger, as if the decision has been made already in a way they don't like. By erupting emotionally, they bully others into doing what they want. "I'm a victim so I have a right to victimize others," is their underlying assumption. Unfortunately, their angry explosions are likely to antagonize others, leaving them feeling, chronically, that others do not like them and therefore fearing abandonment.
People who experience negative emotional states such as depression, anxiety, and anger also show characteristic aberrations in their conflict resolution patterns. Those prone to depression insufficiently stand up for their underlying concerns. Those prone to anxiety may become aware of their concerns, but then freeze without proceeding to find a win-win solution. Those prone to anger get stuck in the first step, using anger to coerce others into doing what they want.
Thus effective conflict resolution patterns are a hallmark of mental health. At the same time, ineffective patterns give important clues to a therapist as to what they need to help people enjoy more emotionally healthy gratifying lives. Ineffective patterns give important clues to a therapist on what is needed to help people learn in order to enable them to enjoy emotionally healthy and gratifying lives. A therapist's job is to guide people on the pathways of healthy conflict resolution vis a vis the issues that stress them, and to teach healthier patterns to their people so that they are better equipped vis a vis the inevitable challenges that face all people as we proceed along our life pathways.

The preceding article was solely written by the author named above. Any views and opinions expressed are not necessarily shared by GoodTherapy.org. Questions or concerns about the preceding article can be directed to the author or posted as a comment below.