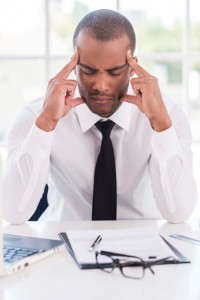 The best practice for healthy anger management involves proactive behaviors. One of the most prevalent reasons people struggle with appropriately expressing anger is because steps aren't taken before the anger rises to mitigate the intensity of the emotional expression. Toward that end, I offer a quick, simple, meditative practice you can use throughout your day to help increase mindfulness, a healthy mind-body connection, and to expand your toolbox for interacting effectively with your emotions.
This one-minute meditation is grounded in body awareness. We interact with this world through our five senses. Constantly being inundated with stimuli, our brains must tune out tons of information just to process (relatively) cleanly and not blow a gasket. Unfortunately, what often gets tuned out are the sensations our bodies experience: hot, cold, hungry, tired. Ignoring these sensational messages can exacerbate bad moods, increase our irritability, and keep us disconnected from our emotional inputs. Sounds like a lovely recipe for an angry, emotional meltdown, doesn't it?
What we can see, hear, touch, taste, and smell becomes the foundation for the beliefs we create about ourselves in this world. We taste chocolate and, amid our pleasure, learn to judge chocolate as an amazing addition to this world. Conversely, we hear a lawn mower going at 7 a.m. on a Saturday and feel upset, learning to judge this sound harshly. Learning to connect to our senses without immediately adding judgment not only proves relaxing, but gives us a much-needed break from the constant stream of our thoughts.
The one-minute meditation is deceptively simple:
Pick three sensations (it doesn't matter which three).
Focus on your first sensation, noticing it without comment.
Every 20 seconds, switch to the next sensation you have chosen.
Rinse and repeat as desired.
Although this meditation practice is simple in practice, it's quite difficult to master. The reason? Our constantly loud, critical minds. If you've attempted this practice, you may have noticed just how difficult it was to stay focused on a sensation without adding thoughts of some sort.
When you notice that you've slipped into thinking and away from listening to sounds of typing or the taste of coffee in your mouth, quietly say, "Not right now, I'm focusing." Said calmly and gently, it reminds you of your intention without starting a fight with yourself about what you "should" be doing.
My suggestion is to do this practice every hour or so. Although I'm not against a formal meditation practice that may be a half hour or more in one sitting, what I've learned is that many people leave their meditative space and lose all mindfulness during their daily travails. A one-minute meditation throughout the day keeps you mindful and connected to the task at hand: you stay connected to your body, feel your feelings without unwittingly unleashing them, and increase your sense of calm contentment.
So what does this practice have to do with anger management? As I've stressed before, you don't have to manage anger that isn't there. Staying connected to our bodies on a consistent, intimate basis increases our well-being and comfort. Also, this connection allows us to notice emotion arising much sooner in the process. Dealing with mild irritation is vastly easier than attempting to manage blind rage. That which we are aware of in ourselves becomes useful information rather than a wave to dodge.
© Copyright 2015 GoodTherapy.org. All rights reserved. Permission to publish granted by Joshua Nash, LPC-S, Anger Management Topic Expert Contributor
The preceding article was solely written by the author named above. Any views and opinions expressed are not necessarily shared by GoodTherapy.org. Questions or concerns about the preceding article can be directed to the author or posted as a comment below.