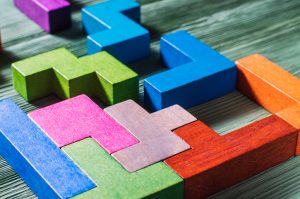 Playing Tetris after a car accident may reduce the risk of developing flashbacks, a common symptom of posttraumatic stress (PTSD), according to a study published in the journal Molecular Psychiatry.
Tetris is a computer puzzle game that requires players to move tiles around on a screen. The study suggests this use of visual and spatial memory may interrupt the formation of traumatic memories. This may reduce their emotional impact, thereby reducing the risk and severity of intrusive flashbacks after a traumatic event.
Tetris to Reduce Flashbacks
The study followed 71 people admitted to a United Kingdom emergency room after a car accident. Half received the usual care. The other half received an alternative intervention within six hours of the accident. They discussed the traumatic event and then practiced playing Tetris. Researchers gave participants a version of the game to play on their own after leaving the emergency room.
Participants logged their traumatic memories relating to the accident for a week. Those who played Tetris and talked about their trauma after their accident had 62% fewer flashbacks following the accident. The frequency of flashbacks and intrusive memories also declined more quickly in the intervention group than in those who received standard care.
Tetris as a Preventative Treatment for PTSD?
Though the role of Tetris in preventing PTSD might seem surprising, previous studies support the link. A 2012 study presented at the British Psychology Society Annual Conference reached similar conclusions. For that study, researchers showed participants a frightening movie, then asked some participants to play Tetris. Compared to participants who did not play the game, those who played Tetris reported fewer intrusive memories of the movie in the week after viewing it.
References:
Iyadurai, L., Blackwell, S. E., Meiser-Stedman, R., Watson, P. C., Bonsall, M. B., Geddes, J. R., . . . Holmes, E. A. (2017). Preventing intrusive memories after trauma via a brief intervention involving Tetris computer game play in the emergency department: A proof-of-concept randomized controlled trial. Molecular Psychiatry. doi:10.1038/mp.2017.23
Nixon, R. (2012, April 25). Tetris shown to lessen PTSD and flashbacks. Retrieved from https://www.scientificamerican.com/article/tetris-shown-to-lessen-ptsd-and-flashbacks/
Senthilingam, M. (2017, March 29). Playing Tetris can reduce risk of PTSD after trauma. Retrieved from http://www.cnn.com/2017/03/29/health/ptsd-tetris-computer-games-trnd/
© Copyright 2017 GoodTherapy.org. All rights reserved.
The preceding article was solely written by the author named above. Any views and opinions expressed are not necessarily shared by GoodTherapy.org. Questions or concerns about the preceding article can be directed to the author or posted as a comment below.