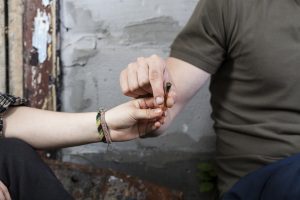 Washington state's 2012 legalization of marijuana for recreational use did not increase adolescents' access to the drug, according to a study presented May 1 at the annual meeting of Pediatric Academic Societies.
Marijuana, which has been researched as a potential treatment for several symptoms and diseases, is still classified on the United States Drug Enforcement Agency's list of Schedule I narcotics. This classification indicates the drug has no approved medical use and a high potential for addiction. Some advocates have pushed for a change in the drug's classification. The District of Columbia and 24 states have passed laws allowing some medical uses for marijuana. Four states—Oregon, Washington, Colorado, and Alaska—as well as the District of Columbia have decriminalized marijuana for recreational purposes.
Does Marijuana Legalization Increase Teen Access to Drugs?
For the study, researchers analyzed the number of teens who said marijuana was "easy" to access in 2010, prior to the legalization of marijuana in Washington, to the number who said marijuana was accessible in 2014, after the drug's legalization.
The study's authors suggest this points to an increased need for measures that minimize teen marijuana use.
Adolescent Marijuana Use Trends
According to the National Institute on Drug Abuse (NIDA), marijuana use was stable nationwide in 2014. About 6% of 12th graders reported daily using the drug, with 6.5% of 8th graders, 16.6% of 10th graders, and 21.2% of 12th graders using the drug in the last month. About 35% of 12th graders reported using marijuana in the past year.
References:
DrugFacts: High school and youth trends. (2014, December). National Institute on Drug Abuse. Retrieved from https://www.drugabuse.gov/publications/drugfacts/high-school-youth-trends
Drug scheduling. (n.d.). Drug Enforcement Administration. Retrieved from http://www.dea.gov/druginfo/ds.shtml
Legalization of marijuana in Washington had no effect on teens' access to drug. (2016, April 30). Retrieved from http://www.eurekalert.org/pub_releases/2016-04/aaop-lom042216.php
State marijuana laws map. (n.d.). Retrieved from http://www.governing.com/gov-data/state-marijuana-laws-map-medical-recreational.html

The preceding article was solely written by the author named above. Any views and opinions expressed are not necessarily shared by GoodTherapy.org. Questions or concerns about the preceding article can be directed to the author or posted as a comment below.