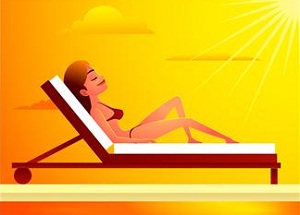 With Spring upon us and Summer around the corner, that desire for a golden tan starts to nag at most Caucasian women in the United States. While there is certainly more awareness than ever about the dangers of too much sun, many women feel insecure without a basecoat of bronze. Some women may even suspect they are
"addicted" to tanning.
Is there such a thing as a "tanning addiction?" The term "tanorexia" was coined to describe individuals who feel compelled to tan excessively, despite the long-term aesthetic and health risks. They feel insecure without a tan, frequent tanning salons to maintain a year-round glow, and claim that tanning relaxes them. They may plan their day around their tanning schedule, turn down social events or miss work to fit it in, and even experience withdrawal symptoms if they cannot get to the beach. Tanning addicts may lie, deny, and rationalize about their behavior, minimizing how much time they spend in the sun, denying that it is unhealthy, and extolling the virtues of sunlight. Sounds like the same old behaviors one sees in other addictions.
And women tend to be the most susceptible. The American Academy of Dermatology reports that 70% of tanning salon patrons are women, mostly between the ages of 16 and 29. This is particularly alarming since indoor tanning before age 35 has been associated with a 75 times greater risk of developing melanoma. Of the 28 million Americans who tan indoors each year, 2.3 million are adolescents, even though the World Health Organization has recommended barring all teens from indoor tanning facilities.
Since the concept of "tanning addiction" is just starting to gain recognition as a significant health concern, there have been few scientific studies. What has been reported, though, is that a subset of individuals respond to the sun in an "addictive" fashion. Research conducted by Molly Warthan and colleagues investigated whether excessive tanning behaviors were comparable to those seen in other addictions. Employing a questionnaire designed to identify alcohol dependence (but modified to address tanning behaviors), they interviewed individuals at the beach, asking questions such as "Do you try to cut down on the time you spend in the sun but find yourself still suntanning?" Based on this survey, they classified 26% of the beachgoers as "tanning dependent." In a recent study, Mosher and Danoff-Burg reported that 35% of the college students they studied met criteria for indoor tanning addiction. Among this subset, 78% claimed that they had tried unsuccessfully to cut down on how often they visited indoor tanning salons, and another 78% also felt guilty about their tanning. Twenty-six percent wanted to go to a tanning salon as soon as they got up in the morning. The tanning "addicts" also were more likely to be anxious and to use alcohol, marijuana, and other substances.
An underlying biochemical cause of this addiction has been proposed. Previous research has indicated that frequent tanners prefer tanning beds that emit ultraviolet (UV) light rather than those that do not. Since UV light can increase levels of endorphins, which create a sensation of relaxation and pleasure, it was suspected that frequent tanners are "addicted" to this feeling. Mandeep Kaur and colleagues recruited infrequent and frequent tanners (classified as individuals who tan 8 to 15 times a month) and administered Naltraxone, a medication that blocks the release of endorphins. The frequent tanners (who were apparently used to feeling the effects of the endorphins) showed physiological symptoms of withdrawal, such as dizziness and shaking, while the infrequent tanners did not experience any symptoms. The researchers concluded that excessive UV-light exposure increases endorphin production, which can be addictive.
What are signs of a tanning addiction? While there are no definitive diagnostic criteria for this term, you may want to reevaluate your behavior if you:
• think you spend too much time in the sun
• have been confronted by others about your tanning behaviors
• have tried to cut back but have been unsuccessful
• feel guilty about it
• lie to others about how much time you spend in the sun
• find yourself rationalizing or minimizing what you are doing
• feel insecure without that golden glow
• miss work or social functions because of it
• feel anxious or depressed if you cannot find time to tan
What is clear is that too much time in the sun can be damaging, not only to your health, but also to your self-esteem. Appreciating "the skin you're in" can be as healing as learning to accept your size, weight, and any other imperfections. Not only will protecting your skin pay off as you age, but ridding yourself of the compulsion to change your appearance will improve the quality of your life in the present. If you feel you are "addicted" to tanning and you cannot seem to cut back on hours at the beach or trips to the tanning salon, you may benefit from counseling to help free you from this struggle.
References:
Indoor Tanning Fact Sheet (2010). American Academy of Dermatology.
Kaur, M., Liguori, A., Lang, W., Rapp, S., Fleischer, A., Feldman, S. (2006). Induction of withdrawal-like symptoms in a small randomized, controlled trial of opioid blockade in frequent tanners. Journal of the American Academy of Dermatology, 54, 709-711.
Mosher, C., Danoff-Burg, S. (2010). Addiction to indoor tanning: Relation to anxiety, depression and substance use. Archives of Dermatology, 146, 412-417.
Warthan, M., Uchida, T., Wagner, R. (2005). UV light tanning as a type of substance-related disorder. Archives of Dermatology, 141, 963-966.
Related articles:
No Pain, No Gain: Psychotherapy and Mental Health Recovery Take Time
Getting Serious About Women's Mental Health
What to Look for in an Addiction Therapist, Part 1

The preceding article was solely written by the author named above. Any views and opinions expressed are not necessarily shared by GoodTherapy.org. Questions or concerns about the preceding article can be directed to the author or posted as a comment below.