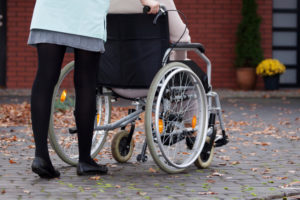 Are you caring for a family member who has a chronic illness? Are you perhaps even part of the so-called "Sandwich Generation"—taking care of your children and your aging parents? Be honest: are you struggling with anxiety, depression, or other mental health issues because of your caregiver role?
Caregiving can take a toll on the caregiver because of the demands a chronic illness can create. Regardless of whom you're caring for, there's no doubt you feel the pressure of these demands. Chronic illness is especially challenging because of daily stresses such as medication management, doctor appointments, therapies, etc., not to mention the unpredictability of symptoms. These burdens can cause caregivers to feel anxious, depressed, resentful, or even angry, all of which are normal reactions.
Caregiving can be time consuming, physically challenging, and emotionally draining. Giving of one's time and energy can be exhausting, and many caregivers find themselves experiencing burnout. Signs of burnout, much like signs of depression, can include irritability, changes in sleep patterns, sadness or hopelessness, weight gain or loss, and withdrawal from others.
Research shows that 40% to 70% of caregivers experience anxiety and/or depression. Let's hit that home: 10% to 12% of people in the United States report depression at any given time, so it's significant that nearly half of caregivers report depression or anxiety. It shows just how much of a toll caregiving can take.
Is this your experience as a caregiver? How do you combat depression, anxiety, and other issues? Here are six caregiver "survival" tips:
Take care of yourself first: You can't help anyone if you're sick, tired, or drained. You can't pour from an empty cup! Taking time to care for yourself is of the utmost importance.
Ask for help: Caregiving does not have to be just your responsibility. In fact, the more you do, the more others expect you to do. Getting support to share the responsibilities can help you avoid caregiver burnout.
Be realistic: The more you know about the diagnosis, treatments, and prognosis, the more empowered you will feel. Ask your doctor questions and search the web on reputable medical websites.
Access respite care: Respite care is a service that allows caretakers to have a break. The break can be from a few hours to a few days. You can also ask another family member or a friend to give you some time off.
Find emotional support: Having someone to share your feelings with can help ease the burden of caregiving. You don't have to feel alone and helpless. Find a trusted and compassionate person who allows you to talk without giving advice or judging the situation.
Seek therapy: If you're still struggling, find a therapist who is knowledgeable about chronic illness. Working with a therapist can help you learn to better cope with caregiver challenges.
There is no doubt caregiving for a family member with chronic illness can have adverse effects on the caregiver, but there are ways to combat issues such as anxiety and depression. Most importantly, caring for yourself will allow you to have the resources to continue caregiving.
References:
Taking care of YOU: Self-care for family caregivers. Family Caregiver Alliance. (2012, December 30). Retrieved from https://org/taking-care-you-self-care-family-caregivers
Tarantine, R. (2014, August 7). The sandwich generation: Who is caring for you? The Huffington Post. Retrieved from http://www.huffingtonpost.com/ruth-tarantine-dnp-rn/baby-boomers-caregivers_b_5733782.html

The preceding article was solely written by the author named above. Any views and opinions expressed are not necessarily shared by GoodTherapy.org. Questions or concerns about the preceding article can be directed to the author or posted as a comment below.