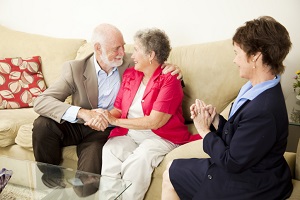 If a couple hasn't actually seen a professional relationship counselor, the partners have probably gone the route of informal counseling at one time or another. Perhaps they have read self-help books or talked to their friends, family members, or co-workers about their relationship problems. Some may have sought out spiritual or religious counseling as a method for improving their problems. According to Texas marriage therapist Pat Love, finding the right counselor is an essential first step to successful couples counseling.
Love and other experts believe that although therapists with individual counseling practices may also offer marriage counseling, unless they have undergone the coursework involved in couples' therapy, they may be approaching marriage counseling in the same way that they approach individual counseling. Couples' therapy is very different, however, and should be treated as such. Rather than focusing on childhood history or the unconscious motivations of each partner, skilled marriage therapists are trained to see that the partners are not the clients; the client is the relationship system itself.
Marriage therapy can be an extremely volatile experience and couples often come to therapy emotionally raw, bruised, and battered. There is usually quite a bit of anger and resentment. It is not the therapist's role to assign blame or side with one partner over the other. Experts agree that the role of the therapist is to treat the relationship system in order to heal it and, ultimately, heal the couple within that system. Love says, "If you don't pay attention to the system, one person will feel betrayed, left out, reactive, and not [wanting] to come back to therapy." In order to find a marriage therapist who approaches therapy this way, look for one who takes a neutral position and doesn't allow for tempers to flare and insults to fly. Trained, experienced marriage therapists will encourage honest exploration of emotions and will provide action steps that can be taken to improve difficult situations. Above all else, the right therapist will be one that doesn't dictate the future of the relationship, but rather will let couples come to that decision on their own by uncovering what lies beneath the hurts and hostilities.
Reference:
Elejalde-Ruiz, Alexia. (2013). Marriage counseling: Saving, or sabotaging, a marriage. Chicago Tribune (n.d.): n. pag. Web. http://articles.chicagotribune.com/2013-04-09/features/sc-fam-0409-marriage-counselor-20130409_1_couples-therapy-relationship-counseling
© Copyright 2013 GoodTherapy.org. All rights reserved.
The preceding article was solely written by the author named above. Any views and opinions expressed are not necessarily shared by GoodTherapy.org. Questions or concerns about the preceding article can be directed to the author or posted as a comment below.