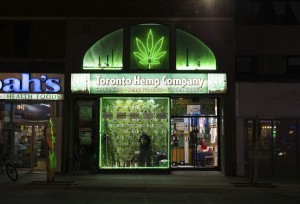 For decades, anti-drug campaigns have labeled marijuana a gateway drug, telling parents that children who use the drug are more likely to later try drugs such as cocaine and methamphetamine. Now that marijuana is legal for medical use in 23 states and for recreational use in four states, this claim seems less plausible.
Nearly half of all Americans (49%) report having tried marijuana at least once, but only a small portion of these users go on to try harder drugs. Now, a study published in the American Journal of Drug and Alcohol Abuse argues that, contrary to popular claims, marijuana is not a gateway drug.
Motivation for Using Drugs May Affect Future Use
Addiction experts have long known that many drug users use marijuana before trying other drugs, and this knowledge has led to the conclusion that marijuana is a "gateway drug." But, the authors of the latest study caution, this correlation does not mean marijuana is causing subsequent drug use.
To explore the correlation between marijuana and subsequent drug use, researchers gathered data from the Monitoring the Future study. This ongoing study assesses the values and behaviors of about 15,000 high school seniors each year.
One-third of the surveyed teens said they used marijuana to escape boredom, and this appeared to make them 43% more likely to try cocaine and 56% more likely to try a hallucinogenic drug. One-fifth of teens said they relied on marijuana to increase insight, a motivation that made them 51% more likely to try a hallucinogenic drug such as mushrooms.
Researchers were most interested in teens who said they used marijuana to "experiment," since the gateway drug theory is built upon the belief that experimentation with marijuana increases interest in experimenting with other drugs. Those teens, though, actually showed a decreased risk of using other drugs.
This, the study's lead author says, does not mean that marijuana protects against use of other drugs. Instead, it indicates that those who use marijuana for the experience are not relying on this drug to treat some other need, which makes them less likely to try other drugs.
Overall, two-thirds of teens who used marijuana did not report any other drug use. Because the reason for using marijuana can affect subsequent drug use, the study's authors suggest that focusing on motivations for drug use might be one way to curb abuse of illicit substances among teens.
References:
6 facts about marijuana. (2015, April 14). Retrieved from http://www.pewresearch.org/fact-tank/2015/04/14/6-facts-about-marijuana
State marijuana laws map. (n.d.). Retrieved from http://www.governing.com/gov-data/state-marijuana-laws-map-medical-recreational.html
Thompson, D. (2011, July 10). Marijuana study counters 'gateway' theory. Retrieved from http://health.usnews.com/health-news/articles/2015/07/10/marijuana-study-counters-gateway-theory
© Copyright 2015 GoodTherapy.org. All rights reserved.
The preceding article was solely written by the author named above. Any views and opinions expressed are not necessarily shared by GoodTherapy.org. Questions or concerns about the preceding article can be directed to the author or posted as a comment below.