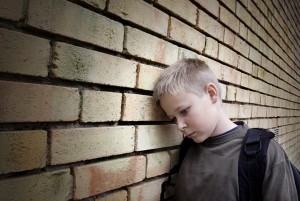 According to a 2014 report by the CDC, between one in three and one in four students has experienced bullying. This bullying epidemic isn't just a normal part of childhood development, though. Research suggests bullying can lead to a host of problems, including depression, substance abuse, unexplained aches and pains, and poor academic performance. A new study that will be published in The Lancet Psychiatry has added to the pile of data addressing the evils of bullying, suggesting that children who are bullied by their peers may fare worse than those who are abused or neglected by adult caregivers.
Is Bullying More Harmful Than Abuse?
Researchers gathered data on 4,000 child abuse victims between 8 weeks and 8 years of age in the United Kingdom. The participants also provided data on experiences with bullying at the ages of 8, 10, and 13. Researchers also gathered bullying reports on almost 1,500 9- to 16-year-olds in the United States.
Researchers found that children who were bullied by other children were 500% more likely to experience anxiety than children who were abused by adults. They were also 200% more likely to hurt themselves, and more likely to develop depression. The effects of bullying lingered long after other risk factors, such as parental health problems or family challenges, disappeared. 
How Parents Can Help 
Few parents relish the idea of their children being bullied, but it's not always easy to properly intervene. Vicki Botnick, MA, MS, LMFT, in Tarzana, California, told GoodTherapy.org that determining the scope and nature of the bullying is an important first step. "There's a big difference between the normal drama that goes on between middle schoolers, for instance, and the kind of bullying that's likely to leave long-lasting scars, which might include hitting, threats made over social media, or systematically excluding your child from group events," she explained. Botnick added that parents should begin by coaching children on how to respond to the bullying, since teaching kids how to deal with bullies teaches important conflict-resolution skills. If the bullying persists, though, Botnick advises involving school authorities. "If bullying is happening on their turf, technically it's their responsibility to solve the problem. Ask the school what their policy is and encourage them to step in," she said. Many states require schools to establish clear anti-bullying policies. For details about laws in your area, click here.
Grace Malonai, PhD, LPCC, from Walnut Creek, California, says that parents can help counteract the effects of bullying by encouraging strong self-concepts. "Parents can assist children's development of strong self-concept by teaching them to recognize their own strengths and positive traits. This could be as simple as pointing out traits and strengths as [parents] notice them, saying something like, 'You are a deep thinker,' or 'You are someone who likes to make complex Lego creations.' Short phrases like these, even if verbally dismissed at the time by the child, can have a lasting and deep-seated, positive effect. It's also a good idea to seek professional help if the problems worsen or do not subside," she said.
References:
Bullying may take bigger toll than child abuse, neglect. (2015, April 28). Retrieved from http://health.usnews.com/health-news/articles/2015/04/28/bullying-may-take-bigger-toll-than-child-abuse-neglect
Effects of bullying. (n.d.). Retrieved from http://www.stopbullying.gov/at-risk/effects/
Facts about bullying. (n.d.). Retrieved from http://www.stopbullying.gov/news/media/facts/#stats
© Copyright 2015 GoodTherapy.org. All rights reserved.
The preceding article was solely written by the author named above. Any views and opinions expressed are not necessarily shared by GoodTherapy.org. Questions or concerns about the preceding article can be directed to the author or posted as a comment below.