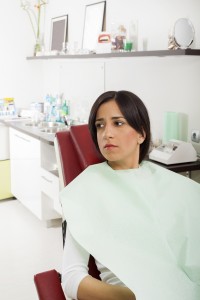 Visiting the dentist is a common and usually normal experience in everyday life, but for people with dental-related anxiety, the visit can manage to instill panic and fear.
Many people may not enjoy dental appointments, but that unease can become a phobia when the anxiety surrounding a dental appointment has a significantly negative impact on someone's well-being. The phobia usually manifests in avoiding trips to the dentists, suffering with unnecessary pain, and eventually reduced oral health. Data from the latest Adult Dental Health Survey in the United Kingdom suggests at least 1 in 10 people may experience some form of dental phobia.
Cognitive behavioral therapy (CBT) has been studied as an effective treatment for general anxiety, acute stress, and obsessive compulsive behaviors. Now, research is examining the role it can play for those experiencing heightened dental anxiety.
Study Shows CBT's Effect on Dental Phobia
Researchers from King's College London studied 130 dental patients experiencing some form of dental-related anxiety. Each was evaluated for levels of generalized anxiety and other mental health conditions as well as dental anxiety. The researchers used the Modified Dental Anxiety Scale to assess whether participants had dental phobia. Those who scored 19 or higher—about three quarters of participants—were determined to have dental phobia.
CBT as an Effective Tool for Anxiety
Vicki Botnick, MA, MS, LMFT frequently assists people with issues of pain and fear at her practice in California's San Fernando Valley. She points to CBT's ability, when mastered, to replace negative thoughts with more positive ones, and to shift anxiety-increasing behaviors toward actions that may be more soothing.
"CBT is such an effective tool because it works on both invasive automatic thoughts and the behaviors that can aggravate them," she said. "Dental phobias start with a small but logical fear—of pain—and become magnified until the very sound of a drill can evoke terror. But the phobia can be calmed relatively quickly by understanding where the thought moves from rational to obsessive."
Learning to label such thoughts as exaggerations, Botnick said, can be used effectively along with relaxation techniques to bring about change.
References:
Kani, E., Asimakopoulou, K., Daly, B., Hare, J., Lewis, J., Scambler, S., . . . Newton, J. (2015). Characteristics of patients attending for cognitive behavioural therapy at one UK specialist unit for dental phobia and outcomes of treatment. BDJ Br Dent J, 501-506. doi:10.1038/sj.bdj.2015.890
Cognitive behaviour therapy can help overcome fear of the dentist. (2015, November 27). Retrieved from http://www.kcl.ac.uk/dentistry/newsevents/news/newsrecords/2015/Nov/Cognitive-behaviour-therapy-can-help-overcome-fear-of-the-dentist.aspx
Otte, C. (2011). Cognitive behavioral therapy in anxiety disorders: current state of the evidence. Dialogues in Clinical Neuroscience, 13(4), 413–421.
© Copyright 2015 GoodTherapy.org. All rights reserved.
The preceding article was solely written by the author named above. Any views and opinions expressed are not necessarily shared by GoodTherapy.org. Questions or concerns about the preceding article can be directed to the author or posted as a comment below.