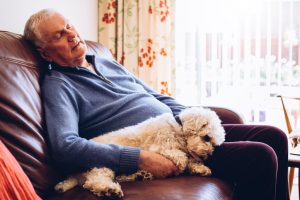 Excessive sleep could be an early warning sign of dementia, according to a study published in the journal Neurology. Researchers found seniors who begin sleeping more than nine hours per night, but who had not previously slept this long, may be at a heightened risk of developing dementia.
Previous studies have linked sleep patterns to dementia. One study found seniors with daytime fatigue may have greater brain atrophy than those who feel well-rested during the day. Another study linked lower quality sleep to more rapid brain aging in older adults.
Could Excessive Sleepiness Result in Dementia?
The study gathered data on 2,457 participants in the Framingham Heart Study. Most participants (57%) were female, with an average age of 72. Participants provided details on their nightly sleep habits. The study also measured the participants' total cerebral brain volume (TCBV).
Researchers followed up with participants after 10 years. By then, 234 study participants had developed some form of dementia. Those who began sleeping more than nine hours during the study were more likely than other groups to develop dementia. They had worse cognitive functioning and declines in executive functioning, which is a type of cognition that helps organize thoughts, attention, and impulse control. Excessive sleepers also had lower TCBV.
cognitive impairment
or who lacked a high school degree also had an elevated dementia rate. The study's authors say these findings suggest a higher level of education may help protect against a heightened dementia risk.
Sleep Pattern Changes as a Symptom of Dementia
The study did not test for a causal connection between sleep changes and dementia. Instead, researchers suggest shifts in sleeping patterns might be a symptom for people experiencing the early signs of dementia. On brain scans, people with Alzheimer's typically show a buildup of beta amyloid plaques. Excessive sleep could be an attempt to fight the effects of these plaques.
The National Sleep Foundation recommends adults 65 and older get 7-8 hours of sleep per night—slightly less than its recommendation of 7-9 hours for adults 18-64. However, the study's authors say restricting sleep time to the recommended range is not likely to reduce dementia risk.
References:
National Sleep Foundation recommends new sleep times. (2015, February 2). Retrieved from https://sleepfoundation.org/press-release/national-sleep-foundation-recommends-new-sleep-times
Westwood, A. J., Beiser, A., Jain, N., Himali, J. J., Decarli, C., Auerbach, S. H., . . . Seshadri, S. (2017). Prolonged sleep duration as a marker of early neurodegeneration predicting incident dementia. Neurology. doi:10.1212/wnl.0000000000003732
© Copyright 2017 GoodTherapy.org. All rights reserved.
The preceding article was solely written by the author named above. Any views and opinions expressed are not necessarily shared by GoodTherapy.org. Questions or concerns about the preceding article can be directed to the author or posted as a comment below.