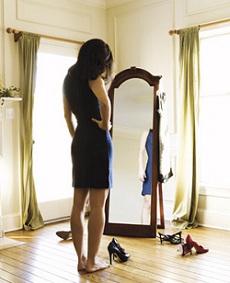 She hates her thighs, the sight of them drive her mad. The tissue is soft, the weakness mocks her. Yet she is somehow pulled into the ritual of gazing and when not in front of a reflection, imagining the horror of her flesh. She is repulsed by its frailty, yet it eludes her, defies her, mocks her then, paradoxically, defines her. It continues despite her efforts to be rid of it. At first she is awash with hopelessness at this self-reflected failure. Reactively, almost immediately, she is stirred into motivation by the powerful endorphins of anger, the drive of dopamine. She is going to do something about it. She will refute any signs of hunger, a sneer. She will rise above the pain of exhaustion as she sweats away the frailty she so disapproves of, pounding the pavement, the treadmill, anything she can find that lets her feel in charge. She will conquer the imperfection.
She is alone in this hatred, she knows. Nobody else cares about her thighs. Yet she feels their stare, their judgement. She flinches as the thought of being seen. She wants to be thin, maybe even invisible. They cannot fault her if they cannot see her. She has forgotten who she is as she stares with great focus at a piece of her flesh. It proves to be a delightful distraction. She will dominate, objectify, and degrade. She has lost her identity in this addictive mess of anger towards her body. It hurts and yet relieves a deeper pain. She has flown above loneliness and confusion. She has removed herself from her own skin. No need, no vulnerability. Yet she weakens, becoming that which she abhorred.
Every day she relives a painful ritual. She wakes up with a mind full of mess she is going to clean up. She draws up her will, which is strong and then quickly misdirects it to where there appears to where she feels she is in control. She finds an outlet for oppressed rage. Powerless over the world of emotion, she will dominate the flesh. Distracted from pain, loss, or fear, she is a warrior of her inner world. She fights against herself, unknowing that she is her own enemy. Strong is the bond with this ever-regenerating illusion of grandeur that tempts her away from her friends, her family, her calling and her own humanness.
Who was the cunning trickster that seduced the beauty into this ugly dance of self-betrayal. How was she fooled to believe she is defective and weak and must conquer herself to be worthy of everything she will then avoid? What curse or discipline is this? Whose purpose does it serve that it persists despite efforts of love and intervention. For this ritual is re-enacted in private moments all over the world.
Prometheus stole fire from the gods and gave it to humans, and for this was punished by being bound to a rock to have his liver eaten daily by an eagle, only to grow back again to be eaten the next day. Some say this was a painful punishment for reaching too high, of not accepting the limitations of being human. There appears to be no mythological heroine to illustrate the story of the girl who hates her thighs. If there was, what would we admire her for? Her courageous deed of stealing and containing her spirit from herself so nobody could have it? Or would we be inspired by her apparent ability to transcend pain, by pecking away at her own body? Would we praise her fortitude in oppressing her own needs, only to be left hungry, empty and in pain? Consciously we would not, though every day we reinforce this disease. We praise girls and women for self-sacrifice, servitude and humility. Their self-worth is anchored in their physical appearance as we ignore inner traits. We are uncomfortable with what we call "negative" emotions, and oppress them in others in subtle and over ways. Anger is considered unattractive, so it goes underground.  Confidence in a young woman is discouraged by the jealousy it brings about in others. Perfectionism is a celebrated trait.
Before we look with shock and disgust at the ultra-thin, child-like woman who appears to be trying to reverse the effects of puberty, let's think about what it's really like to be a competent and successful woman in society. Understand that this phenomenon is a reflection of our culture and times. We are miles away from successfully treating severe forms of body hatred.  But we can make little differences every day in the way we respond to women and improve body image problems overall. For starters, we can praise her for who she is, not for how she looks and what she does for us. We can stand beside her when she cries, listen and respect when she is angry. Accept her right to be different. Support her when she is scared, even if it is you she fears, and forgive her when she falls.
© Copyright 2011 by Shirley Katz. All Rights Reserved. Permission to publish granted to GoodTherapy.org.
The preceding article was solely written by the author named above. Any views and opinions expressed are not necessarily shared by GoodTherapy.org. Questions or concerns about the preceding article can be directed to the author or posted as a comment below.