Here are some quick tips to keep the excitement bubbling this holiday season: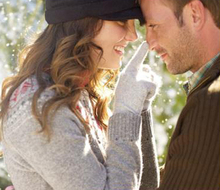 The holidays may be a hectic and busy time for many of us here in the Western world. Although many people have time off, the kids are also off school, the relatives are demanding of our time, plus there is the gift giving, the gift shopping, gift wrapping, the shopping crowds, the parties, attending dinners and work events, not to mention stress about things like money, holiday travel, weight gain frustrations from all the decadent eating and drinking, and so on. It's a wonder we have any time at all to nourish our partners and relationships, let alone our sex lives.
For the busy holidays, I've compiled a list of things you can do to squeeze in some sexy time for you and your partner.
Sexy holiday Santa/elf outfit. Surprise your honey in your favorite night gown, slip or sexy lingerie of choice, preferably in the color red, but not necessary, and don the old red Santa's hat. As Santa's little helper you can decide if your partner has been naughty or nice. Let him know that his wish is your command if he's been nice. Or perhaps you've been the naughty one. Use chocolates or cherries to enhance the evening by making it more delicious. Either way, this play on traditional Christmas can be sexy and fun.
Warm bath with Pine scented bath salts.  Your baby has been working hard. Offer to help relieve some stress tonight. Pine scented bath salts not only help one to relax but also inspire the winter holiday warmth. So, after the kids have gone to bed, and the pet's have been fed, offer to run a bath for your loved one. Turn on the hot water, light some candles, make some hot tea and entice your baby into the hot scented relaxing bath water.
Almond oil massage. Is your partner so pooped they've tuned you out and are solely focused on watching news or sports on the boob tube? This light massage can be done while they are relaxing. Rub some massage oil or scented lotion on your hands first, then on your partner's hands and feet. Massage gently.  This is a low maintenance way of inspiring tenderness and then passion after a long and stressful week.
Quiet time reading. Reading to each other can be exotic and erotic if the material is sexually charged. Find an erotic novel, turn on the fireplace (if you have one) and curl up together with a blanket and read to each other. The friction and the heat between you two will be undeniable.
These are just a few ideas to get the blood flowing between you and your love. As always the bottom line here is of course, to take some out from your busy schedule and do something out of the ordinary, something special, creative, sexy and romantic for yourself and your partner. This may be a small simple gesture but the underlying message that you deeply care about your relationship is undeniable. This will not just make the holidays more enjoyable and fun but also works towards making your relationship fun and enjoyable as well.
© Copyright 2010 by Mou Wilson. All Rights Reserved. Permission to publish granted to GoodTherapy.org.
The preceding article was solely written by the author named above. Any views and opinions expressed are not necessarily shared by GoodTherapy.org. Questions or concerns about the preceding article can be directed to the author or posted as a comment below.