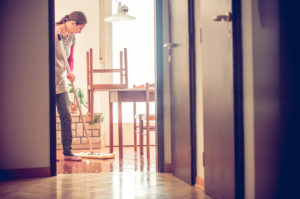 While spring conjures up beautiful images of tulips, crocuses, and daffodils, it is also a yearly reminder to clean one's abode. Historically, when people turned to herbs for most of their medicinal needs, spring was associated with rejuvenating the liver by taking the milk thistle for a couple of weeks, or simply adding dandelion greens to a daily salad. Psychologically, it is an opportunity to do an interior sweep of one's cranium. I'm talking about all those repetitive thoughts that create feelings and catalyze behaviors—some desirable, and some not so welcome.
If you feel stagnant from residual resentments, grudges, perfectionism, negative or self-downing patterns, guilt, anger, depression, worthlessness, anxiety, and so on, spring, with all its symbolism of starting fresh, is a perfect time to practice letting go. While surrendering to What Is can lighten your mental and emotional load, it is often a two-steps-forward-and-one-and-three-quarters-back proposition. Knowing that before you start helps keep your expectations in line with reality. Just as you wouldn't plan to landscape your entire yard in an hour, you will need to be patient as new cognitive seeds take root. If regularly watered, they will bloom beyond your wildest imagining.
Here are a few basics to get you started: 
Allow yourself to hold on to a resentment without self-criticism until you are fully ready to release it. Forcing yourself to forgive, for example, before it feels right is an act of self-sabotage and creates cognitive dissonance. Paradoxically, this ensures your forgiveness, when it comes, will be heartfelt and long lasting. In addition, it paves the way for more compassion toward yourself and others.
Practice setting aside preconceived notions about yourself. As Henry Ford said, "Whether you think you can, or you think you can't—you're right." Give yourself the latitude to change your mind. Just because you have thought something for years doesn't mean it is helpful now. Take a look at some of your most cherished beliefs and ask yourself if they are serving your current wishes or standing in your way. Imagine thinking something different, and picture how that might change your behavior. Let's say you have always thought of yourself as uncoordinated or inflexible. If you set aside that belief, you could experiment with a beginner's yoga class. You might be happily surprised to see how much you enjoy something you thought you would dislike.
Shake up your workday. If you always eat the same breakfast, try something new. If you always take the same walk, go in the opposite direction. If you typically shower, try a leisurely bath. Even the littlest differences have the power to shift your perspective on life.
Join a meet-up group. Want to revitalize your social life?  Meet-up groups offer people who share similar interests an online connection to others in their city or town. These groups can be wonderfully diverse and fun.
Adopt an attitude of gratitude. At some point, every day, stop and deeply appreciate your blessings. The practice of simply saying grace, or just taking a moment to be thankful for the food you are about to eat, is a mini-mindfulness practice that can reorient your perspective almost instantly. The yogis say, "What we practice we become." Focus on your litany of complaints, and you will feel lower than a snake's wiggle. Attend to everything beautiful in your life, and you will feel more optimistic.
Replace self-judgment with self-love. The most important cognitive spring cleaning you can do is sweeping out the inner critic's litany of harsh, nasty self-judgments and replacing them with supportive, loving self-talk. It is impossible to be too tender with yourself. Contrary to some people's beliefs, lavishing yourself with kindness will never make you weak or self-indulgent. In fact, you will likely find yourself feeling more comfortable, and more at peace, with yourself than ever.
Each of us has different work to do at different times. Take a little inventory, see what you might like to shift, and bravely try something new. It's never too late to love yourself and your life.

The preceding article was solely written by the author named above. Any views and opinions expressed are not necessarily shared by GoodTherapy.org. Questions or concerns about the preceding article can be directed to the author or posted as a comment below.