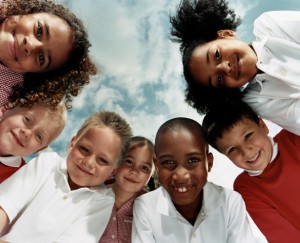 What if our education system valued depression prevention as much as academic education? What could be done at school to give children a better chance to grow up happy?
What if part of every day at school involved teaching children to find and practice their sense of gratitude and appreciation for the pleasure their senses could bring them. They could learn to focus on the pleasure of the smell of a flower, the taste of food, the feel of soft fur. It would be a kind of mindfulness training with the daily wonders of life, nature, and the senses.
What if teachers were oriented toward prioritizing children's self-esteem? Children could go home from school each day feeling good about who they are as people and about what they can do with their skills and talents, because that's what they learned in school. Probably there would be less bullying and children criticizing each other and themselves.
What if teachers modeled optimism, hope, and faith that life will provide good fortune and that problems will be manageable and handled with help from community. Curriculum could be oriented toward helping others, giving what one can, and supporting each other through challenges.
What if teachers helped children explore their internal worlds and understand themselves better? Teachers could teach children to listen to each other and respond to each other and to animals and plants with compassion. Children could learn to understand, talk about, and feel comfortable with their feelings. They could be taught constructive ways of expressing anger, so that they feel normal about feeling angry and learn that anger doesn't need to be suppressed or expressed in a hurtful way.
What if part of the curriculum were to teach about differences, valuing diversity, and the value of being inclusive? If this were not only taught but demonstrated every day, maybe it could be incorporated into each child's cells. What if everyone grew up in an environment where large, curvy bodies were valued equally with straight, skinny bodies, old and young both had value, more than two genders were recognized and valued, and every other variation in human experience were seen with interest and delight?
I believe that if we really devoted our energy to bringing this kind of experience consistently to our children, we would prevent a huge percentage of cases of depression in children, adolescents, and adults. I don't believe that affirmations are helpful to depressed people, but I do believe that some people need to be consciously taught happiness and joy, and many need to have their happiness at least supported and not undermined.
I believe that our happiness is undermined unnecessarily by repeated experiences of being shamed, devalued, unrecognized, misunderstood, and overworked as children, and so much of that could be prevented. In addition, many of the choices people make when they don't get this kind of education cause more problems that contribute to depression. Without depression prevention, many teens look to sex to give them that sense of being lovable and valuable that everyone needs. Others look to drugs and alcohol to give them the confidence and the euphoria they are missing. Some take dangerous risks for a thrill that boosts their otherwise depressed mood. Others bully to feel powerful or develop eating disorders to feel in control.
Of course all of these outcomes can be caused by trauma, including shaming or otherwise abusive experiences at home or outside of school. But if depression prevention were part of everyone's curriculum every year—integrated into everything students do, kids would develop more resilience and be better able to handle negative influences without having to let it affect them at their core.
Yes, I think we need to have institutionalized happiness training in childhood. I think much of the depression we are desperately trying to conquer would never be an issue in the first place if children got this kind of education.

The preceding article was solely written by the author named above. Any views and opinions expressed are not necessarily shared by GoodTherapy.org. Questions or concerns about the preceding article can be directed to the author or posted as a comment below.