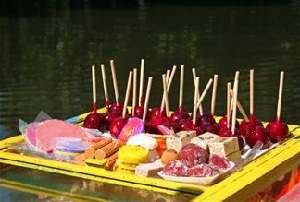 A friend of mine posted on Facebook that her 2-year-old son wanted to have candy for dinner. She directly said "No", and of course her son kept on asking and she continued to say it and so forth. I understand her frustration, but I responded differently. I asked her, "why not?" Yes, I know candy for dinner is not the healthiest, and that a child needs other foods, etc., but before you continue, look at the boxes of sugary cereal that you may be feeding your child in the morning and then think about your answer. Sometimes candy is the same as Trix, Frosted Flakes (which I love), Captain Crunch, and other cereals.
I know my friend does not give her child candy for dinner all the time, so once in a blue moon, why not? That's not really the point of this article.
Two-year-olds want to have control of their environment, just like we all do. When parents tell their child "No", there are a slew of questions, complaints, whines, protests etc., and yes, it can be very frustrating; but sometimes, those sorts of questions can be avoided in the first place.
It's hard to restrain oneself when a child makes a request as unusual as candy for dinner, but I wonder what would have happened if my friend would have said: "Let me think about it," "We will see," "What type of candy would you want?" or, "What else will we have with the candy?" There may be more questions, but she also would have found out more of the lines on what her son was thinking, how he could resolve the dilemma of what he wants, and what he will still need to eat.
Waiting to say "No" can take away a lot of the arguing that generally happens when a parent says "No" to their child. The waiting part is difficult for the child, but can also teach the child that he may not always get what he wants, that he will have to wait and be patient for something, and that he may have to provide a reason for what he wants and not just anticipate mom and dad getting him everything he asks for.
This dinner situation can be a lot of fun. There are many options that can be utilized to still have a semi-balanced dinner. The child can help pick out what to have with the particular candy, can pick out when the "crazy dinner" will occur, what healthy foods can still be eaten with that candy. The "crazy dinner" can also have a silly dress code and everyone needs to wear their pants backwards or something. Here is an opportunity for the child to have some control with making decisions in the family, to be a part of something fun and crazy, to have a night that he's in charge of and the family can have some different types of crazy fun.
Before you say "No":
Ask what is the child's thinking for having candy for dinner (sticking with the topic of the article)
Ask what else can be with the candy. If the child says "Nothing", this is where you as the parent can negotiate and say that some meat or a fruit/vegetable needs to go with the meal.
What else will the family do at dinner? Will they need to dress funny? What will the family do after dinner?
Having the child in control of this particular dinner then someone else will do the dishes, other than you.
This "crazy dinner" can become another part of Family Fun Night.
After this crazy dinner, if the child asks for candy for dinner again, "No" can be the more appropriate answer because two nights of candy for dinner can be too much of a good thing.
I am not saying that having candy for dinner needs to be the rule, but it can be the exception. There are a lot of times that saying "No" first is necessary and appropriate, but in this case and with this particular situation, maybe not saying "No" can be better.
Yes, when my son asks for candy at dinner, I will allow it, but only on a "crazy dinner" night.
Related Articles:
Listening to Your Child
Choosing Your Holiday Memories and Traditions
Children in the Balance: Should You Rethink Your Parenting Style?
© Copyright 2011 by Kelly Sanders, MFT, therapist in Rancho Cucamonga, California. All Rights Reserved. Permission to publish granted to GoodTherapy.org.
The preceding article was solely written by the author named above. Any views and opinions expressed are not necessarily shared by GoodTherapy.org. Questions or concerns about the preceding article can be directed to the author or posted as a comment below.