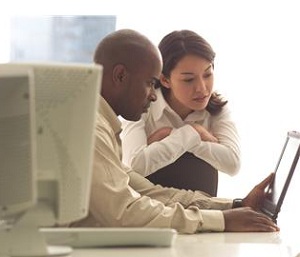 "Kevin" is 51 and was recently treated for colon cancer. His leave of absence at work is almost over. As his return looms closer, he is increasingly anxious. He's not feeling 100% yet. He still tires fairly easily and has been taking naps every afternoon. He's not sure he can concentrate fully for extended periods of time. On top of his concerns about his abilities, there is the question about how much he has to tell people about why he has been gone. Does everyone need to know every detail?
Returning to work is a common source of stress for people coping with cancer. It's important to know this because many people think that others have no problem with it, when, in reality, it is a significant adjustment for everyone. This column will look at three broad areas regarding this topic: physical adjustment, emotional adjustment, and focus/concentration.
Physical adjustment: Regardless of the type of treatment(s) you have had, your body has taken a blow. People often say, "I only had surgery (radiation, etc.). I don't know why I'm so tired." Any cancer treatment upsets the normal balance your body has. Even if you are in excellent shape and eat a healthy diet, your body still needs time to recover. Your body will tell you what it needs but you have to pay attention in order to hear it. Therefore, ideally, when returning to work, you will do so gradually, starting with half days a couple of days a week and then slowly building up to whatever a full schedule is for you. If you find you are getting more tired over time rather than less, cut back if you are able to, until your body catches up.
Emotional adjustment: While the active phase of your treatment may be over, it doesn't mean that you don't have to cope with having cancer any more. Going back to work helps to get you out of "cancer world," where you are focused on cancer all the time, but it doesn't remove you from there completely.
Before you return to work, make a plan for how you want to share information about your illness. Some people write an email (and may have their boss send it out) prior to their return giving information about their situation. How much information you include is entirely up to you. Some coworkers think they are entitled to know everything, even though they are not. As I've said previously, this is your illness. You get to choose what information you share and who you share it with. Your email may also include statements such as, "I really appreciate everyone's support. While I know you may want to stop by my desk and ask how I'm doing, please don't. I really want to focus on getting my work done, and if everyone stops by, it makes for a lot of interruptions." Of course, another reason you don't want people stopping by every 15 minutes is that you don't want to have to repeatedly share your story. One person said every time she had to do so, it retraumatized her.
Hopefully you have one or two coworkers you can lean on for support. They can also run interference for you. Your email could say, "Bob and Glen are familiar with what is going on and can share information with you as needed." This also sends the message that people can't just pump them for details out of curiosity.
Focus/Concentration: This is another area where people think others are doing much better than they are. Fatigue makes it much more difficult to concentrate. Chemotherapy can make people feel "foggy," and this can last long after treatment has ended. The longer you have been away from work, the longer it takes to get back into the swing of things, whether you have had cancer or not. While being a little anxious helps you to concentrate, being more anxious (i.e., about returning to work, about your job performance) lessens your ability to focus/concentrate. Depression also worsens focus/concentration, as do any troubling thoughts, such as family or relationship difficulties or financial concerns.
Conclusion: Returning to work after cancer treatment is a significant achievement. It is essential to pay attention to your body as you ideally ease your way back. Each person is different and, as such, his or her return to work will not look like anyone else's. It is important to accept that. Forcing yourself to forge ahead at a pace that you are not ready for can ultimately result in needing to take even more time off from work, thus completely defeating the goal you were trying to achieve. Be patient with yourself.
Be yourself; everyone else is already taken.
-Oscar Wilde
Related articles:
Managing Fear and Uncertainty while Living with Cancer
© Copyright 2012 GoodTherapy.org. All rights reserved. Permission to publish granted by Norma Lee, MA, MD, Cancer Topic Expert Contributor
The preceding article was solely written by the author named above. Any views and opinions expressed are not necessarily shared by GoodTherapy.org. Questions or concerns about the preceding article can be directed to the author or posted as a comment below.