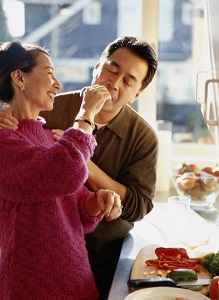 For marriages that endure through the decades it takes to raise children, the transition back to couple-hood, or "empty-nesting," can be bittersweet. If both partners enjoyed parenting their children, not living with them anymore can feel like grief, mixed with a touch of pride and relief. How does a relationship devoted to raising children for decades suddenly shift away from those daily responsibilities and return to being "just" a couple?
While empty-nesting is a natural family transition, it has its challenges. The couple is not the same as it was a quarter century before. Each partner has aged. One or both may have elderly or ill parents that demand their time and attention. The dreams of early marriage have been adjusted to the realities the family experienced, including education, employment, illness, accidents, and relocations. Old issues that may have been easily ignored in the past may suddenly take center stage, like body image, sexuality, or recreation.
Many couples discover they have to relearn the art of mutual caregiving and conversation. Conversations are no longer multilayered affairs between three or more people, but rather just between the two of you. The physical affection that the children shared with you is gone. Just as suddenly as you may have once fallen in love, and as suddenly as you became parents, you may now wonder how the time passed, and just who your partner is.
Not all will answer this question with a happy, curious heart when the time comes. At this point, some couples have been quite unhappy and disconnected for decades, remaining together "for the sake of the children." They have stumbled along for years without addressing the core stresses they carry. One or both partners may be ready to call it quits.
Healthier, longer life spans, as well as greater resources available to women who have their own incomes, make divorce easier after 30 years. This may be an incentive for some. Still other long marriages will end because one of the partners deeply misses desire, excitement, and romance, and seeks it in a new relationship as an attempt at happiness.
Are you at this point in your marriage, where the kids are gone, and it's just the two of you again? Would you like to stay away from the pitfalls of lengthy marriages that fall into divorce? Here are a few ideas I have gleaned from working closely with couples at this life stage:
Take your time. You didn't arrive at this life stage without years and decades of family life together. Chances are, you are already pretty good at transitioning and weathering many changes together. You can probably move to a new norm of life, as a couple alone again, without too much struggle.
Celebrate where you've been. Of course you are looking back frequently at what you have done as parents, what your work life was like, and what the world once was. Take time to celebrate your efforts. Even if your children's lives aren't completely settled, you have brought them safely to this point in their lives. In that, rejoice!
Keep looking ahead. Don't stop planning new things in your life. By all means, take that long-delayed second honeymoon if you want. But if moving to a smaller home, taking on new volunteer obligations, or learning a new hobby beckons, do it. Don't stop learning, doing, stretching. Whatever your health, keep your body and mind nimble.
Value the individual. Remember that you started this family together precisely because of the happy combination of similarities and differences between you as people. Let those differences breathe and enjoy the unique person you have spent your life with. There is still a lot more to learn about one another, believe it or not.
Get help fast if the old patterns begin to hurt. Nothing can ruin the happy potential of this new phase in life like old resentments, hurts, and patterns of communication that leave one or the both of you alone and suffering. If this feels like what you are experiencing, a good marriage therapist in your area can be of enormous help and support.
So, you have an empty nest? Congratulations! What a time of great upheaval and enormous potential in your relationship. It's a wonderful opportunity to renew what you have as a small family. It's also a great time to lean into the limitations, irritations, and old hurts that you have brought from the past into the present with help, and get those issues repaired. Keep moving forward, enjoy your success, and work on what gets you stuck. The future awaits!
© Copyright 2013 GoodTherapy.org. All rights reserved.
The preceding article was solely written by the author named above. Any views and opinions expressed are not necessarily shared by GoodTherapy.org. Questions or concerns about the preceding article can be directed to the author or posted as a comment below.