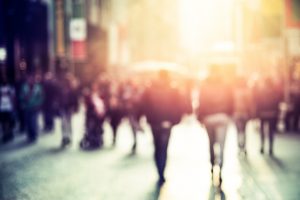 People may perceive black men as larger and more threatening than white men of a similar size, according to a study published in the Journal of Personality and Social Psychology. Because research has shown police officers are often more likely to use force on black men then white men, the study's authors theorize that stereotypes about size and level of threat may affect disproportionate use of force.
Numerous studies have shown police more readily use force on black individuals than white individuals, and police are more likely to give citations to black motorists than white ones. This study suggests unconscious racial biases that black men are dangerous might explain these discrepancies.
The study involved displaying photos of black and white men to more than 950 online participants. The men in the photos were all equal in both weight and height. Researchers then asked participants to estimate the weight, height, strength, and muscularity of the photo subjects. Participants consistently ranked black men as larger, stronger, and more threatening than white men. They saw black men as more capable of harm, and they viewed police shootings of black men as more justifiable.
bias
, though they were less likely to rate other black men as more capable of harm or more deserving of police force. The study's authors call for further research into how these unconscious biases play a role in use of police force.
Teens and young adults who used several media simultaneously had more trouble completing attention-based tasks in a lab setting. Functional magnetic resonance imaging (fMRI) scans of participants' brains also revealed high levels of activity in their frontal lobe. This can be a sign of excessive brain strain.
Marks and Spencer, a major British retailer, has partnered with the mental health awareness campaigner Ruby Wax to offer the Frazzled Cafe. The program offers after-hours sessions at local cafes, where stressed people can discuss their emotions and receive support for any mental health concerns. The program does not offer therapy, but can be a supplement to treatment or a source of support for people struggling with everyday stress.
The U.S. spends more money on mental health treatment than on treatment for any other medical condition. Worker productivity and employer success in the workplace decrease when workers experience mental health issues, yet just 52% of employers say expanding mental health care is a top priority.
Climate change raises concerns about physical safety and financial stability. People who live through natural disasters attributed to climate change—such as floods, hurricanes, and large storms—may find it difficult to put their lives back together. Some may develop depression, anxiety, phobias, or posttraumatic stress (PTSD).
People with depression saw significant symptom reduction after completing a 12-week program that included yoga classes and coherent breathing. More yoga equated to more symptom relief. People who took three weekly yoga classes reported better mental health than those who took two weekly classes.
Much of the criminal legal system centers on the ability to accurately read emotion to determine whether a witness is lying, whether a defendant is remorseful, or how a victim has been affected. It turns out people are remarkably inept at reading emotion. A famous "mind in the eyes" study reports that people select the correct emotion 70% of the time when given a photo of eyes and a list of emotion words. However, when the list of words is removed—a condition similar to that which might be found in a court room—accuracy drops to 7%. This suggests jurors and judges might not accurately read emotion, potentially undermining their ability to detect remorse as well as other emotions the legal system prioritizes.

The preceding article was solely written by the author named above. Any views and opinions expressed are not necessarily shared by GoodTherapy.org. Questions or concerns about the preceding article can be directed to the author or posted as a comment below.