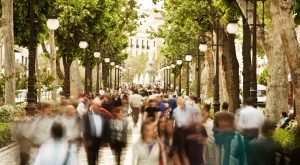 Race may be a significant factor in whether a person is diagnosed with a mental health condition. It may also influence which condition is diagnosed and whether the person receives treatment, according to a study published in Psychiatric Services. 
The study also notes a low overall rate of psychiatric diagnoses and treatment among all groups. About 25% of adults experience a mental health condition at any given time.
Ethnicity's Effect on Mental Health Diagnosis and Treatment
To assess and compare treatment across groups, researchers gathered data from the Mental Health Research Network—a group of 11 not-for-profit health care systems. The data included information on 7,523,956 adults who sought psychiatric care in 2011 and provided details on use of medication, diagnostic history, and prevalence of psychotherapy.
The study uncovered several disparities. Native American and Alaskan Native participants had the highest rate of mental health diagnoses, at 20.6%. Asians had the lowest rate, at 7.5%. Non-Hispanic blacks were twice as likely as whites to be diagnosed with schizophrenia, but were less likely to receive medication for their condition. Although they were diagnosed with mental health conditions at a lower rate, non-Hispanic whites were 77.8% more likely to receive medication than any other group.
Untangling the Connection Between Ethnicity and Treatment
The study did not assess what might be behind the differences in diagnosis and treatment. It is impossible to know from the data whether some ethnic minorities experience mental health conditions at a higher rate or whether doctors are simply more likely to notice their symptoms. If some multicultural groups do experience a higher rate of mental health conditions, it is unclear whether this is due to different life experiences or some other factor.
Likewise, the study does not reveal why some groups are more likely to receive treatment than others, or why therapy appears to be underused. The study's authors suggest future research should look into whether treatment approaches and outcomes are equitable across multicultural groups.
References:
Coleman, K. J., Stewart, C., Waitzfelder, B. E., Zeber, J. E., Morales, L. S., Ahmed, A. T., . . . Simon, G. E. (2016). Racial-ethnic differences in psychiatric diagnoses and treatment across 11 health care systems in the mental health research network. Psychiatric Services. doi:10.1176/appi.ps.201500217
Racial and ethnic differences found in psychiatric diagnoses and treatment, according to researchers. (2016, May 17). Retrieved from http://www.eurekalert.org/pub_releases/2016-05/gsu-rae051716.php
© Copyright 2016 GoodTherapy.org. All rights reserved.
The preceding article was solely written by the author named above. Any views and opinions expressed are not necessarily shared by GoodTherapy.org. Questions or concerns about the preceding article can be directed to the author or posted as a comment below.