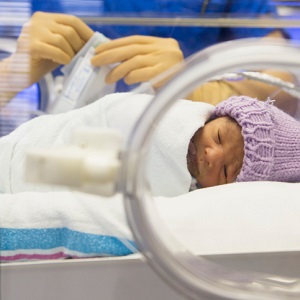 The last few weeks of pregnancy may make some women more likely to opt for a C-section or early labor induction. In 2011, the March of Dimes started a campaign to curb this practice, arguing that women should avoid giving birth prior to 39 weeks, if at all possible.
Despite the campaign, though, the March of Dimes gives the United States a "C" for its efforts at preventing premature birth, and argues that the U.S. is doing worse than most industrialized countries. Every year, 450,000 babies are born prematurely. And a new study emphasizes that even slight prematurity can affect brain structure and function. The study's author points out that late premature birth between 34 and 36 weeks accounts for eight percent of all births, making prematurity and important public health issue.
How Prematurity Affects Brain Development
A full-term pregnancy is 40 weeks, and several previous studies have shown that children born between 34 and 36 weeks have more social, intellectual, and behavioral problems than children born after 37 weeks.
A new University of Iowa study took this research one step further, using MRI scans to examine the effects of prematurity on the brain. The researchers studied 32 children ranging from seven to 13 years old, each of whom was born between 34 and 36 weeks. In addition to the brain scans, researchers also had the children's parents fill out a behavioral survey, and administered several tests of cognitive function to the children.
The results showed delays in cognitive function among premature children as compared to a group of 64 children who were born at full term. Additionally, the MRI scans showed that premature children had variations in brain structure that might help explain their differences in cognition.
Reducing the Risk of Premature Birth
Sometimes premature birth is inevitable, such as when a mother goes into preterm labor or it's too dangerous for a mother to stay pregnant. If you're concerned about the risks of premature birth, though, there are several things you can do to help your baby stay in the nurturing uterine environment for as long as possible:
Don't opt for an elective induction or C-section because of scheduling issues or because you're tired of being pregnant.
If your doctor recommends a preterm birth, ask for a clear reason, and consider diagnostic testing to ensure that preterm birth is really necessary. You may also want to get a second opinion.
Don't smoke, drink, or do drugs during pregnancy.
Take a prenatal vitamin every day, and focus on eating a healthy, balanced diet. If you're considered underweight, you may need to gain some weight.
Contact your doctor if you experience any unpleasant symptoms or have any questions about your pregnancy. Excellent prenatal care can help you avoid common causes of premature birth.
Of course, being born prematurely does not mean a child can't be just as smart or mentally healthy as any other child. But premature children may need some extra help, so if you're concerned about the effects of prematurity, consult your pediatrician.
References:
39 weeks. (n.d.). Retrieved from http://www.marchofdimes.com/pregnancy/pregnancy-39weeks.aspx
Being born 4-6 weeks premature can affect brain structure, function. (2014, May 5). Retrieved from http://www.sciencedaily.com/releases/2014/05/140505094157.htm
Brody, J. E. (2011, August 08). A campaign to carry pregnancies to term. Retrieved from http://www.nytimes.com/2011/08/09/health/09brody.html?_r=0
National prematurity awareness month. (2013, October 29). Retrieved from http://www.cdc.gov/features/prematurebirth/

The preceding article was solely written by the author named above. Any views and opinions expressed are not necessarily shared by GoodTherapy.org. Questions or concerns about the preceding article can be directed to the author or posted as a comment below.