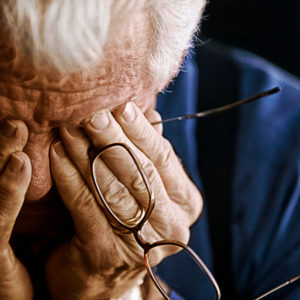 Some people with dementia may experience symptoms of posttraumatic stress (PTSD) long after the initial trauma, according to research published in the journal Progress in Neurology and Psychiatry.
From an initial sample of 747 participants, the study ultimately identified three people with dementia who experienced delayed-onset PTSD. The study participants displayed symptoms of trauma many years after it happened.
In people with dementia, the study cautions that providers may mistake symptoms of PTSD for behavioral and psychological problems related to cognitive decline.
Dementia May Mask Signs of PTSD
Dementia causes a wide range of cognitive changes. These changes can lead to behavioral issues and emotional turmoil. In people with dementia, the review argues, symptoms of PTSD may be misdiagnosed as symptoms of dementia.
The study looked at case histories of three older adults with dementia. Its small scope means more research is necessary to determine the prevalence of delayed-onset PTSD in people with dementia.
Identifying and Treating PTSD in People with Dementia
People with dementia sometimes appear to be living in the past. They may believe they are living in a different time, or they may think loved ones are people from the past. For people with a traumatic past, this reliving of the past can be particularly difficult.
Because of the cognitive declines associated with dementia, however, it is difficult to provide therapy to people in the advanced stages of Alzheimer's or other types of dementia. The study's authors suggest physicians should work to identify people at risk of late-onset PTSD in the early stages of dementia. This allows them to work through a traumatic history before any serious cognitive decline, potentially reducing the severity of symptoms as dementia worsens.
According to the National Center for PTSD, 60% of men and 50% of women experience at least one traumatic event during their lives. Therefore, many people diagnosed with dementia may be vulnerable to PTSD.
References:
How common is PTSD? (2007, July 5). Retrieved from https://www.ptsd.va.gov/public/ptsd-overview/basics/how-common-is-ptsd.asp
Mittal, D., Torres, R., Abashidze, A., & Jimerson, N. (2001). Worsening of post-traumatic stress disorder symptoms with cognitive decline: Case series. Journal of Geriatric Psychiatry and Neurology, 14(1), 17-20. doi:10.1177/089198870101400105
Some patients with dementia may experience delayed-onset PTSD. (2017, July 7). Retrieved from https://www.sciencedaily.com/releases/2017/07/170707070558.htm

The preceding article was solely written by the author named above. Any views and opinions expressed are not necessarily shared by GoodTherapy.org. Questions or concerns about the preceding article can be directed to the author or posted as a comment below.