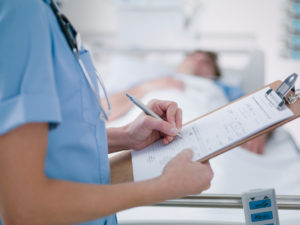 Opioid-related deaths nearly doubled over a seven-year period, according to research published in the journal Annals of the American Thoracic Society. The epidemic of opioid-related hospitalizations has strained hospital resources, particularly in intensive care units (ICU), where opioid overdose survivors receive ongoing intensive care.
The study suggests the opioid abuse epidemic is ongoing and may be getting worse.
The Continuing Opioid Epidemic
The study is likely the first to look at the effects of opioid abuse on U.S. critical care resources. Researchers examined records on nearly 23 million adult hospital admissions between January 2009 and September 2015. The records spanned 162 hospitals and 44 states.
Of more than 4 million patients who required an ICU stay, 21,705 were admitted due to an opioid overdose. This marks a 34% increase in overdose-related admissions. Opioid-related deaths also nearly doubled.
Costs rose 58% during the study period. In 2009, the average opioid-related ICU stay cost $58,517. By 2015, the figure was $92,408. This price increase was partially driven by increasing patient needs. Over time, more patients admitted to the ICU needed dialysis, renal replacement, and other costly services.
What Is Driving the Opioid Epidemic?
Prescription opioids are a key factor in opioid abuse. Some patients with an opioid prescription may switch to heroin when they can no longer access prescription opioids. Others may overdose on prescription drugs.
Guidelines from the Centers for Disease Control and Prevention (CDC) urge doctors to limit their prescription of opioids only to patients who need them. The CDC also recommends careful monitoring of opioid recipients. Research suggests some doctors continue to ignore these guidelines. A 2016 study found 91% of opioid overdose survivors were prescribed more opioids. In 70% of cases, the prescription came from the same doctor who prescribed the drug on which the survivor overdosed.
Other research this year found a correlation between mental health diagnoses and opioid use. In that study, more than half of opioid prescriptions were prescribed to someone with a diagnosed mental health condition.
References:
Stevens, J. P., Wall, M. J., Novack, L., Marshall, J., Hsu, D. J., & Howell, M. D. (2017). The critical care crisis of opioid overdoses in the United States. Annals of the American Thoracic Society. doi:10.1513/annalsats.201701-022oc
US opioid epidemic reaches new level of crisis in overdoses, hospitalizations and cost. (2017, August 28). Retrieved from https://www.eurekalert.org/pub_releases/2017-08/aabu-uoe082517.php
© Copyright 2017 GoodTherapy.org. All rights reserved.
The preceding article was solely written by the author named above. Any views and opinions expressed are not necessarily shared by GoodTherapy.org. Questions or concerns about the preceding article can be directed to the author or posted as a comment below.