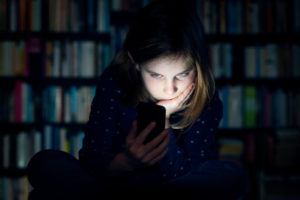 About 6% of teens have anonymously bullied themselves online, according to a study published in the Journal of Adolescent Health.
The phenomenon, known as self-trolling or self-bullying, may be a new form of self-harm akin to cutting and other injurious behaviors. The study looked at more than 5,500 teens to assess rate of self-bullying, as well as risk factors for the behavior.
Is Self-Bullying a Form of Self-Mutilation?
The study gathered data in 2016 on 5,593 12-17-year-olds who participated in a nationally representative survey. Students answered demographic and mental health questions, as well as queries about their experiences with bullying, including self-bullying. The study defined self-bullying as sharing hurtful content about oneself, such as by posting it on a social media site or sending it to a friend.
About 6% of participants had engaged in self-bullying. The practice was more common among boys (7.1%) than girls (5.3%). Half (51.3%) reported self-bullying just once, with 35.5% doing it "a few" times, and 13.2% self-bullying "many" times.
Boys were more likely than girls to say that they bullied themselves as a joke or to get attention. Girls reported that self-bullying was a way to cope with depression and psychological pain.
Non-heterosexual teens were three times as likely to bully themselves online. Cyberbullying victims were 12 times as likely to engage in the behavior. Drug use, behavioral issues, symptoms of depression, and self-harm offline also strongly correlated with self-bullying.
Self-Bullying and Teen Mental Health
In 2014, the phenomenon of self-bullying came to prominence following the suicide of 14-year-old Hannah Smith. The British teen had been bullied in person. Her parents initially thought cyberbullying might have been a motivating factor in her suicide. An investigation revealed that Smith had posted negative comments about herself on Ask.fm but found no evidence of cyberbullying by peers.
The study's authors highlight the correlation between depression, self-harm, and suicide. They urge more research on self-bullying, arguing that there may also be a connection between online self-harm and suicide.
References:
Both the aggressor and the victim: Alarming number of teens cyberbully themselves. (2017, October 30). Retrieved from https://www.sciencedaily.com/releases/2017/10/171030112236.htm
Davies, C. (2014, May 06). Hannah Smith wrote 'vile' posts to herself before suicide, say police. The Guardian. Retrieved from https://www.theguardian.com/uk-news/2014/may/06/hannah-smith-suicide-teenager-cyber-bullying-inquests
Patchin, J. W., & Hinduja, S. (2017). Digital self-harm among adolescents. Journal of Adolescent Health. doi:10.1016/j.jadohealth.2017.06.012
© Copyright 2017 GoodTherapy.org. All rights reserved.
The preceding article was solely written by the author named above. Any views and opinions expressed are not necessarily shared by GoodTherapy.org. Questions or concerns about the preceding article can be directed to the author or posted as a comment below.