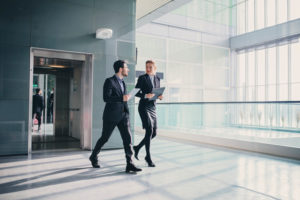 Rejection isn't fun to deal with, but it's a universal experience in life. We experience it on a personal level with friends, lovers, and other people. And we experience it constantly in our professional lives.
Nobody needs me to explain how rejection feels. It feels awful. Many dreams go unrealized because the dreamer would rather hang on to that perfect dream than face the possibility of rejection.
But since rejection is such a big part of growing within your career, hunting for work, and just living, I'd like to make the case for the idea that we may be looking at getting a "no" in the wrong way. If you get to the point where you hear no, you aren't getting that job, or no, your boss isn't going with your idea, it is not necessarily a sign that you aren't progressing. Getting to "no" is progress; it's just not taking you on the trajectory you were hoping for.
When someone tells you no, here is what it also means:
You tried! You put your ideas together and took a chance. Instead of assuming the answer would be no and counting yourself out, you recognized the potential and took initiative. Be proud of yourself.
Now you have closure and can move on to other pursuits. (This applies in many life domains.)
Instead of committing to the idea in its current form, you are free to tinker with and possibly improve it. In the case of being rejected as a candidate for a job, you have time to reflect on your job search. Are the jobs you are considering really where your passion guides you? Is there anything worth reconsidering regarding your interview style, your résumé, or the companies you target?
Positive reflection can be a true gift of rejection. It can help you clarify your priorities and get to a place where you can articulate what you really want and who you really are.
Don't fall into the trap of conducting a postmortem on your recent job application or round of interviews. It's impossible to go back through the mental "tape" and critique every little thing you did. Most of the time, at least with interviews, the chemistry is off and nobody knows quite why. That's assuming the job was actually open to begin with. In many cases, employers interview candidates for show; they already have someone internal they want to slide into that position, but can't do it without interviewing a certain number of external candidates.
Positive reflection can be a true gift of rejection. It can help you clarify your priorities and get to a place where you can articulate what you really want and who you really are.
Some hiring managers might provide feedback if you ask for it. While I think it's generous of them to do so, it's not necessarily helpful if you aren't on the same wavelength. What one person thinks of as demonstrating strong skills in an area may not be the same as what you would think of as demonstrating strong skills in that area. So you might come away from that interaction knowing that there is no way the two of you could have worked together, but it's not usually the kind of information that will help you in future interviews.
Remember that you have many opportunities ahead of you, and that you aren't yet even aware of everything coming your way. Know that you can make the most of everything that comes to you, and try to approach it all as adventure and excitement. You will have some ups and downs along the way, but those are just part of the ride.
© Copyright 2015 GoodTherapy.org. All rights reserved. Permission to publish granted by Amy Armstrong, MS, NCC, MCC, LPC, Career Counseling Topic Expert Contributor
The preceding article was solely written by the author named above. Any views and opinions expressed are not necessarily shared by GoodTherapy.org. Questions or concerns about the preceding article can be directed to the author or posted as a comment below.